Keestrack at Conexpo 2023
Performance in every detail: Keestrack guarantees sustainable performance at the lowest cost per produced ton
Keestrack has a strong reputation for innovative and cost-effective equipment with a relentless search for the best performance at the lowest cost per produced ton. At Conexpo, the manufacturer of mobile crushing and screening equipment, will show an overview of their extensive product range. Keestrack, with its Texas-based US Headquarters, will be at Conexpo with their American, Canadian and Latin American dealers to showcase what's new.
Machines on show at Keestrack booth C-31386 in the central hall
R5e impactor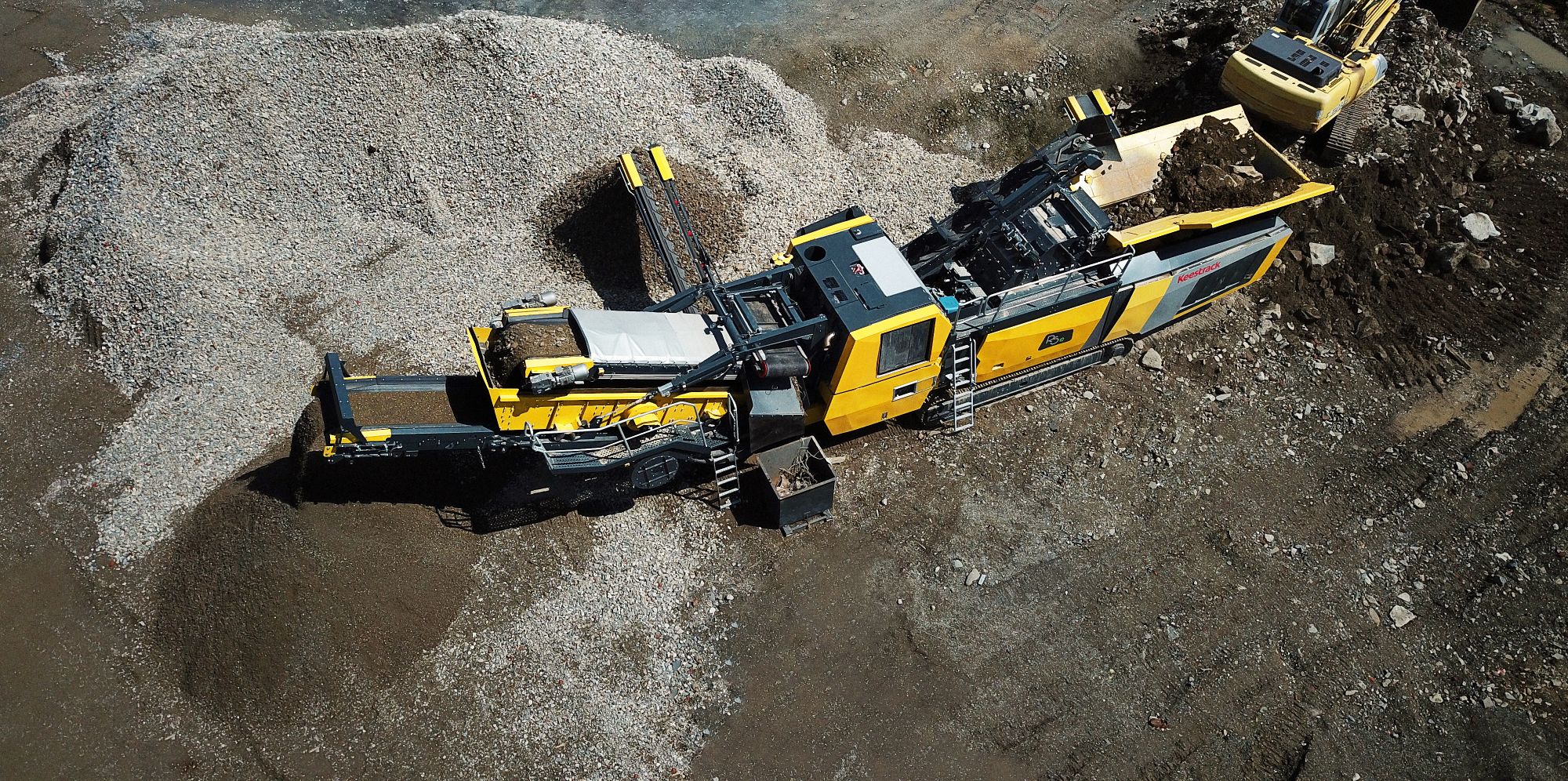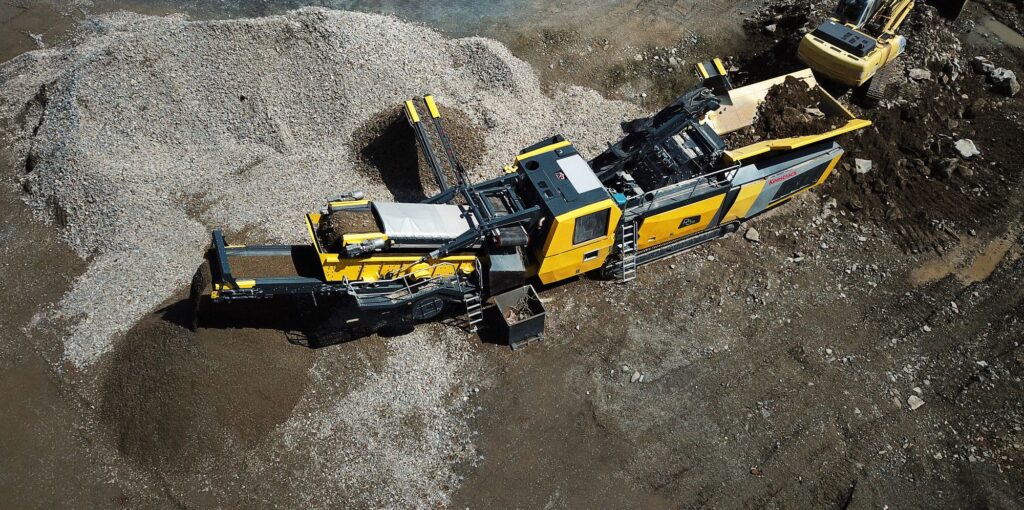 The completely newly designed R5e impactor of Keestrack is a full electric plug-in. It also has a plug-out connection to power additional equipment. The impactor used in aggregate production, recycling, quarrying and mining can be powered via mains connection, or via any gen set unit, in case there is no connection to the grid available.
The 61 sT (55t) equipped R5e with a capacity up to 440 sT/h (400 t/h) is very mobile and can be transported in one piece, even equipped in closed circuit. The double deck pre-screen (7'x3') (2.200mm x 1.000mm) ensures perfect screening and the material can be stockpiled by the side conveyors, or can go via the crusher bypass. The impact crusher with an inlet opening of 31"x41" (800mm x 1.050mm) (HxW) is driven by a 200kW electric motor and drives the rotor, with a width of 39" (1.000mm) and a diameter of 50" (1.260mm), with an extremely high mass moment of inertia, which gives high productivity and stability. The 2-deck precision screen, 15'7″ x 5' (4.760mm x 1.500mm) can be placed in closed circuit. The middle and fine fraction can be stockpiled as an additional option. The swivelling oversize conveyor can easily be changed to a stockpile conveyor if wanted.
The R5e shown at Conexpo has a drop off engine/gen set of 5sT (4,5t) which can be placed either on the chassis of the machine or it can be placed besides the machine, connected with a power cable. Being placed in a less dusty and vibrant environment it functions as a backup when there is no connectivity to the grid available. Maintenance is also safer and easier when the engine is placed at ground level. When connecting several machines to a single drop-off engine /gen set, it results in huge savings as there is only one engine/gen set to run and to maintain.
The R5e uses on average 173 kW when powered full electric or around 10 gal/hour (40l/h) when driven via the drop off diesel engine/gen set.
Some general figures on drive systems
Compared to conventional diesel-hydraulic units, diesel-electric driven plants directly save up to 40% of fuel.
While working in production trains, the attributable fuel consumption may even decrease by 70% when the hybrid screens and stackers are powered directly via the plug-out supply of an upstream or downstream electric crusher.
When plugged in to the grid savings are even bigger, (depending on the local electricity price), as operational costs and maintenance cost will decrease drastically.
H4e cone crusher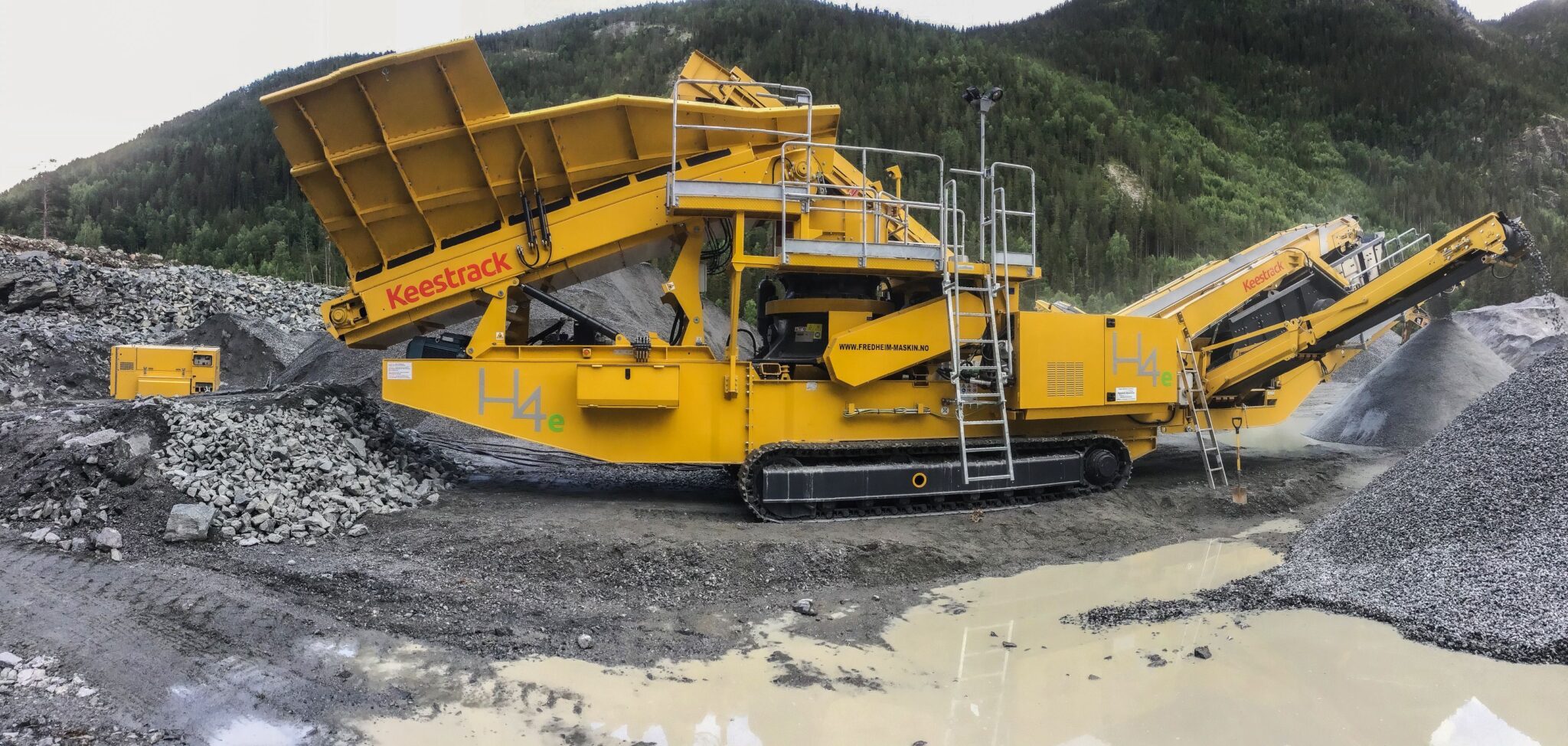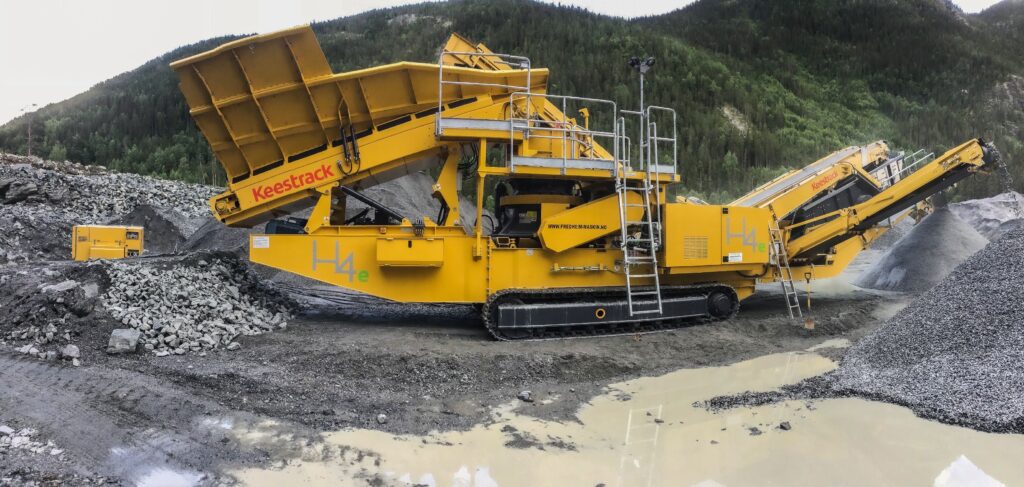 Another e-driven machine in the Keestrack range is the H4e cone crusher. The H4e is designed to crush the toughest rock and ore, stone, gravel and aggregates.
The cone alone, with proven technology, weighs 10sT (9t). The H4e including options like the 3-deck after screen of 12'x5' (3.600mm x 1.500mm), weighs fully equipped 50sT (45t). The H4e also has an electric plug-in connection to run fully electric like all Keestrack e-driven units as well as a plug-out connection to connect to other e-driven equipment.
The H4e has its own on board diesel /gen set to drive the equipment diesel/electric. The H4e cone has a feed size up to 7" (185mm), C.S.S. min.–max. ¾"-1½" (6mm – 38mm) depending on the crusher chamber configuration and a capacity up to 230 sT/h (208t/h) and is driven by a 251 kW e-motor.
The H4e uses on average 130 kW when powered full electric or around 8 gal/hour (33l/h) when driven via the on board diesel engine/gen set.
K6 Scalper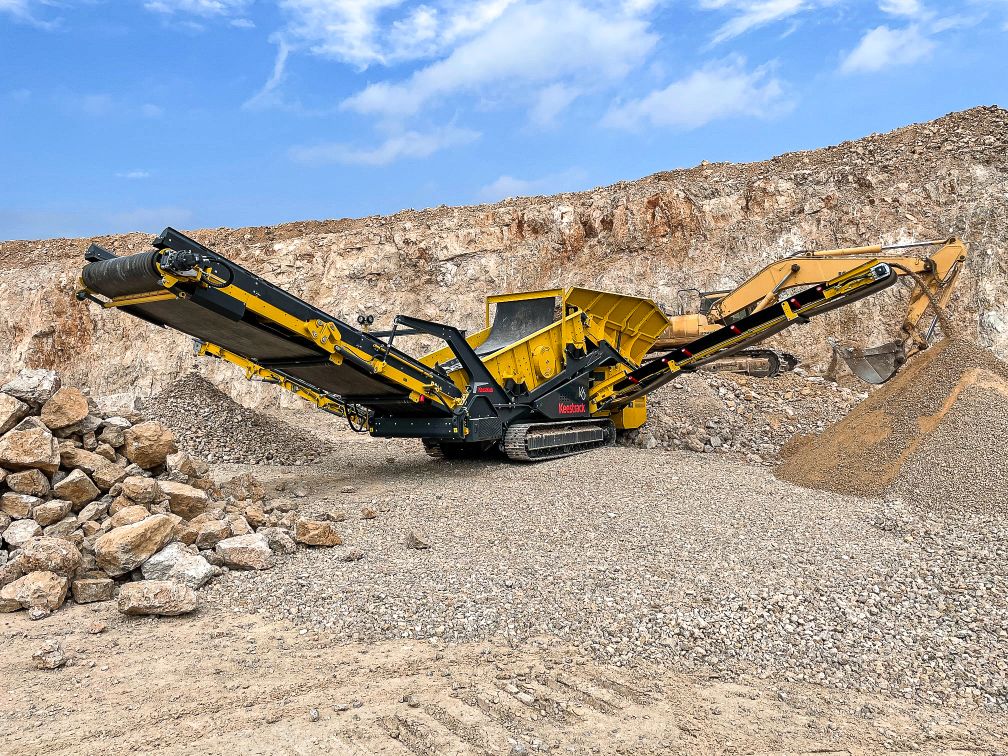 The most mature and productive scalper on the market is the machine where it all started with at Keestrack. The K6 was introduced to the market in 1996 and is still state of the art due to continuous R&D and a capacity up to 770 sT/h (600t/h). The long screen deck of 15' x 6' (4.500mm x 1.800mm), standard heavy duty plate apron feeder and hydraulic adjustable screen angle gives it an unrivalled performance at the lowest cost per produced ton. The numerous available options and screen decks make the K6 suitable for each screening application from scalping the biggest stones to fine-screening. Each Keestrack is designed to have good service access to minimize maintenance and repair times. The K6 has a hydraulic liftable screen box to have good access to the screen decks which makes it really easy to replace them.
The K6 is available in diesel/hydraulic, diesel/electric and in a ZERO version where there is no combustion engine onboard but only electric motors. The K6 at Conexpo is the standard load sensing diesel/hydraulic version which uses on average just above 3 gal/h.
R3 impact crusher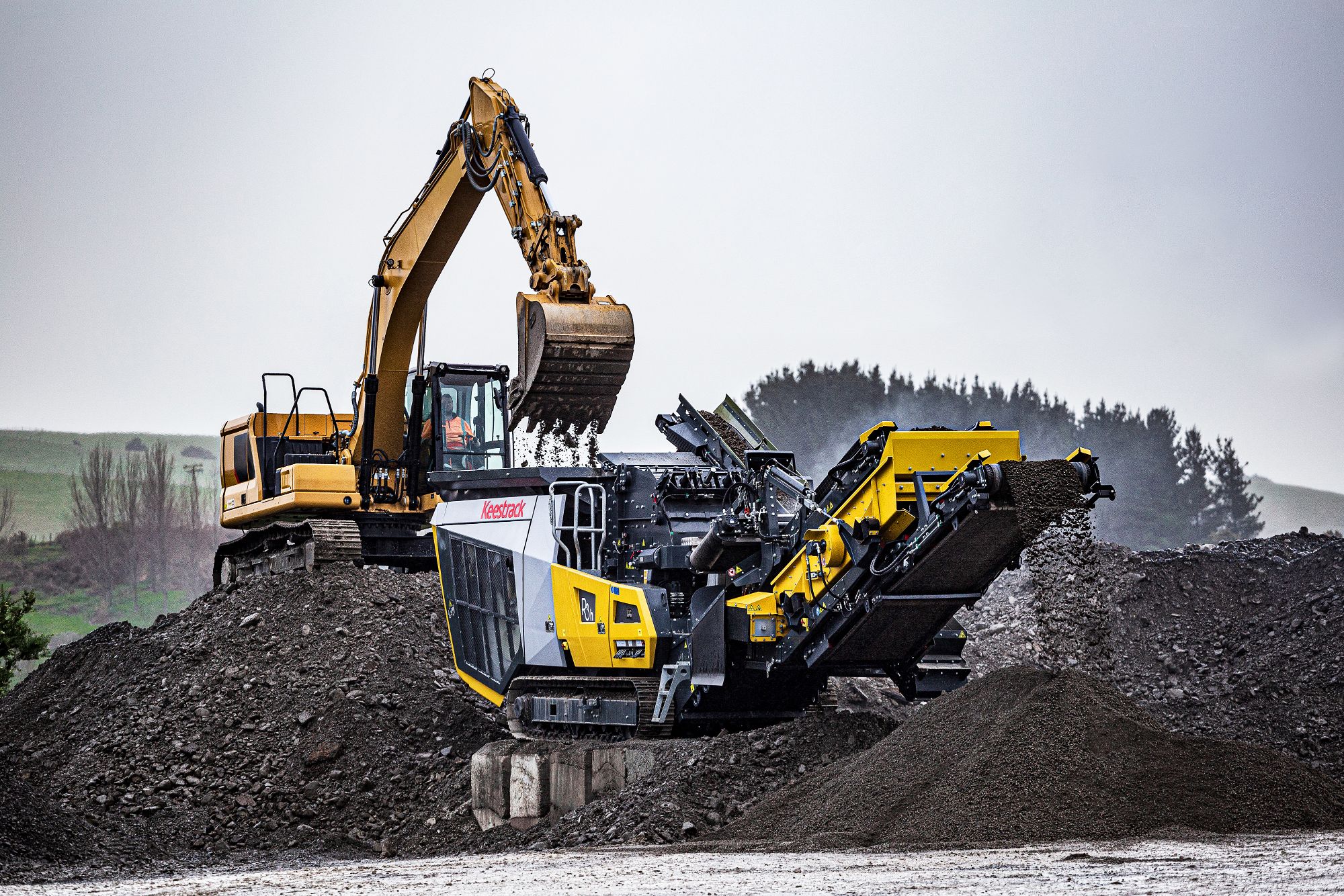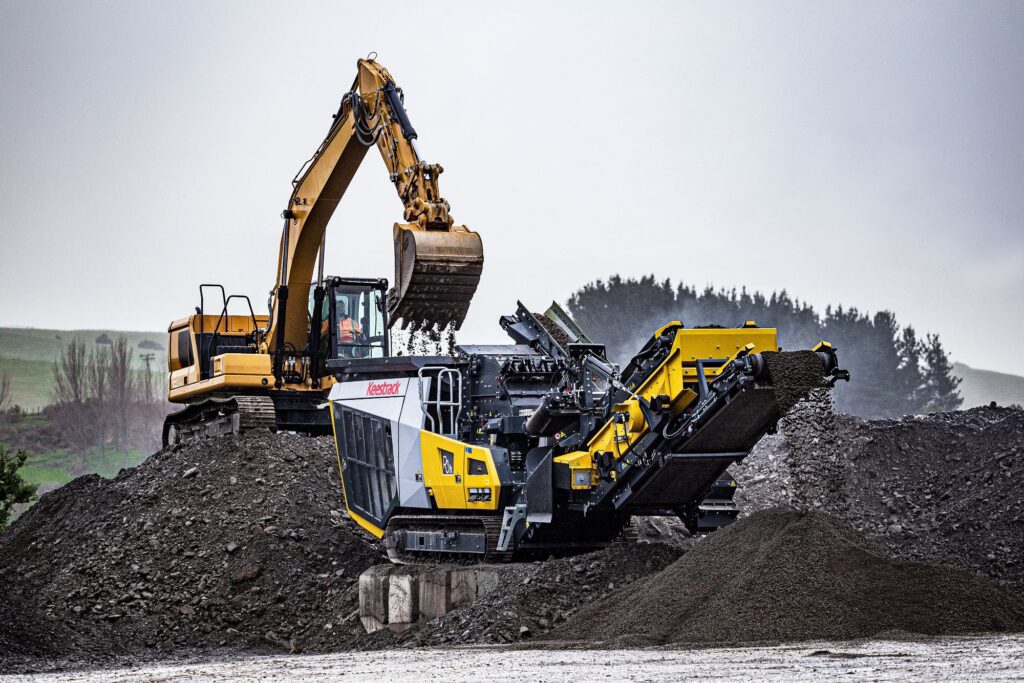 The innovative technology, its safety features and the design of the R3 impact crusher has won several European design prices, one of them being the Red Dot award. The very compact and easy to transport impact crusher has a capacity up to 275 sT/h (250t/h). Equipped with vibrating feeder with a pre-screen of 4'x3' (1.200mm x 920mm), an inlet opening of 30" x 38'' (770mm x 960mm) (HxW) and a rotor diameter of 44" (1.100mm) and a rotor width of 3' (920mm) and a 2-deck precession screen of 9'x4' (3.100mm x 1.400mm), it weighs just 36sT (32t). The Keestrack is also available as diesel/electric drive with plug in functionality. At Conexpo the diesel/hydraulic version will be on display.
B7 jaw crusher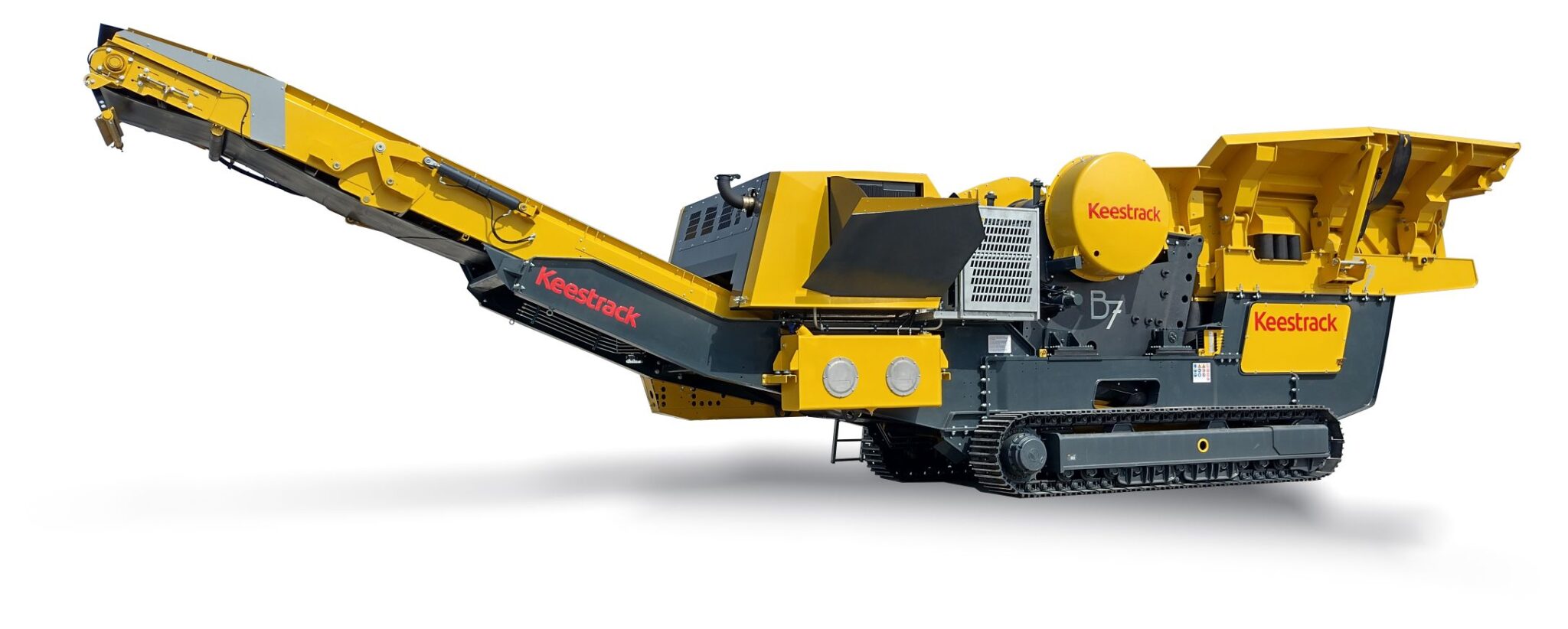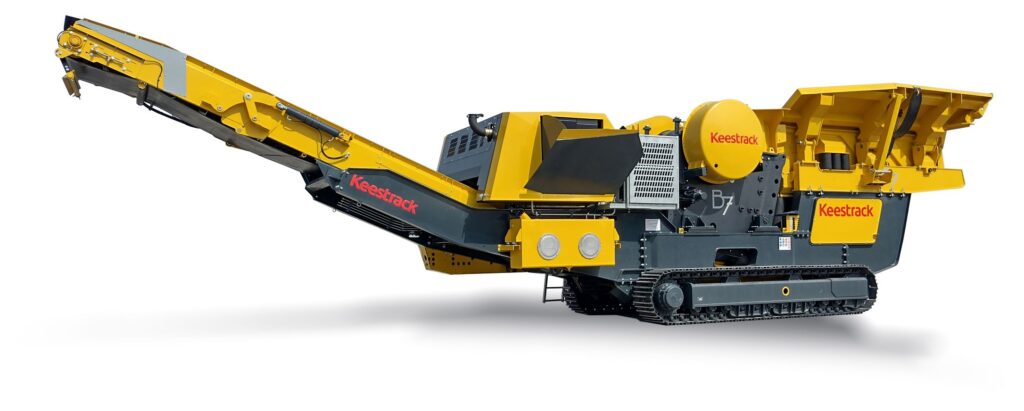 Keestrack designed the B7 heavy duty jaw crusher especially for the toughest rock in quarrying and mining. The B7 jaw crusher has a vibrating feeder with 2-step grizzly of 7'3" x 3'7" (2.200mm x 1.080mm) (LxW) and a bottom deck in wire mesh of 4'9" x 2'10" (1.450mm x 870mm) (LxW) to optimize crushing results and to reduce wear.
The feed size of the material is up to 28" (700mm), the feed opening is 47"x 33" (1.200mm x 830mm) and the outlet adjustment C.S.S. is min.-max. 3" – 10" (75mm – 250mm). The jaw crusher is equipped with the patented N.S.S., non-stop system, which protects the crusher from uncrushable feed and resets the C.S.S. automatic during operations. The jaw crusher itself weighs 31 sT (28t), the easy to transport B7 jaw crusher weighs in total 77sT (70t).
Keestrack vision on sustainability
"A focus on sustainability is at the core of our company as this is the origin of our business.
Producing and recycling valuable raw materials is what mobile crushing and screening is all about", says Frederik Hoogendoorn, Vice President Sales & Marketing, "and our efforts are definitely having a positive impact on the ecological footprint." Throughout the years Keestrack is active, besides recycling, in the quarrying, mining & aggregates industry. "As these heavy duty industries need very powerful drive systems Keestrack kept on searching for alternative drive systems. From load sensing hydraulics, to e-drives and now we are going to ZERO drives, equipment with no combustion engines on board but only electric motors. This request is also a pull from mostly the North European market. This way we want to protect the planet and save money at the same time". Hoogendoorn continues.
E-drive and drop-off engine
Keestrack introduced electric drives already in 2012 by the e-drives; electric plug-in equipment with onboard diesel/gen-set in case there is no electric plug-in available. The e-driven machines evolved to equipment with a drop-off engine/gen set unit which could be placed next to the equipment, in less dusty and vibrant circumstances, or on the frame of the machine. These machines can be connected to each other resulting in even lower energy costs.
Zero drive
Keestrack introduced the ZERO-drive machines at Bauma Germany 2022 as there was a growing demand from North European Countries. This equipment has no combustion engines on board anymore. Electric motors drive most of the mobile crushing and screening equipment and power some necessary hydraulics systems. The majority of the Keestrack product range is already available in ZERO-drive: cone crushers, impact crushers, scalper screens & classifiers, stackers, jaw crushers and the new tracked Apron feeder A6.
"At this point electric drive systems are the greenest and most effective options on the market, as they are more efficient than conventional hydraulic systems. But it also makes the end-user less dependent on a specific engine supplier. If there is no electric plug-in available the end-user can choose his own gen set or select one of the Keestrack (tracked)engine/gen-set units", says Kees Hoogendoorn, President and Founder of the Keestrack Group.
Further information:
KEESTRACK N.V.
Marcel Kerkhofs
Marketing Manager
Tel.: +32 (0)89 51 58 51
E-Mail: marketing@keestrack.net
www.keestrack.com
Source
Keestrack Marketing - Marcel Kerkhofs
Keestrack