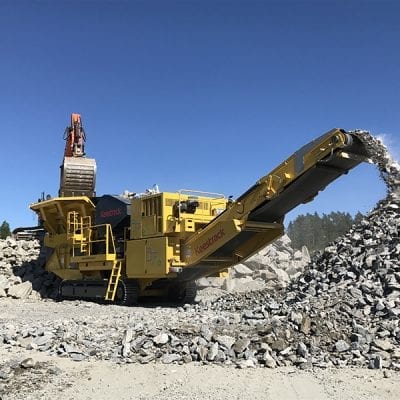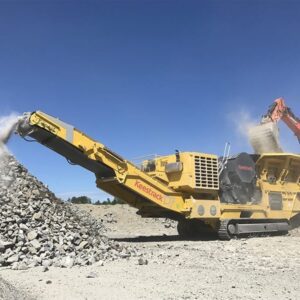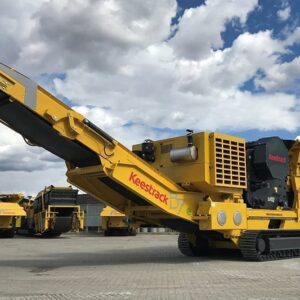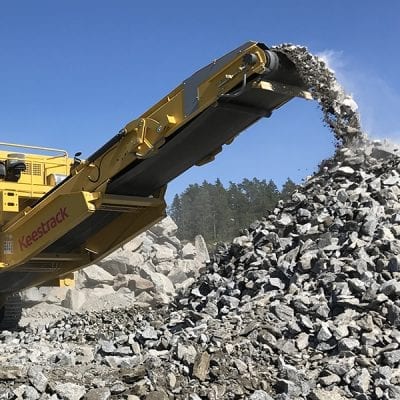 equipment for sale
Keestrack B7 Jaw Crusher
Heavy duty jaw crusher for the toughest rock in quarrying and mining.
The Keestrack B7 mobile jaw crusher is heavy-duty as it can come. Designed for processing the toughest rock in quarrying and mining applications, the B7e features a 2-step vibrating grizzly feeder, an 830 x 1,200 mm (32.6″ x 47″) feed opening, and a 6m³ hopper.
Optimal productivity and superior efficiency with a low cost per ton produced is achieved through technology innovations. The B7e is a fully hybrid unit driven by a 132-kW electric motor. An additional 55-kW electric motor is used to power the hydraulic system for the tracks, lifting cylinders, feeder and conveyors. The entire diesel-electric power is delivered by the on-board Volvo diesel engine and 330 kVA generator. The engine house is available in a detachable drop-off module and can be positioned away from the crusher, in a dust and vibration-free environment.
Thanks to constant and low engine speeds, even under full diesel-electric load, the Keestrack B7e operates with low fuel consumption.
GET MORE INFORMATION
BOOK A DEMO
FINANCING
TECHNICAL SPECS

See the Keestrack B7E Jaw Crusher in action!
Take an up-close tour of the Keestrack B7 jaw crusher to see a few of the key features which make Keestrack the ultimate choice in mobile crushing and screening equipment.
Feed size up to 700 mm (28")
Vibrating feeder with 2step grizzly 2,200 mm x 1,080 mm (7'3″ x 3'7″)
Feed opening 1,200 x 830 mm (47" x 32.6")
C.S.S. min. – max. 75 – 250 mm (3″ – 10")
Capacity up to 600 tonnes / hour
Full hybrid electric driven, energy-saving version
Removable feed hopper and feeder with scalper for transport
Intake hopper suitable for wheel loader and excavator, 6 m³
Hydraulic gap adjustment to safely prevent clogging
Smart sequential auto start/stop from remote
Ability to track while producing
2-speed track drive
Extensive option list to configure to your application
Removable engine /generator compartment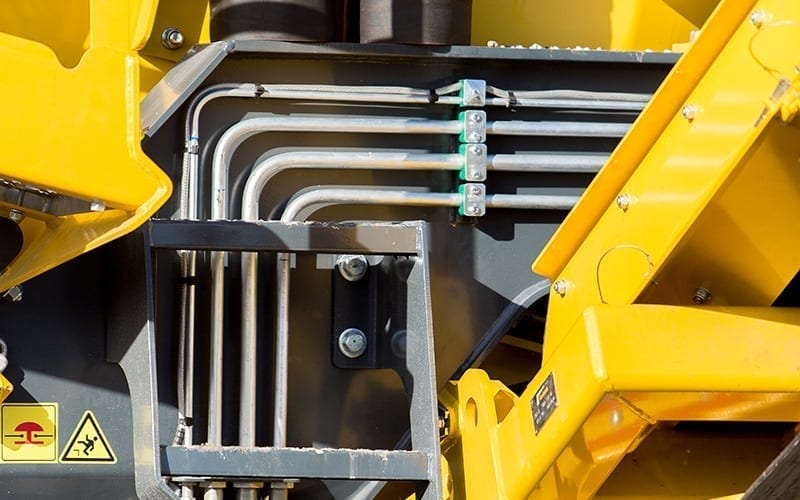 Steel hydraulic lines
Steel Hydraulic lines are used throughout the crusher. Offering many benefits including increased strength, improved safety, easier repairability and better heat distribution, these steel hydraulic lines improve the lifespan of the oils used in the crusher.
Fuel efficient
Thanks to constant and low engine speeds, even under full diesel-electric load, the Keestrack B7e operates with low fuel consumption. Energy-saving costs of up to 80% can be obtained in the emission-free plug-in operation from mains or external gen sets.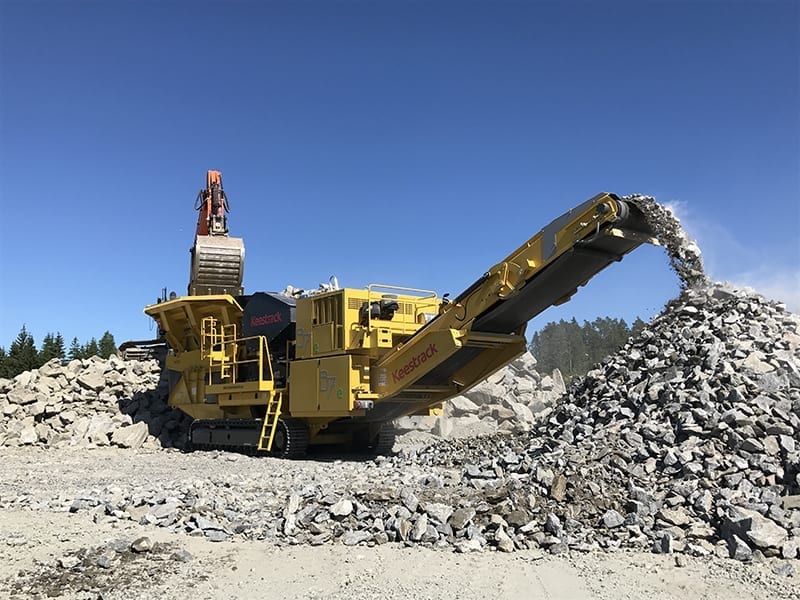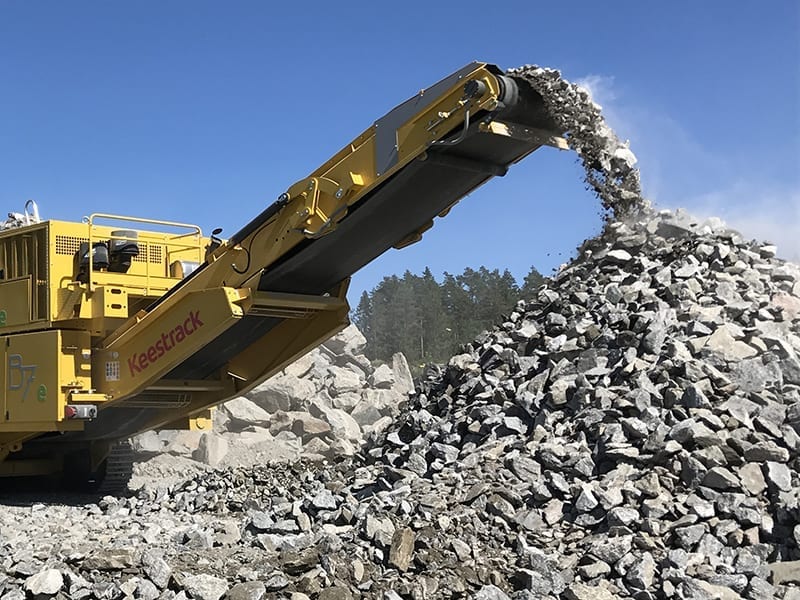 Automatic wear recovery
The automatic jaw wear recovery system checks the set CSS of the crusher every 50 hours and readjusts it to the correct CSS. This process can also be done manually ensuring consistent quality and sized crushed end product.
Non-stop system (NSS)
The NSS (Non-stop overload safety system) is a hydraulic and electronic safety protection system that guarantees continuous production and protects the machine from uncrushable feeds. If a large unbreakable piece enters the crushing chamber, the jaw opens automatically and resets itself to the original setting.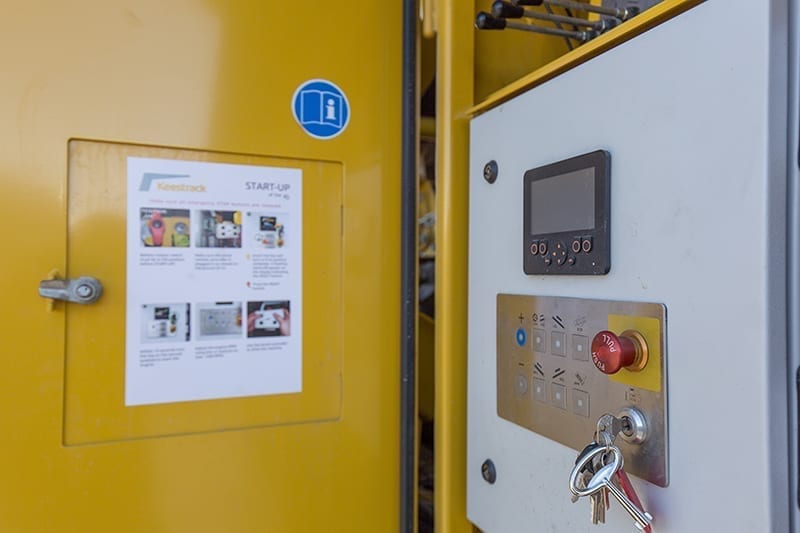 State-of-the-art Technologies
Keestrack focuses on state-of-the-art drive technologies and sophisticated processing concepts. From the use of modern communication technology and telematics for remote plant control and maintenance management to the use of high-strength steel in the machine frames and superstructures, Keestrack never compromises on quality with uncompromising standards. Anything less than exceptional doesn't make the grade.
Performance in every detail
Keestrack is dedicated to delivering the best-in-class for all their customers, so they design every Keestrack crusher, screener, and stacker from the ground up to be highly efficient and cost-effective. These many individual innovations together set Keestrack apart. Their promise of performance in every detail means they go the extra mile to set the standard within their sector.
Private family owned
In 1996 Kees Hoogendoorn and his wife Annet Schoenmaker started Keestrack with an ambitious vision: to build the world's first direct feed scalper. Today, they proudly lead the way in mobile screening and crushing technologies. Their belief in the importance of family gives them the confidence to push further and try harder. They are 100% privately owned and managed by the Hoogendoorn family, with the idea of family at the heart of everything. The result gives an unshakable belief in Keestrack and their ability to succeed.
Additional information
| | |
| --- | --- |
| Application | |
| Configuration | |
| Manufacturer | |
| Model | |
| In Stock / Available to Order | |