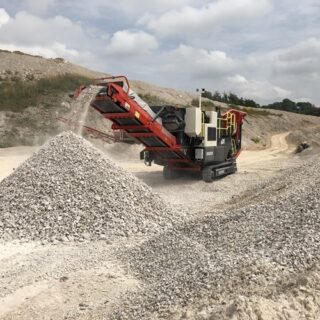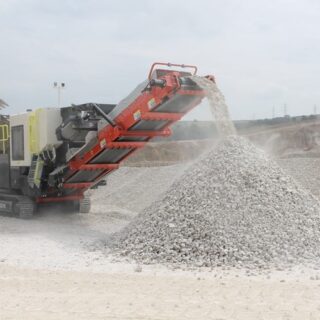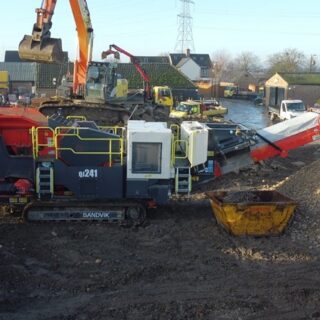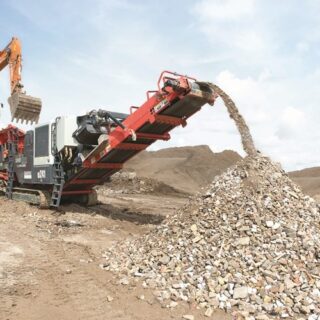 equipment for sale
Sandvik QJ241 Jaw Crusher
QJ241 mobile jaw crusher offers ultimate flexibility
The Sandvik QJ241 mobile jaw crusher is the most compact machine in the series and is ideal for smaller operations. Like the rest of the range, it delivers maximum productivity with low operating costs and has been designed with the user in mind.
Sandvik QJ241 utilizes a substantial 1,000 x 650mm (40 x 26 in.) jaw, powered by a 168kW (225hp) engine. This means that while the machine is compact, it retains a high level of power and productivity. The jaw itself is hydraulically adjustable, allowing you to ensure your output is always at its optimum level.
This mobile jaw crusher is the ideal solution for recycling sites, yet equally productive for a number of other applications. It's a mobile, versatile machine built using Sandvik's extensive research, experience, and customer feedback.
Sandvik QJ241 also provides a greater discharge height and increased clearance for rebar discharge, due to the raise and lower facility on the main conveyor.
GET MORE INFORMATION
FINANCING
TECHNICAL SPECS
Advantages
Hydraulically adjustable jaw setting to maximize your output
Reverse crushing action to crush sticky material or relieve blockages
Hydraulic drive enables the crusher to start under load, minimizing downtime
Jaw level sensor to control the feed rate with minimal intervention
Raise/lower facility on the main conveyor, ideal for your recycling operations
Fitted with Optitooth™ jaw plates for extended life, increased throughput and reduced fuel consumption
My Fleet remote monitoring system with 7 year data subscription to help optimize your machine operation
Security+ extended warranty & service package for higher uptime and peace of mind.
Technical data
Equipment – Single toggle C10 jaw crusher
Feed opening – 1,000 x 650 mm (40 x 26 in.)
Max. feed size – 520 mm (21 in.)
Capacity (up to) 225 mtph (248 stph)
Engine – C7.1 168 kW (225 hp) *
Transport length – 13.90 m (45 ft 7 in.)
Transport width – 2.52 m (8 ft 3 in.)
Transport height – 3.22 m (10 ft 6 in.)
Weight  33,500 kg (73,855 lb)
Improving productivity and profitability
Sandvik is constantly evolving their offering of equipment, tools, service and technical solutions for rock processing including crushing and screening. No matter the application, they'll ensure you're matched with the right solutions to maximize your productivity and profitability.
Driving innovation through R&D
Innovation and R&D drive our state-of-the-art solutions, which are all backed by application expertise: a worldwide network offering on-site service, training and round-the-clock support.
Building lasting relationships
Sandvik's strength is in their customer relationships. They spend a lot of time with you in mines, quarries and construction sites around the world, so they understand your never-ending push to increase productivity and cut costs. They conduct business in close cooperation with you, with the promise of being your proactive productivity partner.
Additional information
| | |
| --- | --- |
| Application | |
| Configuration | |
| Manufacturer | |
| Model | |
| In Stock / Available to Order | |