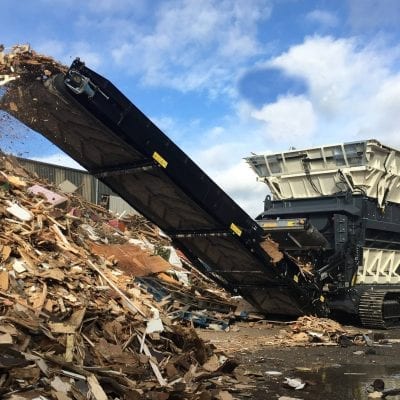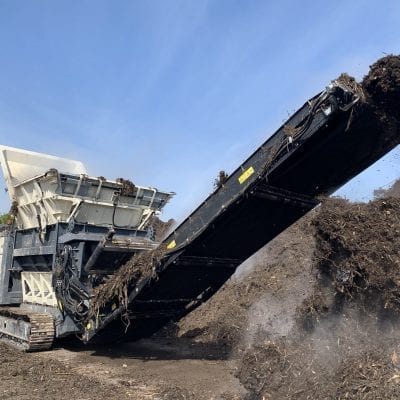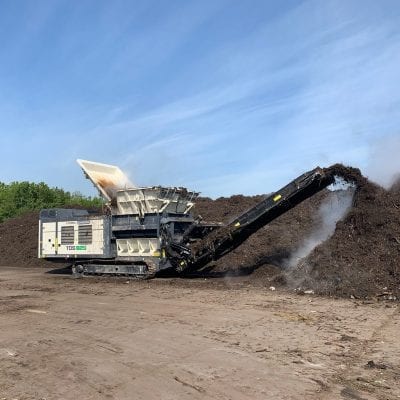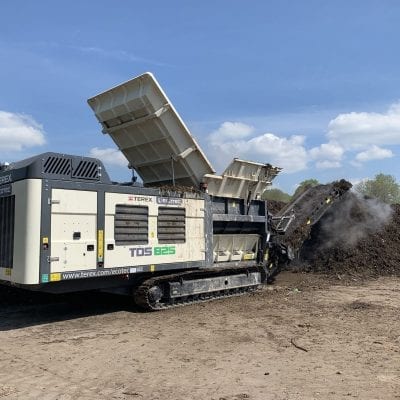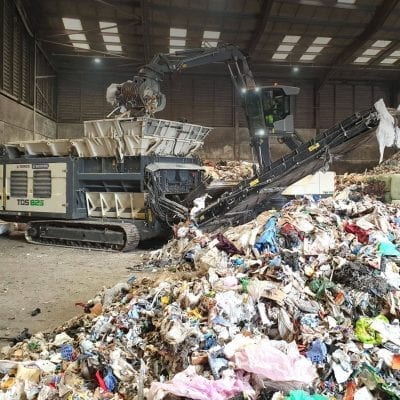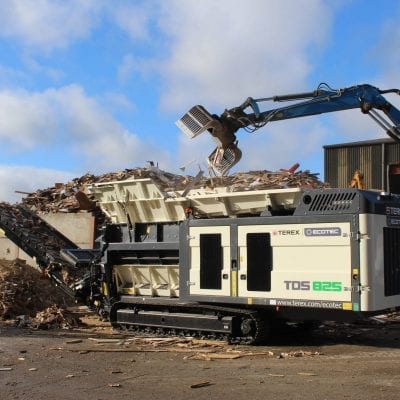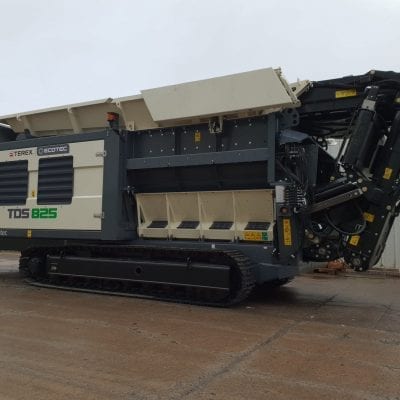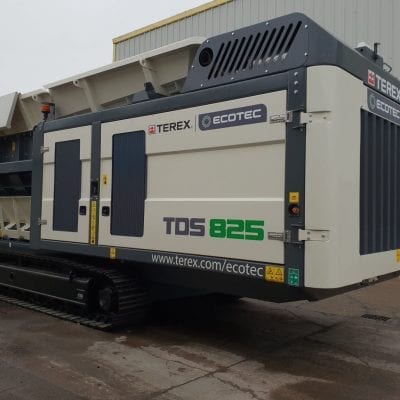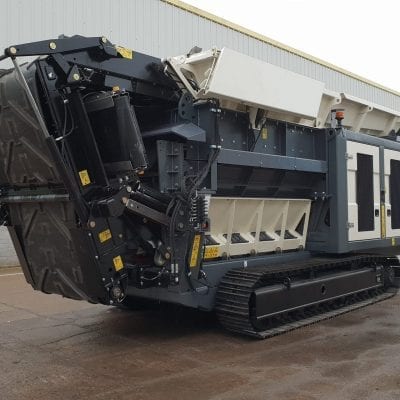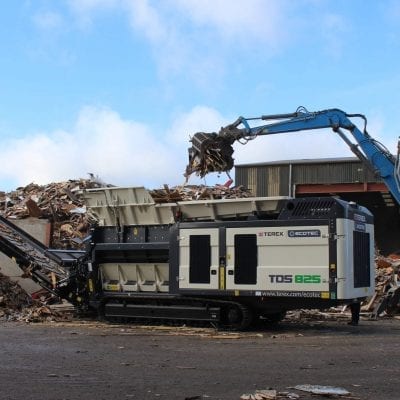 equipment for sale
Ecotec TDS 825 Slow-Speed Shredder
Robust twin shaft, slow speed shredder for large scale shredding operations
The TDS 825 is a robust twin shaft, slow speed shredder. Ideal for large scale operations this high capacity machine takes shredding to the next level and is suitable for all types of material including household waste, bulky waste, commercial waste, green waste, waste wood, tree stumps, and roots. Customizable shredding programs allow operators to configure the machine to their specific requirements, maximizing production. Designed with unrivaled levels of service access, quick and easy set-up is guaranteed from ground level.
Key features include the hydrostatic drive which offers protection against contamination and allows for bi-directional shredding. The double shaft shredder has 2.5m long shafts made from solid steel, with a fully welded tooth configuration giving an extremely high production rate with excellent size reduction. Independent gearboxes enable each shaft to be run separately helping to reduce wrappage and improve the shredding of material. Should a blockage occur the shafts can be controlled via the radio remote control allowing the material to be repositioned before attempting to shred again. Powered by a 770HP Scania V8 DC16, the TDS 825 has been designed to provide operators with unrivaled levels of service access. The high volume, tipping hopper increases the feed area providing optimum material feed and can be activated using the control panel or via the remote control. Tipping cycle times can be configured to suit the application. Hydraulic folding hopper extensions allow for increased capacity, preventing the infeed material from falling out especially in bulky applications. Quick and easy set-up from ground level is guaranteed taking a matter of minutes with no tools or working at the height required. The TDS 825 is maneuvered via a robust tracked undercarriage making it a great solution for difficult terrain.
GET MORE INFORMATION
BOOK A DEMO
FINANCING
RENT ME
TECHNICAL SPECS

See the Ecotec TDS 825 Slow-Speed Shredder in action!
The TDS 825 is Ecotec's BIGGEST and most versatile shredder yet.
User-friendly colour display offering simple operation and diagnostics
Customizable shredding programs allow operators to tailor the machine for specific applications
Robust German designed shredding chamber
2.5m long shafts made from solid steel with a fully welded tooth configuration
Excellent service access reduces operator downtime
Full chamber access for servicing and breaker bar replacement
A powerful Scania engine with a low operating speed combined with an efficient hydrostatic drive creates
a very responsive shredding action with protection against unshreddable contaminants
Hydraulic folding hopper extensions allows for increased capacity. Quick and easy set-up from ground level in a matter of minutes (Optional)
High strength overband magnet with hydraulic raise/lower function (Optional)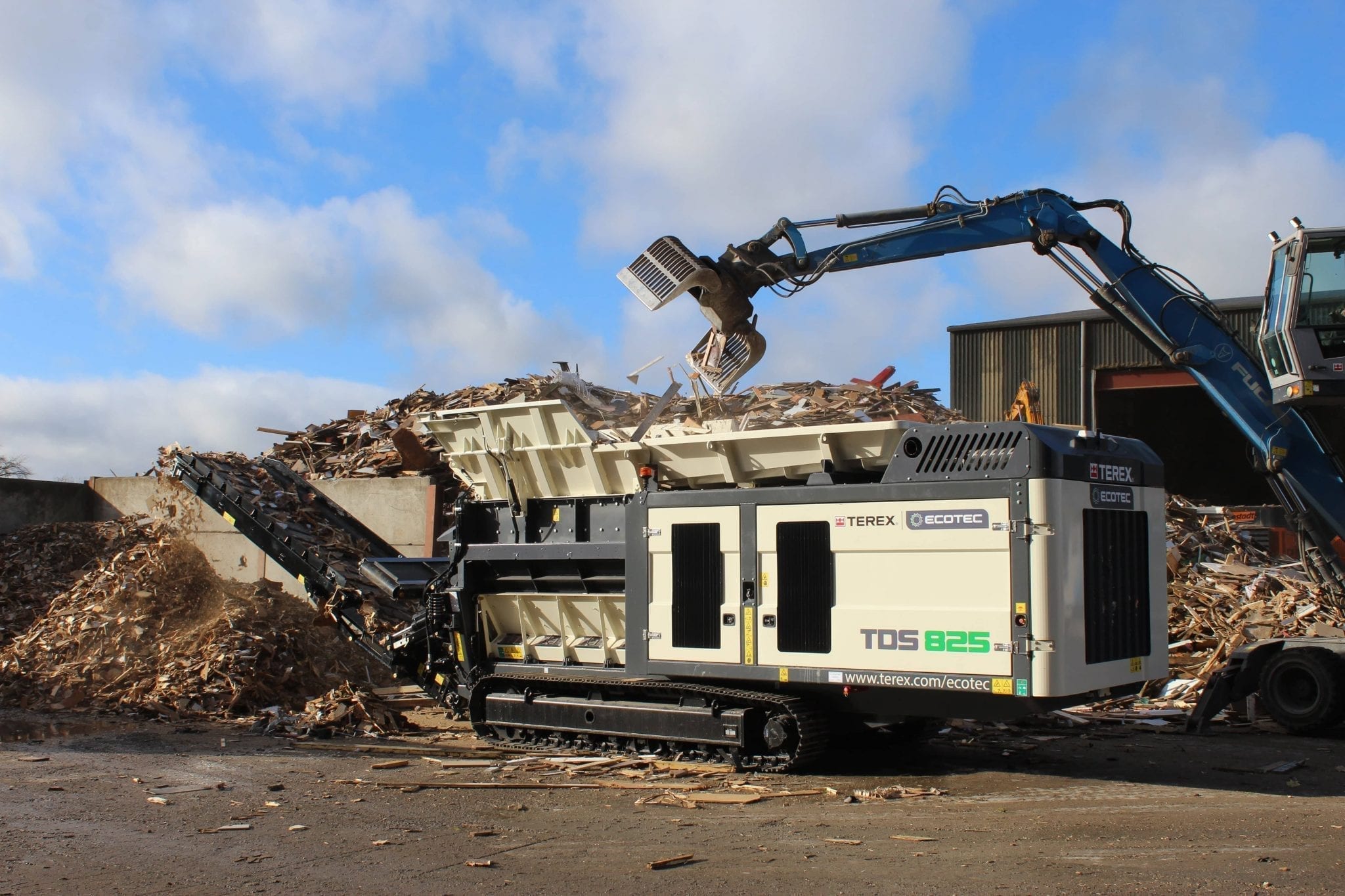 Independent Shafts
Independent gearbox and hydraulic drive allows each shaft to be controlled separately for application flexibility. 2 stage shaft motors automatically switch to high torque mode when required, or can be permanently selected for applications where speed is a negative such as stumps.
Reduced wrapping
The independent shaft movement and cutting element design on the TDS 825 slow-speed shredder enables a self-cleaning effect reducing wrappage in difficult applications. The shafts can be controlled via the radio remote in a blockage situation for improved efficiency.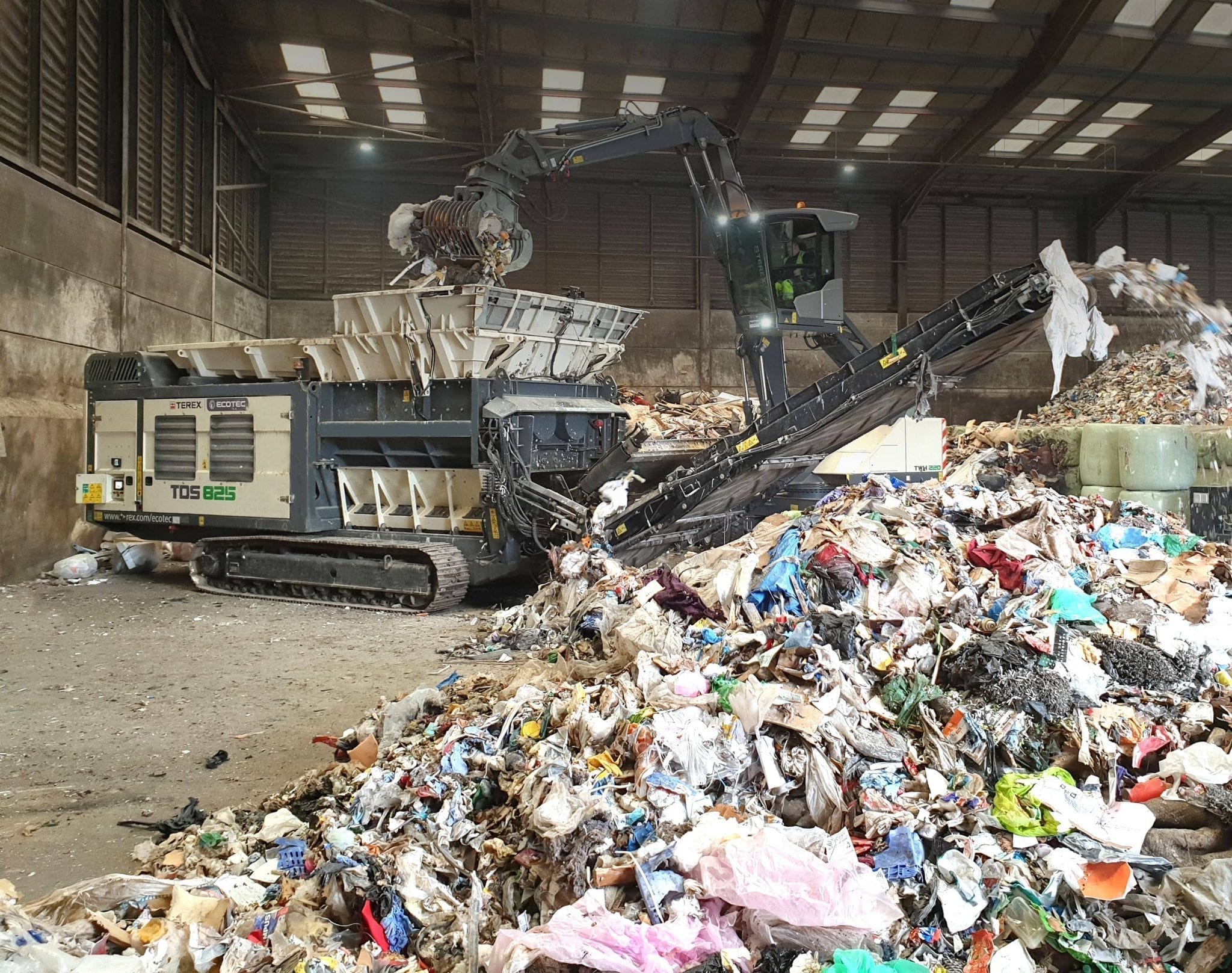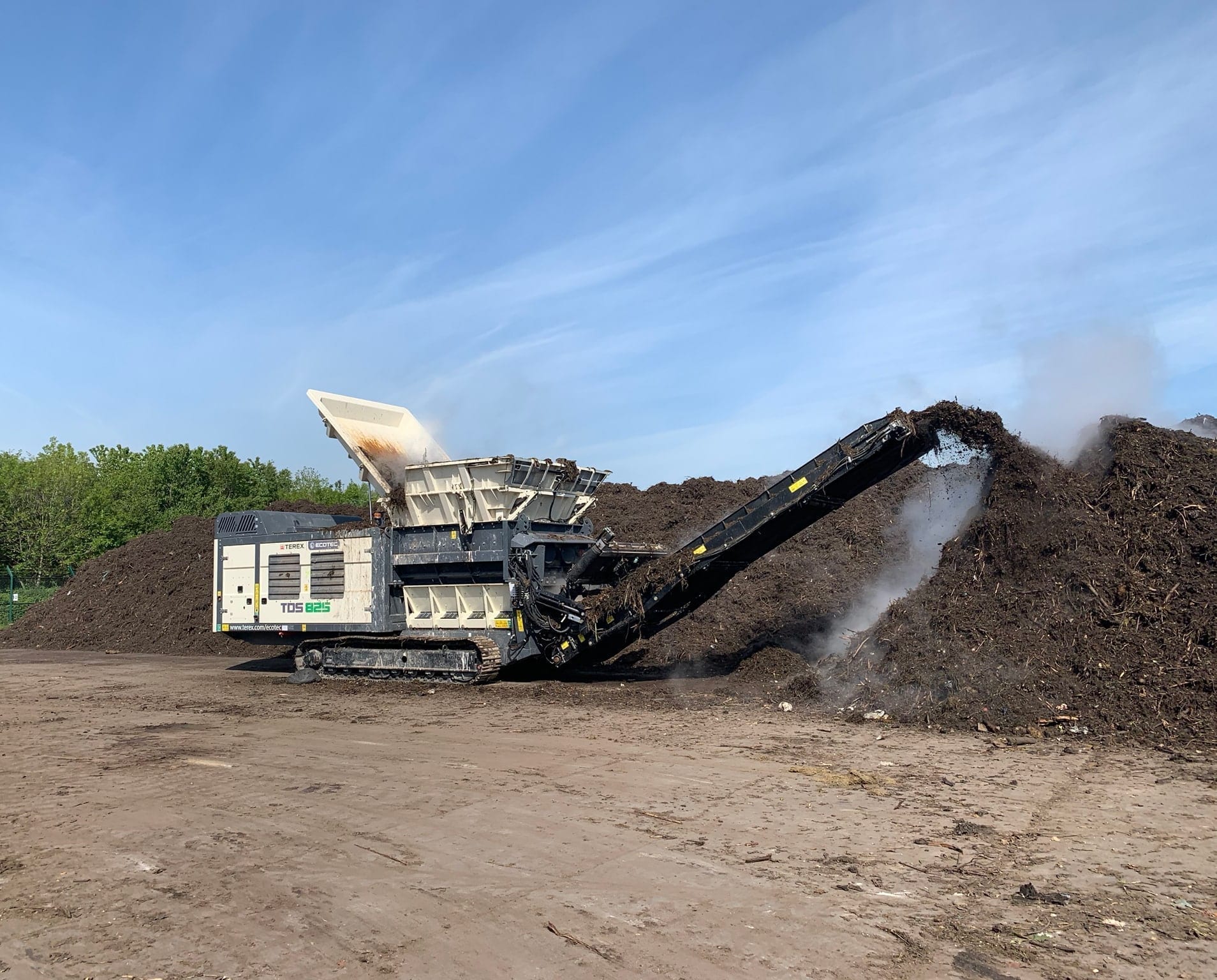 Various shaft configurations
The TDS 825 mobile industrial shredder can be equipped with various shaft configurations for precise performance in varying applications. The 8/8-5 contains 8 discs per shaft and 5 cutting elements per disc, while the 9/9-5 features 9 discs per shaft and 5 cutting elements per disc.
Intelligent CleanFix radiator cleaning
The Intelligent CleanFix variable pitch cooling fan adjusts airflow rates to suit the cooling requirements ultimately improving engine efficiency. The CleanFix fan can be rapidly reversed, at full engine rpm, to clean the cooling pack. This is an automatic function or can be activated manually when required.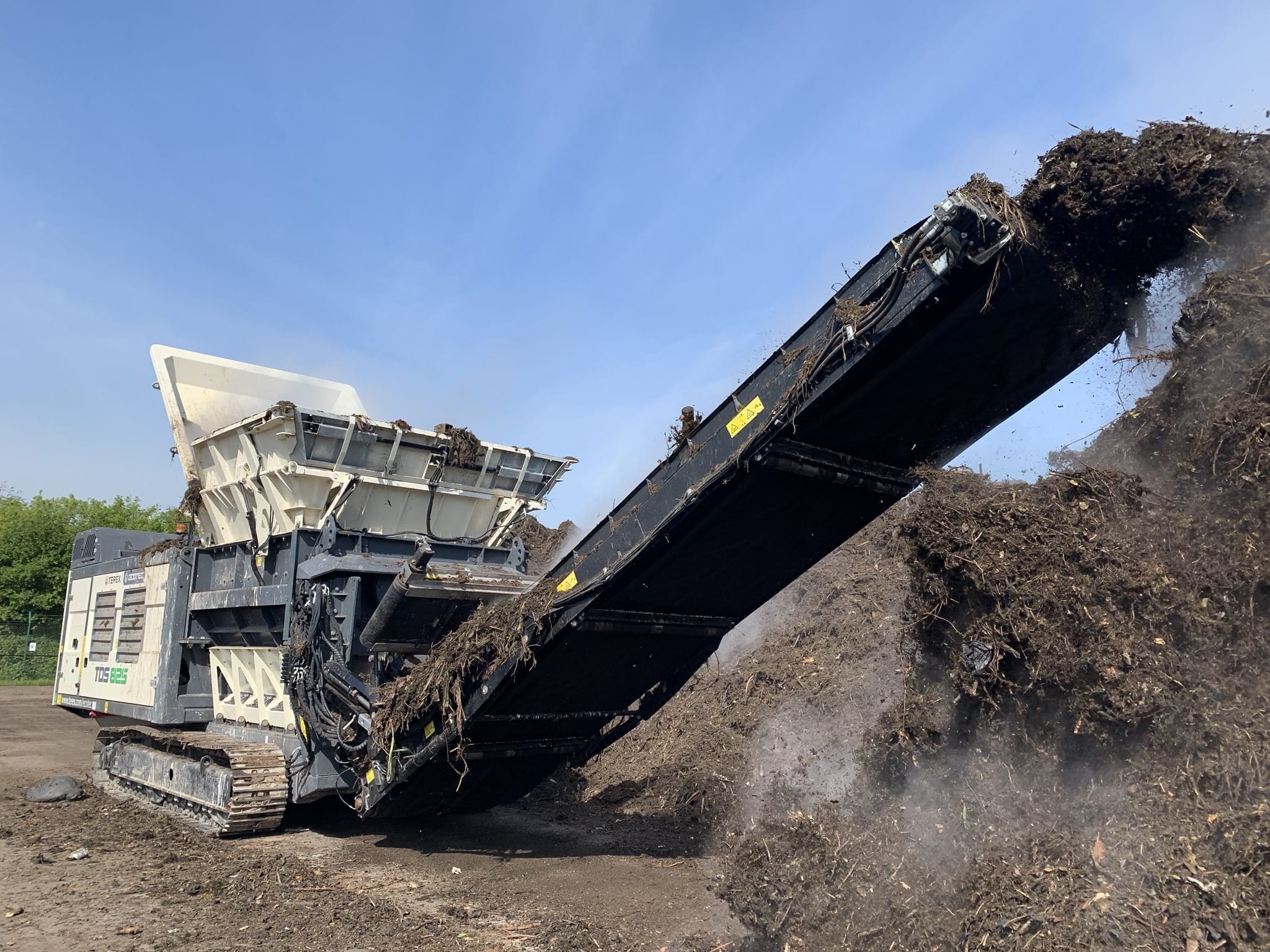 Vast product porfolio
Ecotec's broad range of equipment allows for more targeted efficiency in niche operations. Behind an aggressive research and development strategy, Terex Ecotec now offers a full product portfolio that meets the needs of today's professionals and will shape the industry for years to come. The Terex Ecotec product line has grown significantly and expanded production out of a new 105,000 square foot manufacturing facility Today their comprehensive product portfolio includes, Slow, Medium & High Speed Shredders, Trommel Screens, Recycling Screens, Waste Handlers, and conveyors.
Field support
Ecotec is your proven industry-leading partner for the design, service, and support of primary waste recycling, wood recycling, and composting equipment. They have dedicated sales and service staff for the Ecotec product range with a driving focus on providing customers the best support in and out of the field. Their world-class dealer distribution network provides the sales and aftermarket service demanded in the marketplace giving customers the support required to maximize production and minimize downtime.
Industry leader
Terex® Ecotec, part of the wider Terex Materials Processing group, is an industry leader in the design and manufacture of wood processing, biomass, and recycling equipment. The range of innovative machines available is robust yet user-friendly with a focus on throughput, efficiency, and serviceability. Their world-class range of mobile equipment that will shape the industry for years to come.