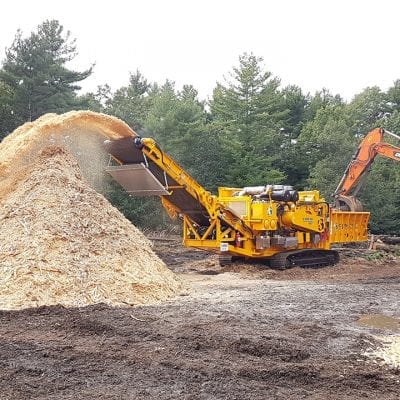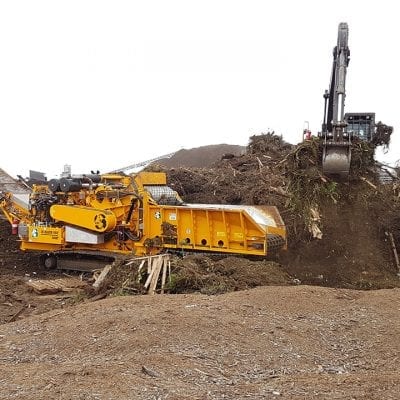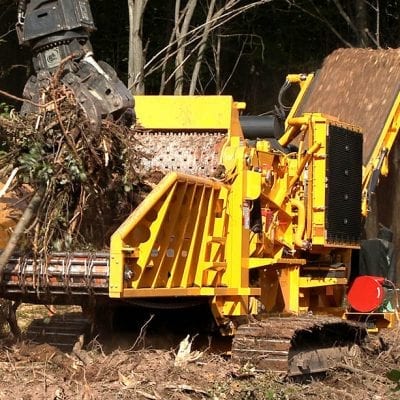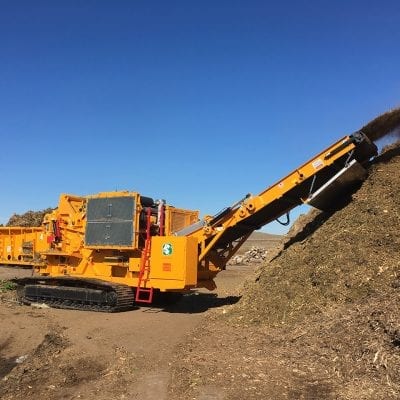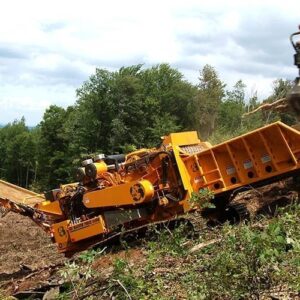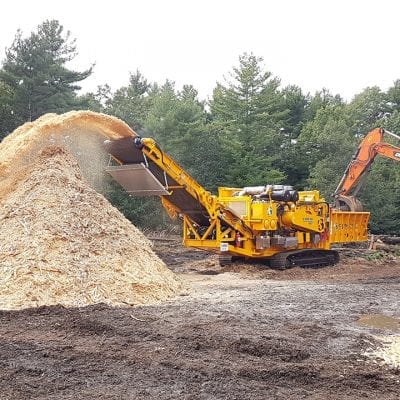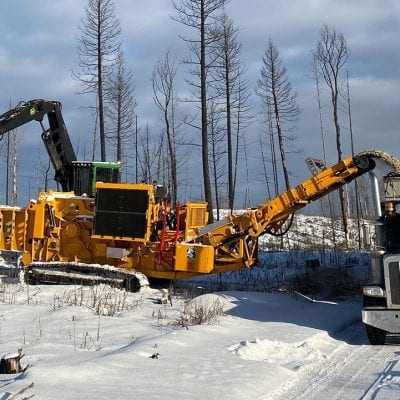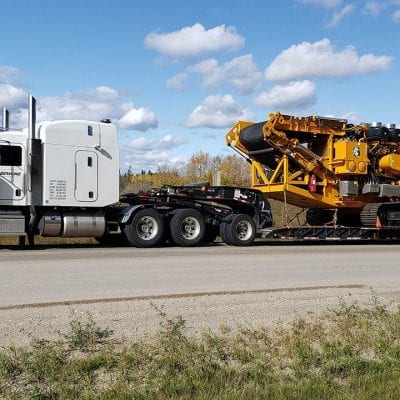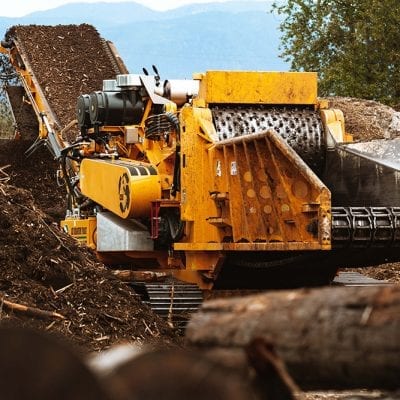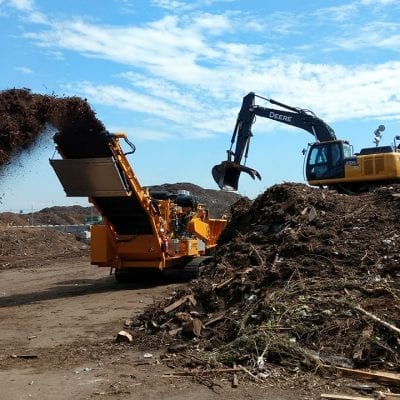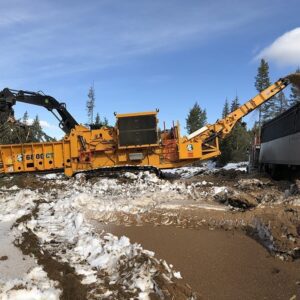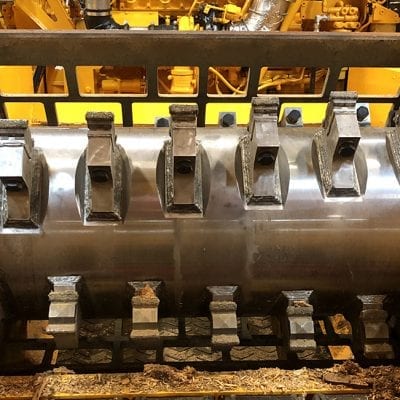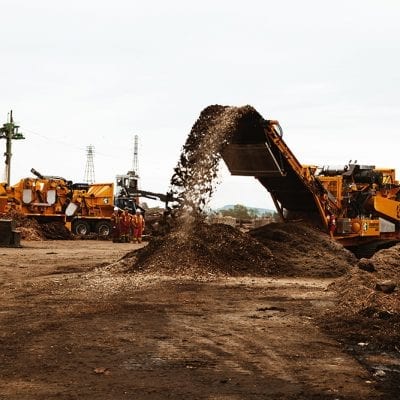 equipment for sale
CBI 6800CT Horizontal Grinder
Top mobile horizontal grinder in the market for land clearing, wood recycling, and organic composting applications.
The CBI 6800 Horizontal Grinder has been specifically designed for land clearing companies and yard waste processors who demand high-volume throughput and maximum reliability. The first grinder ever made that can grind whole trees as fast as a 30″ chipper can chip – with a fraction of the prep and maintenance!
With an optional 1125 HP Cat C32 engine and production capacity of up to 200 tons per hour, the CBI 6800 is a mobile wood processing juggernaut. Whether it is whole trees, slash, storm debris, regrind, or C&D, the CBI 6800 will process material at a low cost per ton. Multiple grate and tip options are available to optimize for the material being processed and fine-tune your end product. Thanks to the full opening clamshell style rotor housing, changes are made quickly in the field enabling one machine to truly do it all.
The CBI 6800 features a high torque, hydrostatic feed system; PT Tech hydraulic clutch; and a choice of two CAT power plants. The 4" thick, high strength rotor core is shear pin protected. The entire system is controlled by IntelliGrind logic that incorporates feed speed that varies automatically with engine load, and an optional modem communications system that provides for real-time system diagnostics, analysis, and operating program adjustments allowing the operator to optimize performance while avoiding costly downtime. All this in a package that weighs between 82 – 89,000 pounds making it legally transportable on a standard lowboy! Available in portable, stationary, or track-mounted versions.
Get More Info
Book a Demo
Financing
Rent Me
Technical Specs

Check out the CBI 6800CT Horizontal Grinder in action!
Upper feed roller; high-torque Poclain hydraulic motor built into roller
Large capacity feed hopper easily handles full-length trees or large material surges with no problem
AR450 construction
High ground clearance
Split hog box for ease of maintenance and screen changes
Caterpillar C-27, 1050 HP diesel engine
60″ wide cleated discharge belt provides unrestricted discharge of ground product
Ready to accept optional discharge overband magnet
Heavy-duty roller bearings
Metal detection system to protect machine from tramp metal
60" x 60" shuttle conveyor allows screened-out material to be diverted from the main discharge
700mm triple grouser tracks with 2-speed motors for high-torque and speed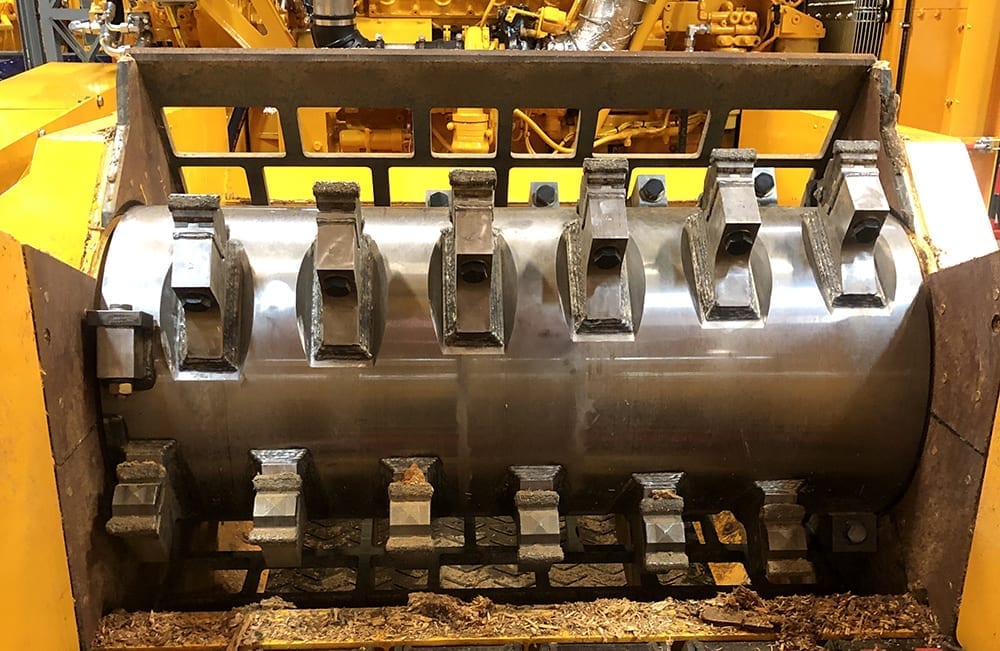 Rugged rotor
The 40" diameter x 60" wide upturn rotor has a forged, thick, high-strength core with 24 weld-on hammers. The offset helix pattern cuts the full width of the rotor, distributing material across the hammers for natural efficiency. This design increases throughput over conventional, pinned, or welded hammer rotors found on many horizontal grinders.
Fully welded and line bored hog box
The hog chamber is a heavy-duty reinforced housing with 100% continuous welds, providing maximum corrosion resistance, and the ultimate rigidity and strength.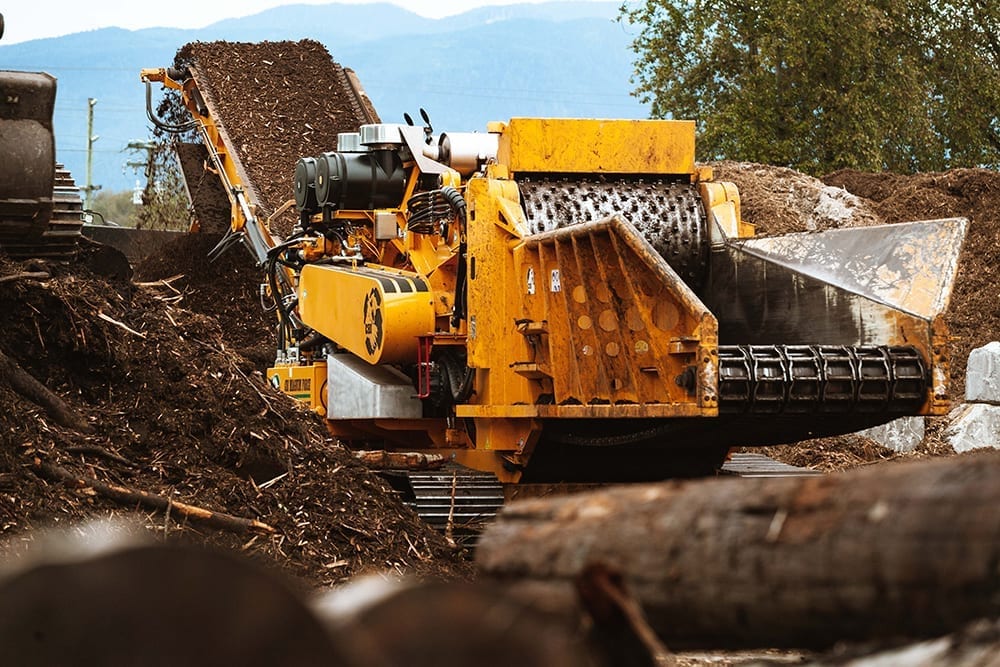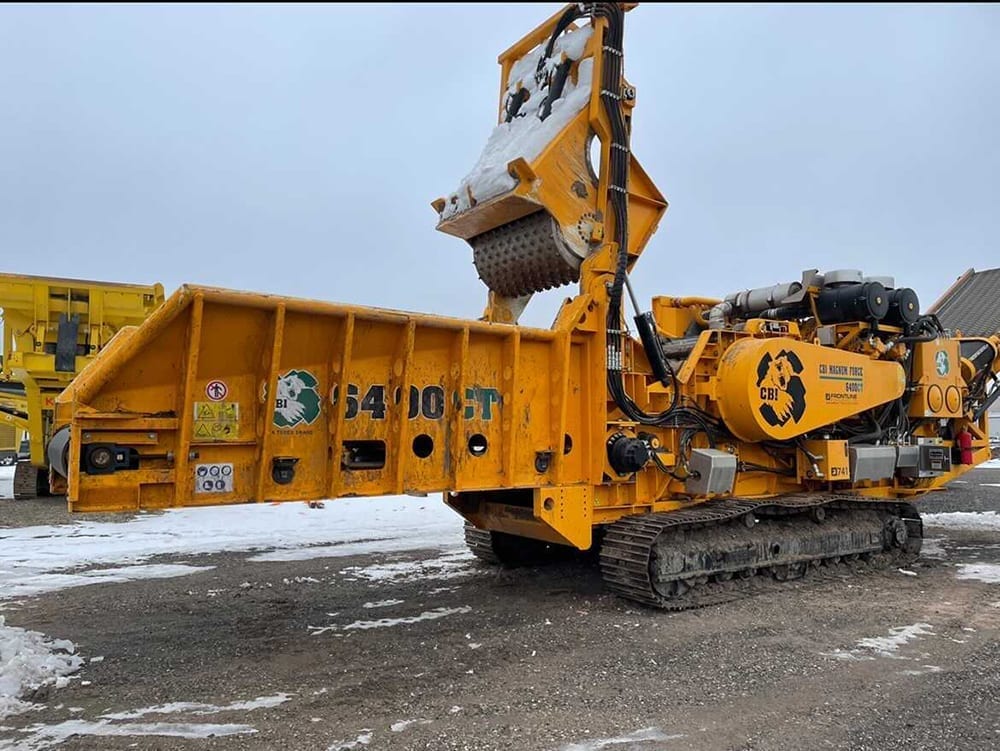 Split hog box
The grinding chamber rises, allowing full access to the rotor and hog box internals for ease of maintenance. The service area has been expanded to provide an open, safe, and ergonomic work environment for service techs.
Metal Detection System (MDS)
The Metal Detection System (MDS) on the 6800 horizontal grinder engages within milliseconds whenever the grinder's rotor makes contact with tramp metal. The rotor is monitored by an adjustable electronic sensor to alert the control system when tramp metal is detected. It will automatically raise the top feed roller and reverse the infeed to allow the operator to find the tramp metal.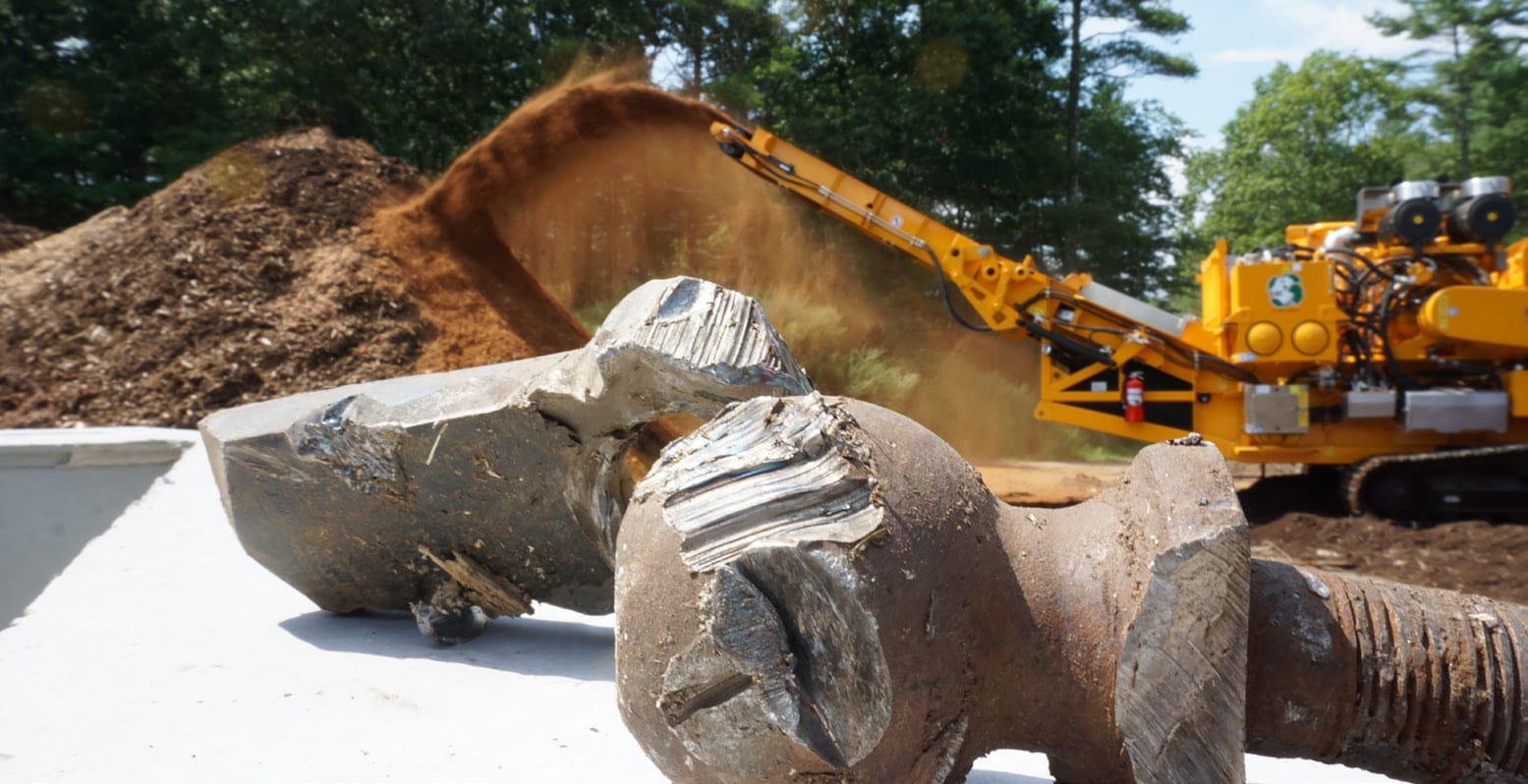 Industry leader
Terex® CBI, part of the wider Terex group, is an industry leader in the design and manufacturing of wood processing, biomass, and recycling equipment. CBI's tradition of quality runs through complete lines of horizontal grinders, industrial wood chippers, flail debarkers, screens, stacking conveyors, stationary systems, and attachments.
Outproduce. Outperform. Outlast.
Since 1988, CBI machines have been purpose-built to outproduce, outperform, and outlast anything in the market. Diverging from the pack of sorely inadequate wood grinders, CBI completely reimagined the value curve by producing the ultimate workhorses for unmatched production.
State-of-the-art Technologies
CBI started with the design of the CBI Grizzly Mill with its patented, extremely rugged offset-helix rotor that uses kinetic energy in order to consume less power while aggressively outperforming anything on the market in terms of throughput. This technology became the basis for product lines like Grizzly Mill® wood waste hogs, Magnum Force® horizontal grinders, and Magnum Force® chippers. From this technology, CBI grew into one of the premier wood grinder and wood chipper manufacturers in the United States and around the world.
Additional information
| | |
| --- | --- |
| Application | |
| Configuration | |
| Manufacturer | |
| Model | |
| In Stock / Available to Order | |