equipment for sale
CBI 5400BT Horizontal Grinder and Chipper
Versatile horizontal grinder for contaminated wood, demolition and waste debris offering interchangeable rotors for varying applications
The CBI Magnum Force 5400BT is a next-generation industrial grinder from CBI that allows owners to select from five different field-swappable rotors to accommodate changing materials and processing demands. This unique design provides the flexibility to process an exceptionally wide variety of materials and generate the products that your clients demand – all with a single machine. To further its unique design, the PT Tech hydraulic PTO and hydraulic engagement replaces the need for a clutch.
You can go from making high quality mulch from trees and stumps, to chipping stem wood into chips in custom sizes ranging from a constant 2 mm fiber length to constant 30 mm fiber length, to grinding highly contaminated C&D or railroad ties with the tie plates attached just by swapping rotors and screens. This unbelievable versatility guarantees that you will always have the right machine for the job when market demands change and opportunities come knocking on your door. The CBI 5400BT is road legal (width and weight) and is designed to accept an optional quick disconnect dolly. The CBI 5400BT, giving you more bang for your buck and a better return on your investment.
GET MORE INFORMATION
FINANCING
TECHNICAL SPECS

40" diameter x 48" long downturn rotor
Large capacity feed hopper that handles full-lengnth trees or large material surges with no problem
Upper feed roller; high-torque Poclain hydraulic motor built into roller
Metal Detection System and release system
High ground clearance
AR 450 construction
Caterpillar C-18; 765 HP diesel engine
48" wide cleated discharge belt provides unrestricted discharge of ground product
500mm triple grouser tracks with two speeds
IQAN electric, hydraulic controls
Service-friendly, accessible hog box
Various hammer inserts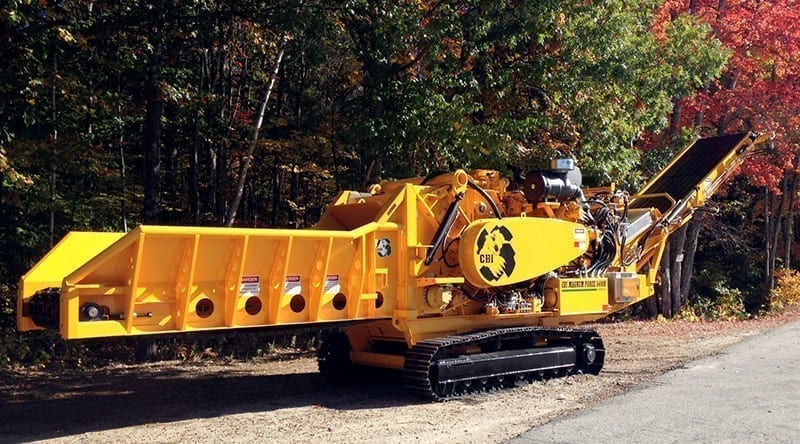 Interchangeable rotors
The CBI 5400BT features four different swappable rotors to accommodate changing materials and processing demands. The solid steel rotor is designed for grinding contaminated demolition debris, railroad ties and MSW. While the forged drum rotor is designed for forestry debris, mulch and hog manufacturing and the 2- and 4-pocket chipper rotors are used for the production of fuel chips.
Metal Detection System (MDS)
The Metal Detection System (MDS) on the 5400 horizontal grinder engages within milliseconds whenever the grinder's rotor makes contact with tramp metal. The rotor is monitored by an adjustable electronic sensor to alert the control system when tramp metal is detected. It will automatically raise the top feed roller and reverse the infeed to allow the operator to find the tramp metal.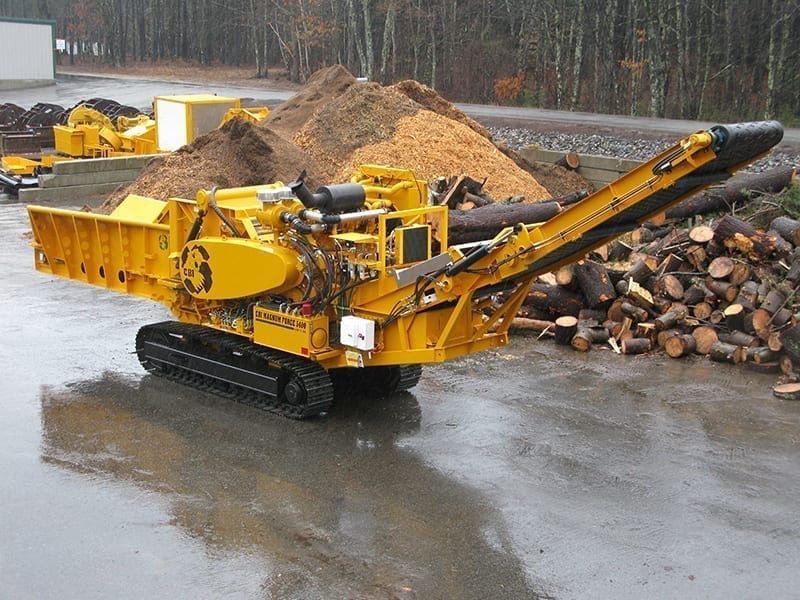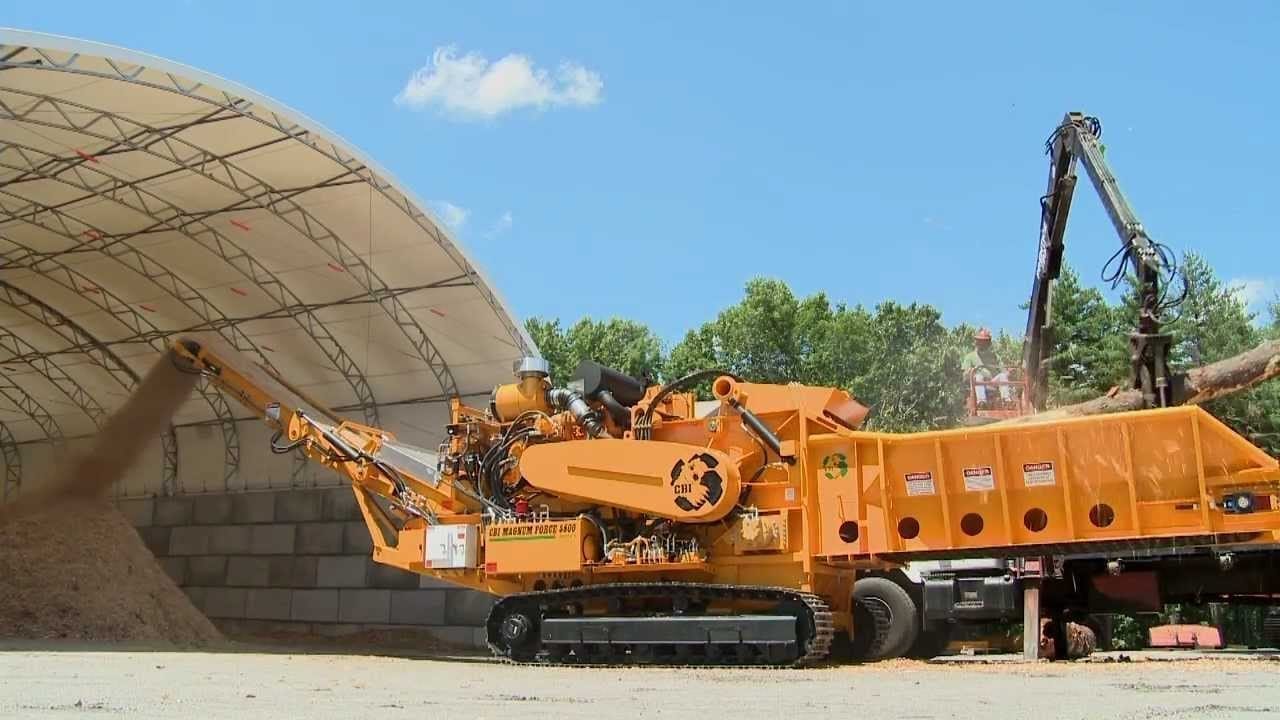 Fully welded and line bored hog box
The hog chamber is a heavy-duty reinforced housing with 100% continuous welds, providing maximum corrosion resistance, and the ultimate rigidity and strength.
Split hog box
The grinding chamber rises, allowing full access to the rotor and hog box internals for ease of maintenance. The service area has been expanded to provide an open, safe, and ergonomic work environment for service techs.

Industry leader
Terex® CBI, part of the wider Terex group, is an industry leader in the design and manufacturing of wood processing, biomass, and recycling equipment. CBI's tradition of quality runs through complete lines of horizontal grinders, industrial wood chippers, flail debarkers, screens, stacking conveyors, stationary systems, and attachments.
Outproduce. Outperform. Outlast.
Since 1988, CBI machines have been purpose-built to outproduce, outperform, and outlast anything in the market. Diverging from the pack of sorely inadequate wood grinders, CBI completely reimagined the value curve by producing the ultimate workhorses for unmatched production.
State-of-the-art Technologies
CBI started with the design of the CBI Grizzly Mill with its patented, extremely rugged offset-helix rotor that uses kinetic energy in order to consume less power while aggressively outperforming anything on the market in terms of throughput. This technology became the basis for product lines like Grizzly Mill® wood waste hogs, Magnum Force® horizontal grinders, and Magnum Force® chippers. From this technology, CBI grew into one of the premier wood grinder and wood chipper manufacturers in the United States and around the world.
Additional information
| | |
| --- | --- |
| Application | |
| Configuration | |
| Manufacturer | |
| Model | |
| In Stock / Available to Order | |