On Alert: Frontline Machinery tackles a unique project in Nunavut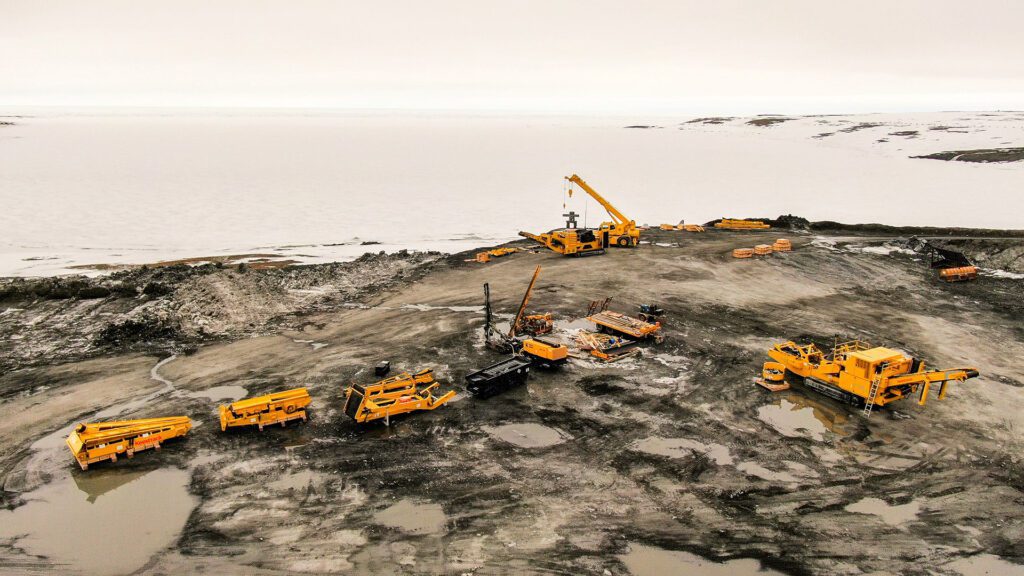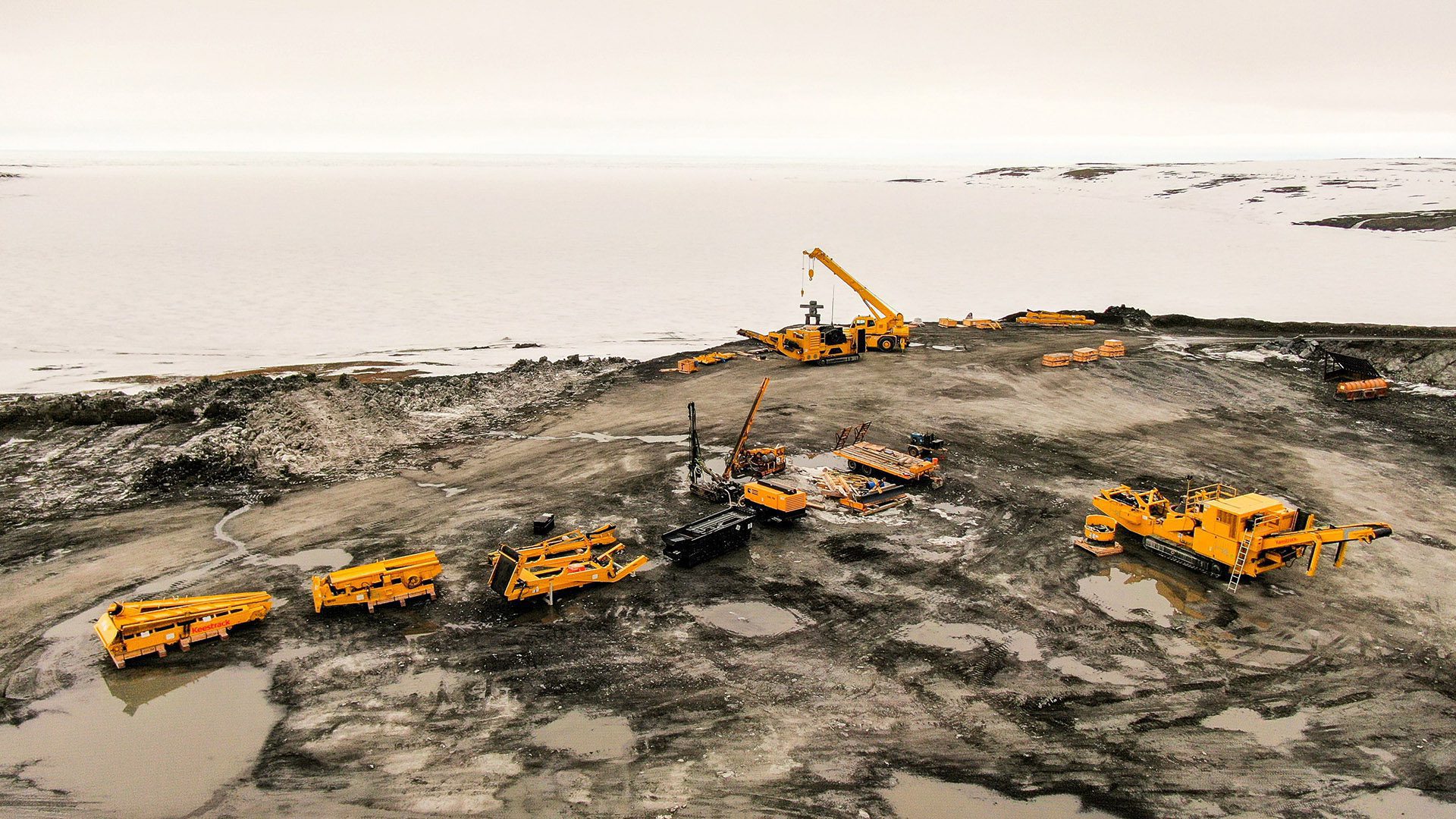 Just 817 kilometres south of the North Pole lies Alert, Nunavut. Remote, isolated and sparsely populated, this is home to the temporary residents of CFS Alert, a Canadian Armed Forces Signals Intelligence Intercept Facility on the northeastern tip of Ellesmere Island.
Due to its remote location, the construction and maintenance of infrastructure and equipment there requires detailed and careful planning. The harsh environment of the arctic puts significant strain on the infrastructure and equipment there, so durable and reliable equipment is key to keeping things running smoothly and ensuring the safety of base personnel.
CFS Alert recently required a new crushing spread for its quarry operations that could withstand the harsh arctic environment. Base personnel need to produce a 3/4-inch base material, mostly used for their runway and for infrastructure development. Frontline Machinery was able to meet CFS Alert's needs with a Keestrack H4 Cone Crusher and B4 Jaw Crusher.
Crushing in the far north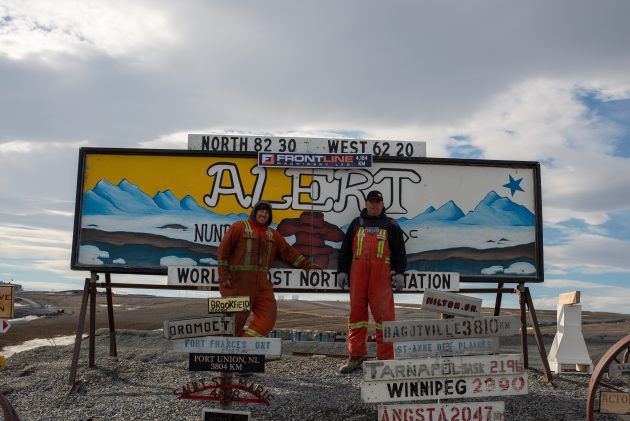 The logistics for an order like this requires a great deal of planning, as Frontline needed to not only transport the equipment to one of the most remote areas of the world, but also needed to send service technicians to a Canadian military compound in the midst the global COVID-19 coronavirus pandemic.
As a result of COVID, every single party had to quarantine at CFB Trenton for two weeks prior to flying to CFS Alert. Frontline service technicians Sam St. Laurent and Nathan Chevalier were selected to work on the project and travelled to CFB Trenton to enter quarantine.
"They had to quarantine in their room the whole time. They were given food and schedules where they could walk around the building to get some exercise," says Crissy Ram, senior director of marketing and business development at Frontline Machinery.
"It gets freaky around day eight or nine days. For me after two or three days, I was starting to get demotivated a bit. But then day 12 and 13 show up and you see the light at the end of the tunnel," St. Laurent says. "It's a long two weeks. There's not much you can do. You're allowed to walk outside and go back to your room."
"I spent my 50th birthday in quarantine," Chevalier adds. "My wife was determined to send me a cake for my birthday. She contacted the military where I was staying, and they were having absolutely no part of anything coming into the facility."
Security clearance
Prior to entering quarantine, both technicians also had to submit details of their medical history and obtain the required security clearance for entering the military bases.
"We had to have them go through medical questionnaires ahead of time, because there is very little medical support in Alert. There's a nurse up there, but no doctor. As a result, they were really concerned about keeping people healthy and COVID out," Ram explains.
"In preparation of us going to Alert, both Sam and Nathan had to go through some security clearances. There were some necessary background checks and fingerprinting that had to be done to attain the necessary clearance work for the military."
Frontline was issued a valid Designated Organization Screening (DOS) by the Canadian Industrial Security Directorate (CISD), Public Works and Government Services Canada (PWGSC).
"Our personnel were required to hold a valid Reliability Status, granted by CISD/PWGSC," Ram says.
The flights to Alert for Frontline's personnel and equipment were very different from standard commercial flights.
Two machines, multiple aircraft
For the equipment, Frontline's technicians were required to disassemble the Keestrack H4 Cone Crusher and B4 Jaw Crusher, breaking them down into multiple aircraft load packages, using precise configurations. The machines, broken down into 22 pallets, were then loaded onto a C-17 military plane at CFB Trenton and then flown to CFS Alert.
Due to the limited aircraft unloading equipment at destination, aircraft load packages were to adhere to precise configurations including:
Defined approach and departure angles to prevent any critical contact points within the plane.
Maximum and minimum equipment widths including specific track sizes.
Maximum aircraft load package weights.
Defined overall dimensions.
"Forward height', 'center of gravity' (CofG) and 'forward load projection' calculations.
Pallet constraints and defined requirements for additional components.

Chevalier and St. Laurent took a separate flight on a C1-30 plane to Alert to perform the reassembly and mobilization of the equipment and facilitate the operator and mechanical training. They had trouble getting comfortable in the military nets used for sleeping, so they found an alternative solution.
"We were sleeping on the rear ramp of the plane," St. Laurent says. "The front of the plane was so hot, and the back of the plane was more comfortable. Once the plane was in the air you were allowed to walk around, it is an eight-hour flight."
After taking off from CFB Trenton, the plane landed for a quick refuelling in Greenland before arriving at CFS Alert. During the flight, the two men were equipped with military arctic kits for their safety, in case the plane were to crash or if they were temporarily stuck in Greenland.
The plane ended up arriving at CFS Alert without incident.
"It was a very neat experience. I had looked at going to Ellesmere Island for years, so having an opportunity to get there and get paid was great," Chevalier says. "One of the things I found interesting was that the commanding office and higher echelon were there to welcome you and shake your hand, welcoming you to Alert. They try and make everyone feel warm and welcome. Two nights later they had a special welcoming night. It felt more like a family reunion for them. That night we arrived, people were showing up and people were about to leave. A lot of the military are there for six months at a time."
St. Laurent says there were lots of activities for people on base.
"We were working every day, so not as much free time for us, but I was able to go for a hike with them. There was someone walking with a shotgun during the hike in case of wolves or polar bears," he says. "They also have a woodworking shop and gym, so it's not boring there."
At CFS Alert, there are no Wi-Fi capabilities, but Frontline's technicians were able to communicate with their families using a communal hard-wired computer.
The meals were handed out on a schedule at the same time every day.
"The food in Alert was very good," Chevalier says. "The accommodations were a little cramped. Me and Sam slept in bunk beds for first 10 days."
Wolf watch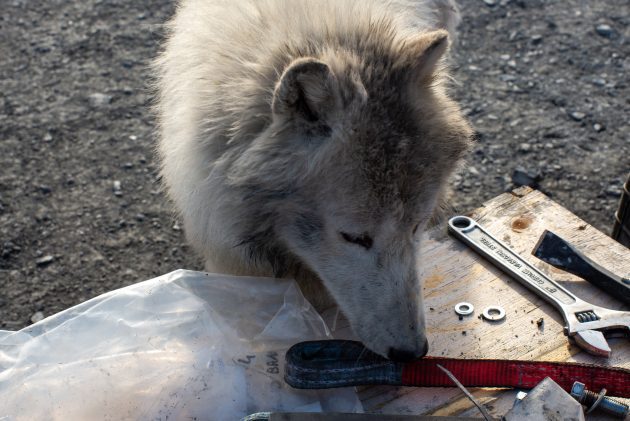 Once the two technicians arrived at the quarry and began assembling the equipment, they had to keep watch for arctic wolves. One wolf regularly approached the pit while the two men worked.
"They don't seem to pose any danger, but I wouldn't put my hand in front of them," Chevalier says. "If you were to kneel or do anything but stand, the wolf would come right at you. At one point, Sam had a bag of tools with him. The wolf grabbed the bag of tools and ran away."
If anything went wrong in the quarry it would have spelled trouble for Frontline's team.
"I think everything went well, but if you were missing some parts or a tool, that would've been a whole different experience," St. Laurent says.
"There was no phone in the pit. The nearest phone was kilometres away," Chevalier adds.
One of the biggest challenges of being on site for Chevalier was being away from home for a long period of time.
"I was away from my family for over a month. By the time we flew there, did quarantine, finished the project, and came back, we were there for five weeks," he says. "Being in Alert, there's no escape. You are trapped. No way to transport yourself out. You are there. We did get to use a phone. We were allowed to use it for 45 minutes a day."
Business as usual
Although the project took more than a year to complete from delivery to final assembly, the actual installation went very smooth and was completed in 11 days with another four days required of runtime to work out all the little kinks.
"At the end of the day, assembling the machine is the same as any other job. Everything else was very different on the project," St. Laurent says. "The team here organized things very well. There, things could get lost in the snow, but it was all lined up and very well organized, and we had a crane operator. Overall, it was a very good project."
Source: RockToRoad https://www.rocktoroad.com/on-alert-frontline-machinery-far-north-2/