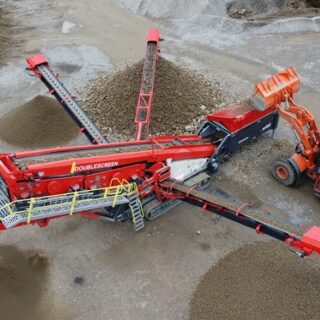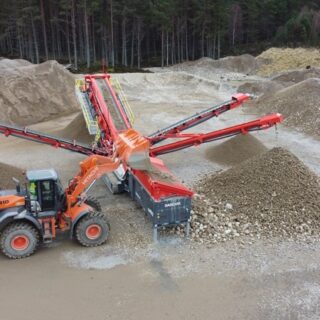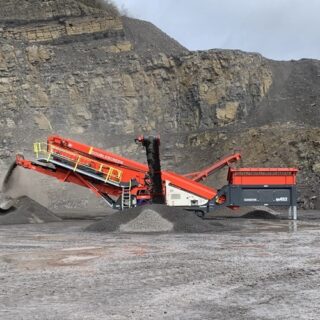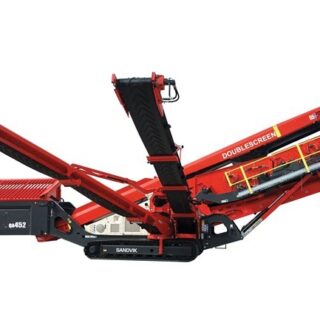 equipment for sale
Sandvik QA452 Incline Screener
Introducing Sandvik QA452 tracked mobile, 3-deck sizing screen, the latest evolution of the Sandvik QA Series products and Doublescreen technology. Sandvik QA452 has been developed with uptime, productivity and lower cost of ownership in mind.
The QA452 is capable of producing large volumes of high specification products. Featuring two triple deck inline screen boxes with equal size screen decks each providing 9m3 /100 sq. ft of screening area.
The primary screen performs as a fines extractor, whilst the secondary screen performs as a grader. Both primary and secondary screening angles can be adjusted relative to each other. Two processes on one plant, offering exceptional flexibility, excellent separation, accurate grading and massive throughput.
This latest model has been designed with a number of new features for improved access, ease of operation and quicker set-up.
Sandvik QA452 offers a more sustainable solution with lower emissions, reduced fuel consumption, extended service intervals, optimized hydraulics and less operating noise.
GET MORE INFORMATION
FINANCING
TECHNICAL SPECS

Advantages
World Class Doublescreen technology offering greater adjustability, increased accuracy and higher screening efficiency
Independent screen angle adjustment for greater screening accuracy
Patent pending hydraulic screen separation for faster screen media changes
Equal size screen decks each providing 9m3 /100 sq. ft of screening area
Versatile unit, capable of producing large volumes of high specification product
Oversize conveyor which features both hydraulic raise / lower and hydraulic slew functions
Oversize cross conveyor handles more oversize material
User-friendly PLC control system with sequential start-stop for speed and ease of operation
Full radio remote control and two speed tracking for safe and efficient movement
Hybrid "e" drive option with electric plug-in gives flexibility to run in most economical and efficient energy source
More sustainable, lower emissions, reduced fuel consumption, extended service intervals, optimised hydraulics and less operating noise
My Fleet remote monitoring with 7 year data subscription to help optimize your machine operation
Security+  extended warranty & service package for higher uptime and peace of mind.
Technical data
Screen box 6 x 1.5 m (20 x 5 ft)
Capacity (up to) 600 mtph (661 stph)
Engine C4.4 98kW (132hp) *
Transport length 18.37 m (60 ft 3 in.)
Transport width 3.20 m (10 ft 5 in.)
Transport height 3.60 m (11 ft 10 in.)
Weight  40,200 kg (88,625 lb)
Improving productivity and profitability
Sandvik is constantly evolving their offering of equipment, tools, service and technical solutions for rock processing including crushing and screening. No matter the application, they'll ensure you're matched with the right solutions to maximize your productivity and profitability.
Driving innovation through R&D
Innovation and R&D drive our state-of-the-art solutions, which are all backed by application expertise: a worldwide network offering on-site service, training and round-the-clock support.
Building lasting relationships
Sandvik's strength is in their customer relationships. They spend a lot of time with you in mines, quarries and construction sites around the world, so they understand your never-ending push to increase productivity and cut costs. They conduct business in close cooperation with you, with the promise of being your proactive productivity partner.