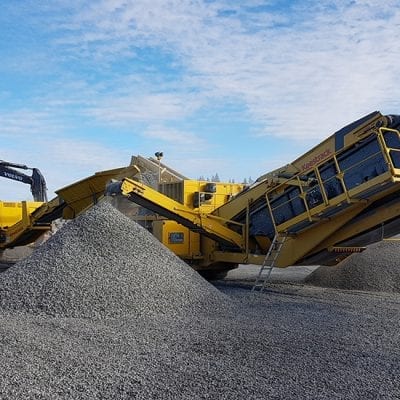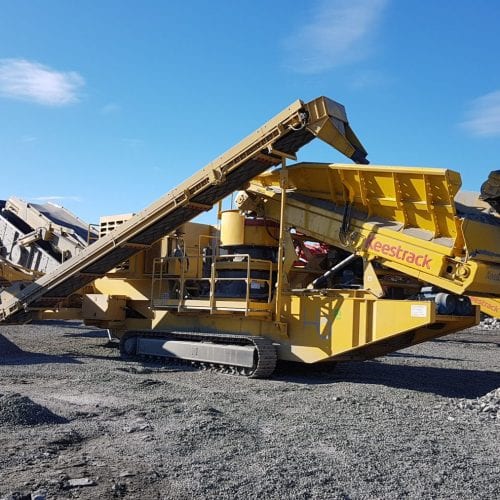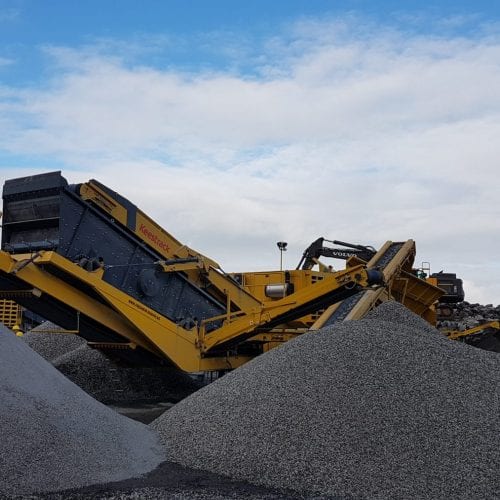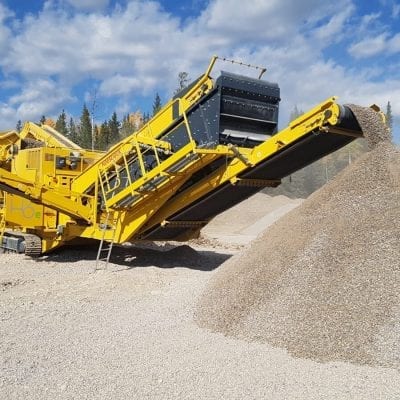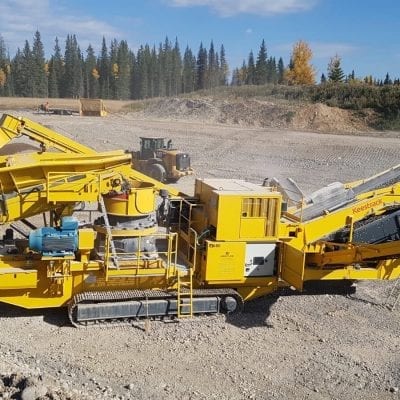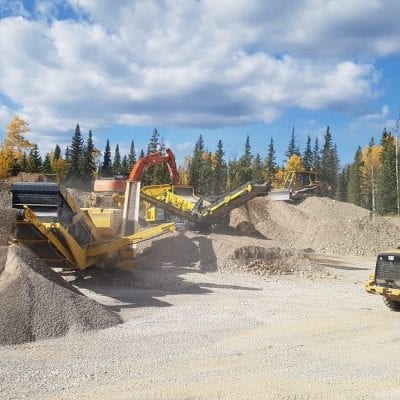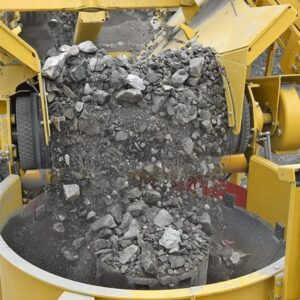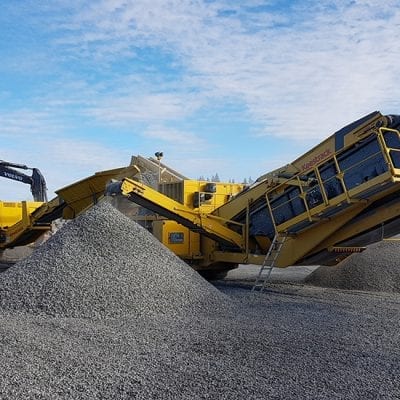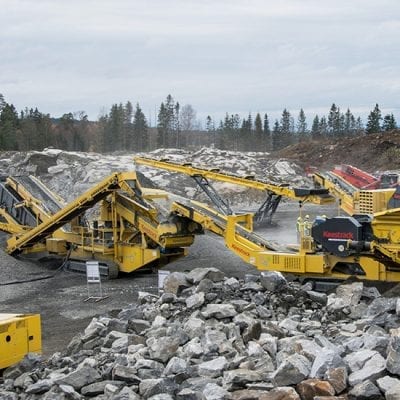 equipment for sale
Keestrack H6e Cone Crusher
Heavy-duty 300 hp cone crusher with an optional 3 deck after screen with the ability to produce up to 400tph
Like the H4, the Keestrack H6 can be used in primary, secondary, tertiary, or quarternary crushing and designed to crush the toughest of rock and ore. This 62-tonne full capacity crusher has an optional 3-deck after screen and an integrated metal detector to protect the cone. Its precision sorting and final application sizes make this a well sought out machine for those sites requiring a precise final production.
The Keestrack H6 highlights include a wide 8m³ hopper, 400 tonnes/hour capacity, an effective screening area of 8.1m2 on each deck screen, a maximum feed size of 215mm and versatile configurations for each crushing chamber.
This H6e is a full hybrid model designed with 345-kW Volvo diesel engine and a connected 500-kVA generator to supply the onboard energy. The entire drive unit is removable and can be located remotely from the crushing plant and its abrasive environment. Dust and vibration levels are reduced while the maintenance and service life of the drive unit can be optimized. The Keestrack H6e also offers plug-in power supply from the mains or additional generators as a standard, making it possible to reduce direct energy costs by up to 70 percent.
GET MORE INFORMATION
BOOK A DEMO
FINANCING
RENT ME
TECHNICAL SPECS

See the Keestrack H6 Cone Crusher in action!
Check out the Keestrack H6e mobile cone crusher overview and learn why Keestrack is the superior choice for mobile crushing and screening equipment.
Feeding size up to 215 mm (8 5/10″")
C.S.S. min. – max. 6 – 44 mm (2/10″" -2″") depending on crushing chamber configuration
Capacity up to 400 tonnes / hour
Hopper 8 m³
Other configurations possible with different crushing chambers
Diesel / electric drive
2 speed track drive
Optional 3-deck screen: Top: 4.640 mm x 1.800 mm, Middle and bottom 4.500 mm x 1.800 mm (14'9″" x 5'10″")
Effective screen area 8,1 m² on each deck, with return conveyor
Best product shape
Extensive option list to configure to your application
Removable engine /generator compartment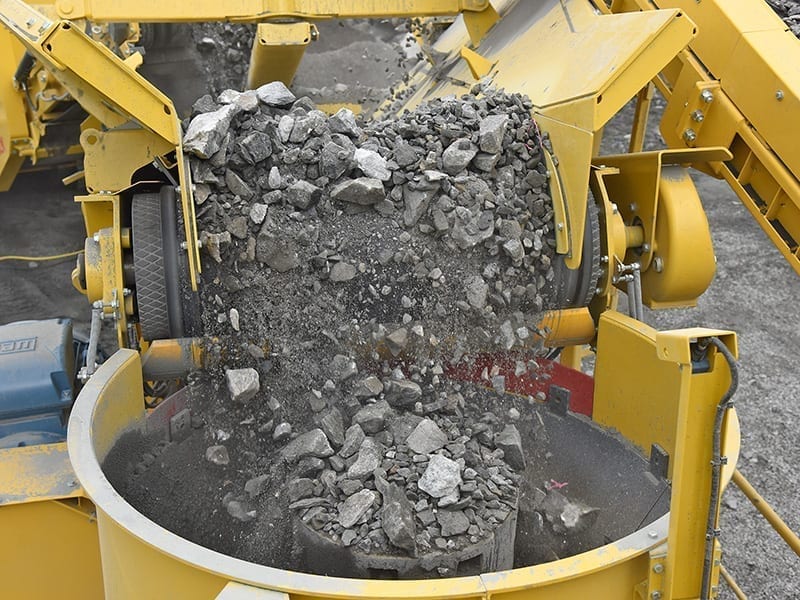 Advanced cone
The H6e features a technically advanced pressurized cone that prevents dust from entering the bushes and bearings. Additional advancements include a PLC-controlled fill. Measured via an ultrasonic sensor, the PLC automatically adjusts the fill of the cone based on fill level and engine load. Additionally, it also has an automatic release system for uncrushable. Just a few of the advanced features of the H6e cone.
Removable genset
The genset on the H6e cone crusher is removable improving engine access and allowing the engine to be placed away from the dusty abrasive environment during operation which in result lowers the service cost and extends the longevity of the unit.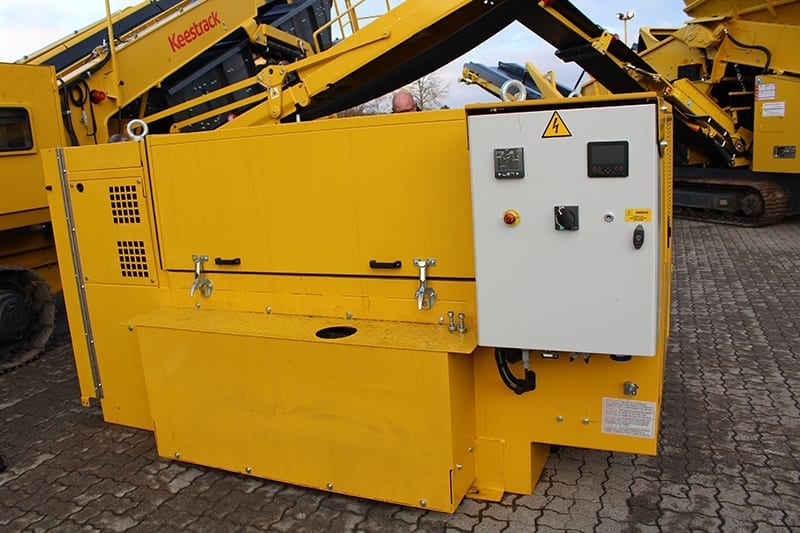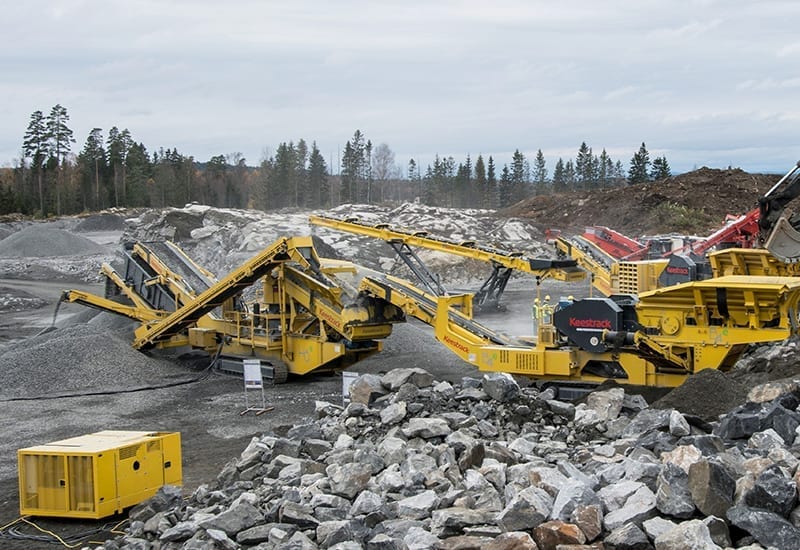 Powerful and versatile generator
The removable genset of the H6e can service as a power source to secondary machines such as an independent screener like the Keestrack K5e or a stacking conveyor like the Keestrack S1e and S5e, further offering additional fuel savings.
Integrated metal detector
The H6e cone crusher features a belt feeder metal detection system to prevent metal from entering and damaging the cone. The System Edge 3000 with an MDV amplifier offers sensitivity adjustment from levels 1 to 10.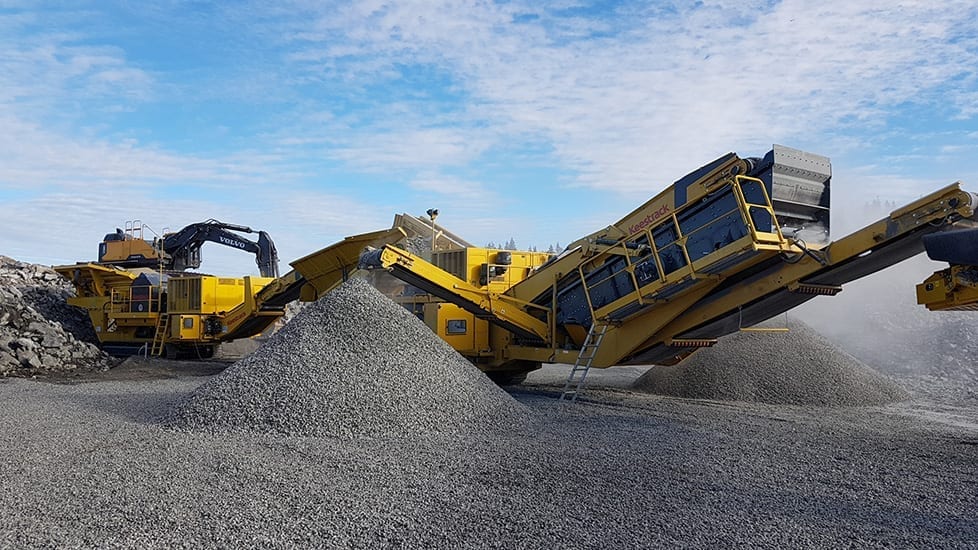 State-of-the-art Technologies
Keestrack focuses on state-of-the-art drive technologies and sophisticated processing concepts. From the use of modern communication technology and telematics for remote plant control and maintenance management to the use of high-strength steel in the machine frames and superstructures, Keestrack never compromises on quality with uncompromising standards. Anything less than exceptional doesn't make the grade.
Performance in every detail
Keestrack is dedicated to delivering the best-in-class for all their customers, so they design every Keestrack crusher, screener, and stacker from the ground up to be highly efficient and cost-effective. These many individual innovations together set Keestrack apart. Their promise of performance in every detail means they go the extra mile to set the standard within their sector.
Private family owned
In 1996 Kees Hoogendoorn and his wife Annet Schoenmaker started Keestrack with an ambitious vision: to build the world's first direct feed scalper. Today, they proudly lead the way in mobile screening and crushing technologies. Their belief in the importance of family gives them the confidence to push further and try harder. They are 100% privately owned and managed by the Hoogendoorn family, with the idea of family at the heart of everything. The result gives an unshakable belief in Keestrack and their ability to succeed.
Additional information
| | |
| --- | --- |
| Application | |
| Configuration | |
| Manufacturer | |
| Model | |
| In Stock / Available to Order | |