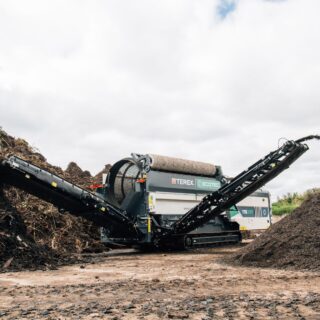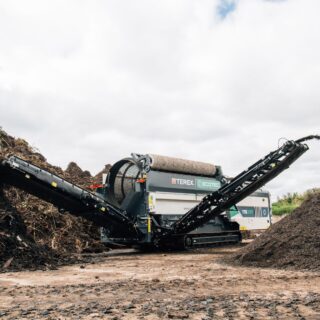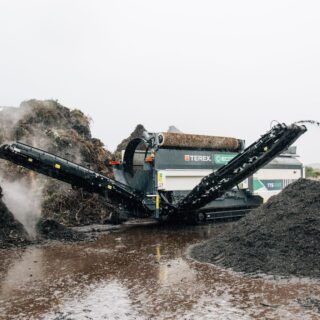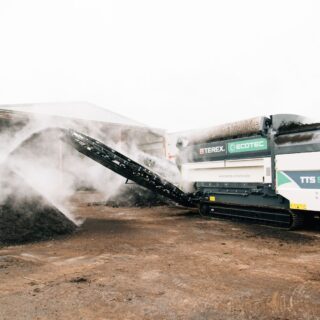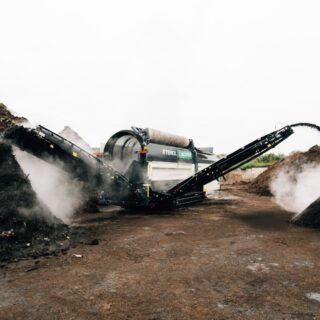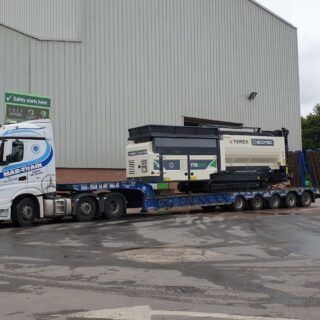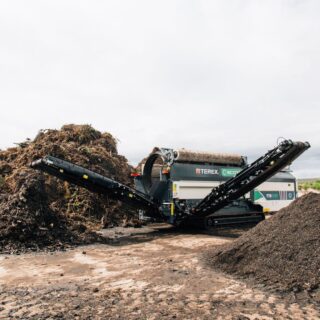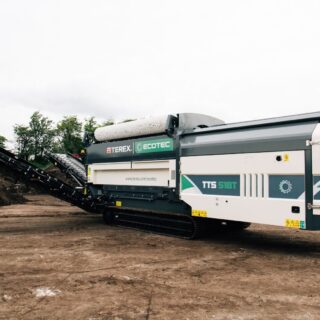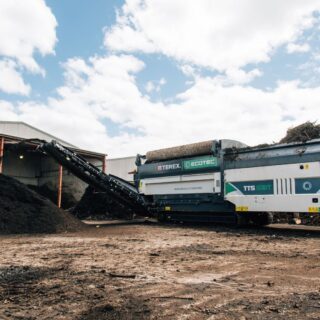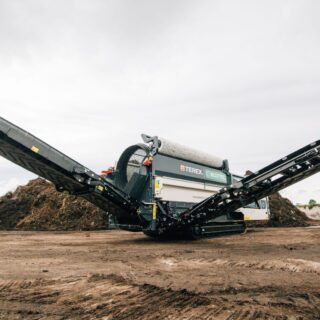 equipment for sale
Ecotec TTS 518T Tracked Trommel Screener
Ecotec's TTS 518T Tracked Trommel Screen shares the same intuitive control system and 'push to start' buttons used on the TTS 620, allowing the operator to effortlessly configure the machine to suit the required application. The intelligent feed control system continually monitors the machine adjusting the feeder speed to optimize screening performance and throughput.  Being driven at the head, the feeder provides an excellent and continuous feed rate, reducing slippage in difficult applications.  The feeder has also been designed as a slide-out cassette which allows for easy maintenance and quick and simple belt changing.  The clear tunnel area underneath the feeder prevents material build-up and allows any material in this area to drop directly onto the ground.
Providing a total screening area of 23m² the TTS 518T is fitted with a 1.8m x 4.7m horizontal drum with spiral design. With double-sided drum access via 180 degrees opening side doors, maintenance and drum changes can be carried out with ease.  The TTS 518T has been designed to accept a number of other trommel manufacturers' drums, enabling it to integrate seamlessly into an operator's existing fleet.
The TTS 518T is fully equipped with the latest Stage V engine requirements and has been designed to provide excellent fuel efficiency and low operating costs. The swing-out engine cradle provides unprecedented service access enabling daily checks and maintenance to be carried out safely from ground level. All the conveyors are fully modular allowing each to be removed independently, with the fines and oversize also lowering to ground level for maintenance.
An adaptable trommel suitable for all market conditions, the TTS 518T is a tracked unit providing increased site mobility.
Get More Info
Book a Demo
Financing
Technical Specs

See the Ecotec TTS 518T Trommel in in action!
Compact yet uncompromised, the TTS 518 has been intuitively designed offering operators unrivalled application flexibility, production rates and serviceability. Fully equipped with a Stage V/Tier 4 engine (Dual Certified) and the latest intelligent screening technology, the TTS 518 delivers a superior and cost-efficient end-product. Ideal for small to medium sized operations where space may be limited, the highly versatile TTS 518 is available in both tracked and wheeled variants.
Double-sided unrestricted drum access via two large swing-out doors, enabling easy maintenance and cleaning
Easily replaceable 4.7m (15'5'') x 1.8m (5'1'') punch plate drum which is compatible with the Doppstadt SM 518
Advanced feeder control system offering efficient operation and maximized output;

Fully sealed feeder reducing spillage.
The feeder belt is driven at the head drum via a powerful recessed gearbox and hydraulic motor reducing belt spillage

Swing-out engine cradle providing operators with unrivaled maintenance access
User-friendly push-button control system with Automatic Start / Stop function and Automatic Feeder Mode
Low engine speed for reduced noise and fuel consumption
All conveyors are built to an individual modular design reducing maintenance downtime
Fines and oversize conveyors lower to ground level hydraulically
Advanced sealing and feedboot design ensure smooth material transfer and stockpiling
VAST PRODUCT PORFOLIO
Ecotec's broad range of equipment allows for more targeted efficiency in niche operations. Behind an aggressive research and development strategy, Terex Ecotec now offers a full product portfolio that meets the needs of today's professionals and will shape the industry for years to come. The Terex Ecotec product line has grown significantly and expanded production out of a new 105,000 square foot manufacturing facility Today their comprehensive product portfolio includes Slow, Medium & High-Speed Shredders, Trommel Screens, Recycling Screens, Waste Handlers, and conveyors.
FIELD SUPPORT
Ecotec is your proven industry-leading partner for the design, service, and support of primary waste recycling, wood recycling, and composting equipment. They have dedicated sales and service staff for the Ecotec product range with a driving focus on providing customers the best support in and out of the field. Their world-class dealer distribution network provides the sales and aftermarket service demanded in the marketplace giving customers the support required to maximize production and minimize downtime.
INDUSTRY LEADER
Terex® Ecotec, part of the wider Terex Materials Processing group, is an industry leader in the design and manufacture of wood processing, biomass, and recycling equipment. The range of innovative machines available is robust yet user-friendly with a focus on throughput, efficiency, and serviceability. Their world-class range of mobile equipment that will shape the industry for years to come.