equipment for sale
Ecotec TFC 75 Organics High Level Feeder Conveyor
High level feeder engineered for the stockpiling and aerating lower density, bulky materials such as soil, mulch, biomass and compost
The TFC 75 Organics high-level feeder has been engineered specifically for the stockpiling and aerating of lower density, bulky materials such as soil, mulch, biomass, and compost.  Located at the hopper outlet, the auger provides aeration and an untangling solution for organic materials.  The auger flips, rotates, and regulates the flow of material minimizing fluctuations in the bulk density of organic materials, and is equipped with replaceable hardened paddle wear plates.  High capacity, bespoke hopper design efficiently transfers and prevents the bridging of material.  The reverse functionality of the feeder enables blockages to be cleared and oversized material removed.  Controlled and efficient flow of material is guaranteed due to the adjustable operating speed of the feeder belt.
GET MORE INFORMATION
FINANCING
TECHNICAL SPECS

Performance Highlights
Hopper

Target Area: 4040mm (13′ 3″) x 2000mm (6′ 7″)
Capacity: 10m3
Feed in Height: 3.52m (11′ 6″)

Discharge Conveyor

Conveyor Length: 22.6m (74′ 2″)
Belt Width: 1200mm (47″)

Feed Conveyor

Belt Width: 1400mm (56″)
Variable Speed
Feeder Reverse Function

Undercarriage

Heavy duty tracks
4300mm centres, 400mm shoe

Powerunit

CAT 4.4 82kW (110HP) Tier 4 Final @ 1800 RPM

Max discharge height 9.8 m (32′ 2″)
Options
Canvas Dust Covers on Discharge Conveyor
Canvas Dust Covers Complete with Dust Hood on Discharge Conveyor
Twin Drive Discharge Conveyor
Anti-Roll Back Flaps
Discharge Belt Upgraded To 3 Ply Heavy Duty Plain Belt
Discharge Conveyor Drive Drum Upgraded to Ceramic Lagging
Discharge Conveyor Underguard Option Length of Mid Section
Dust Suppression at Conveyor Head Drum (Spray Bar Only)
Belt Weigher
Overband Magnet at Feedboot of Discharge Conveyor
Radio Remote to Start/Stop Feeder, Raise/Lower Discharge
Pull Cord E-Stop Running Length of Conveyor
Radio Remote Control Tracking
Plain Belt EP400/3 4+2
Telemetry System c/w 3 years Data Subscription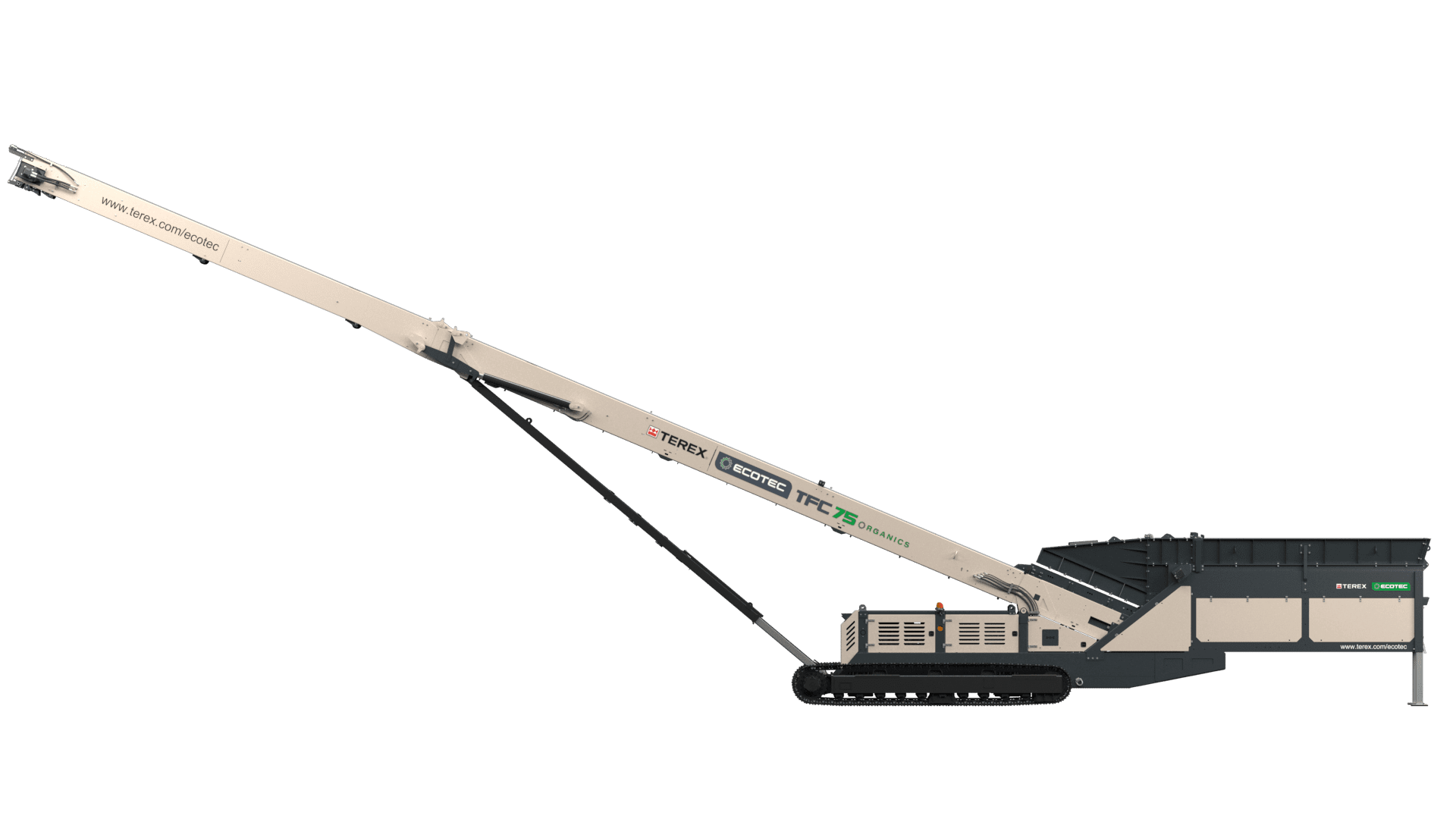 Specially engineered
Designed specifically for the stockpiling and aerating of lower density, bulky materials such as soil, mulch, biomass, and compost, the TFC 75 organics high-level Feeder features an auger that flips and rotates the material untangling and separating it.
Unique hopper design
The high capacity, bespoke hopper is specifically designed to prevent bridging of low dense, bulky materials.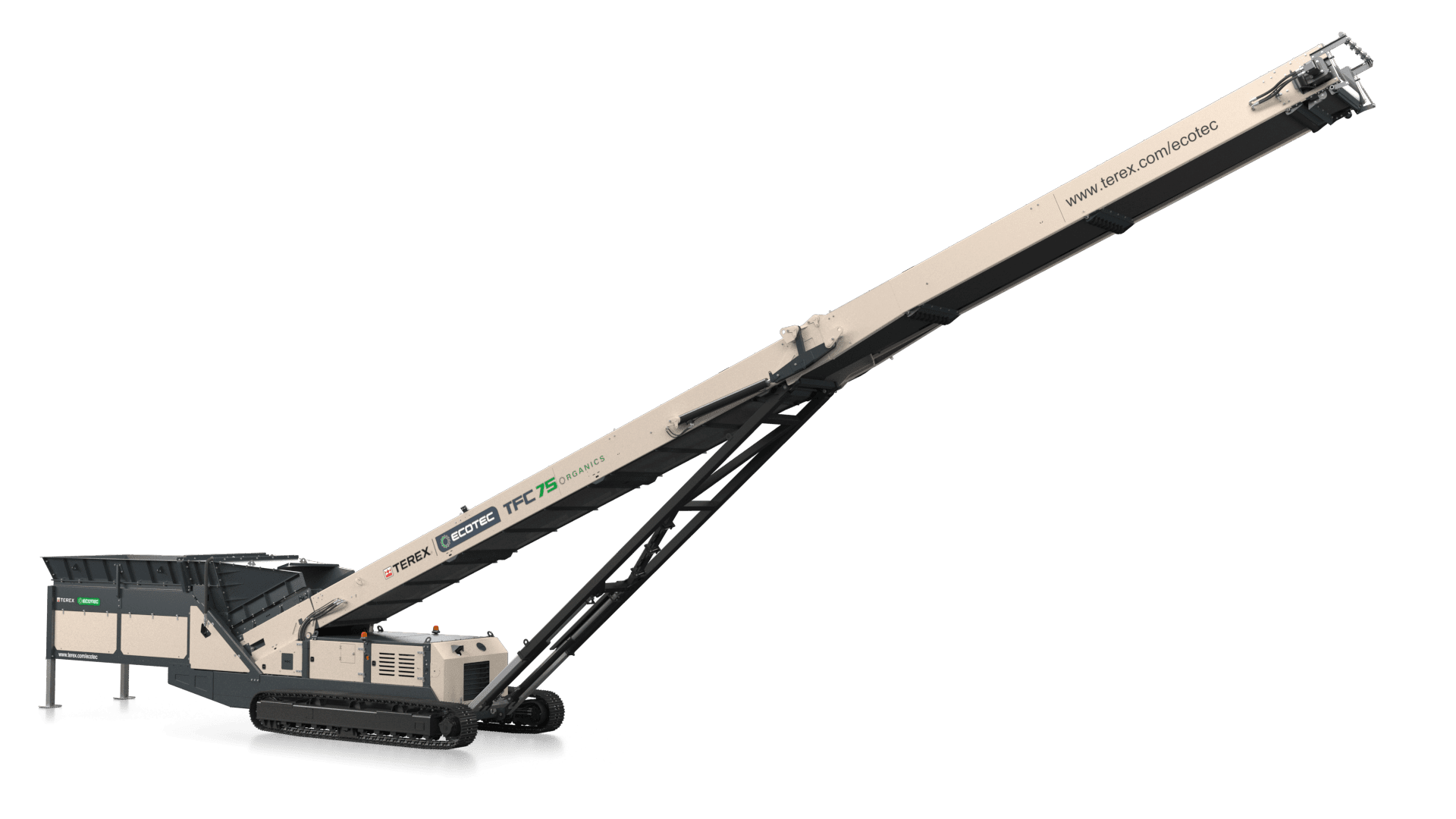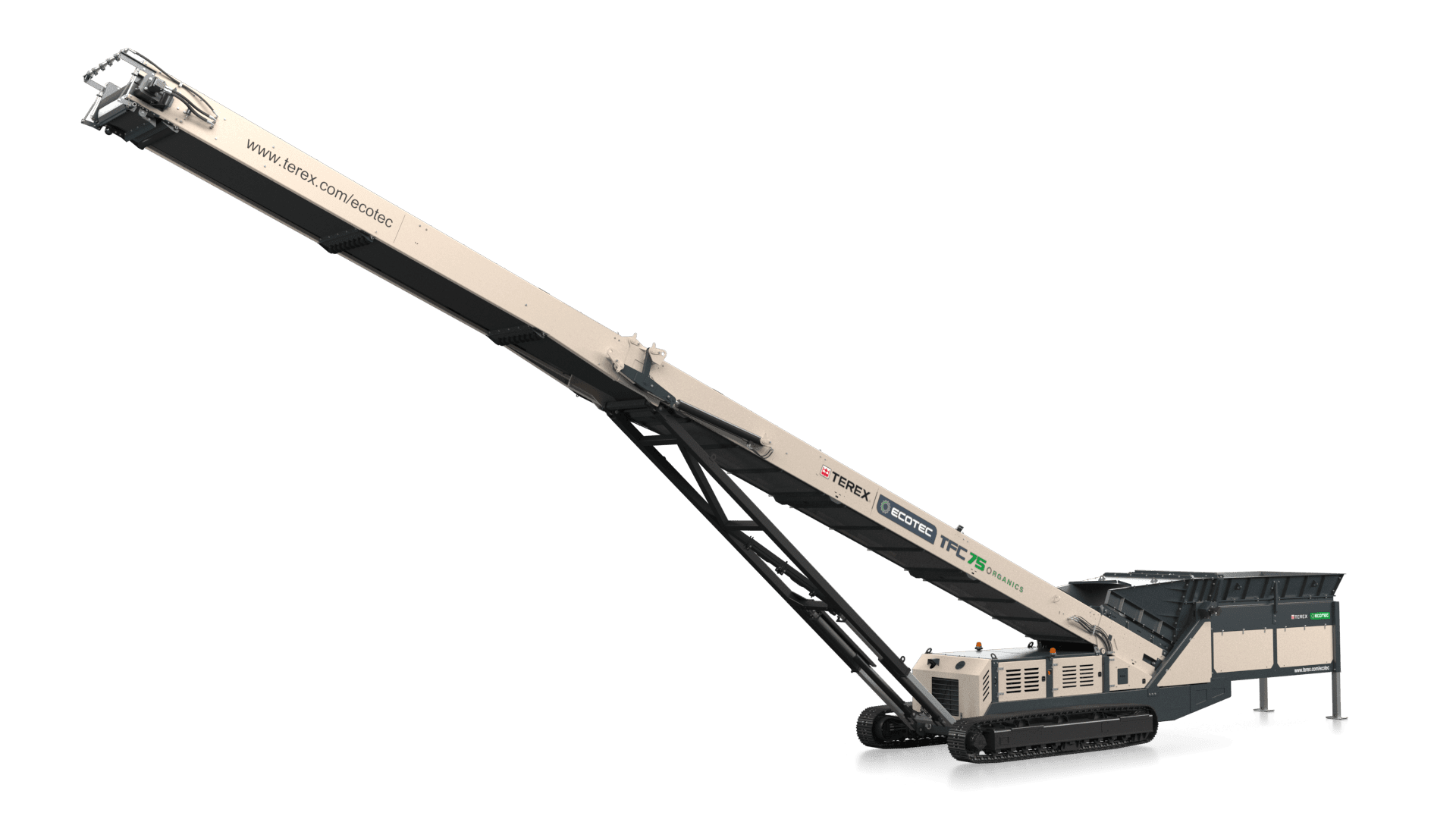 Maintenance-friendly
Fully protected Caterpillar C4.4 4-cylinder power-unit provides easy ground access for service and maintenance.
Custom options
The TFC 75 high-level feeder stacking conveyor comes with an extensive list of custom options for application versatility including overband magnets, dust covers, radio remotes, 3-ply belts, dust suppression and much more.
Vast product porfolio
Ecotec's broad range of equipment allows for more targeted efficiency in niche operations. Behind an aggressive research and development strategy, Terex Ecotec now offers a full product portfolio that meets the needs of today's professionals and will shape the industry for years to come. The Terex Ecotec product line has grown significantly and expanded production out of a new 105,000 square foot manufacturing facility Today their comprehensive product portfolio includes, Slow, Medium & High Speed Shredders, Trommel Screens, Recycling Screens, Waste Handlers, and conveyors.
Field support
Ecotec is your proven industry-leading partner for the design, service, and support of primary waste recycling, wood recycling, and composting equipment. They have dedicated sales and service staff for the Ecotec product range with a driving focus on providing customers the best support in and out of the field. Their world-class dealer distribution network provides the sales and aftermarket service demanded in the marketplace giving customers the support required to maximize production and minimize downtime.
Industry leader
Terex® Ecotec, part of the wider Terex Materials Processing group, is an industry leader in the design and manufacture of wood processing, biomass, and recycling equipment. The range of innovative machines available is robust yet user-friendly with a focus on throughput, efficiency, and serviceability. Their world-class range of mobile equipment that will shape the industry for years to come.
Additional information
| | |
| --- | --- |
| Application | |
| Configuration | |
| Manufacturer | |
| Model | |
| In Stock / Available to Order | |