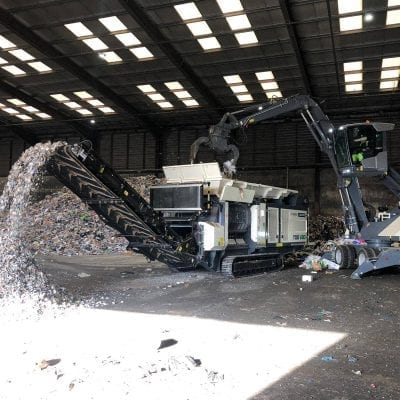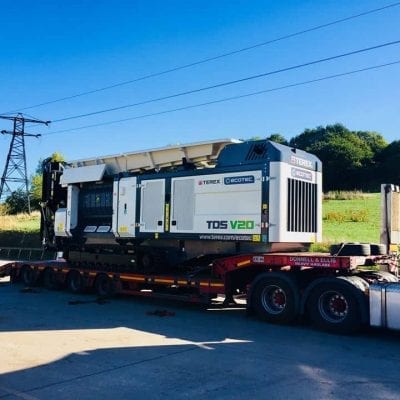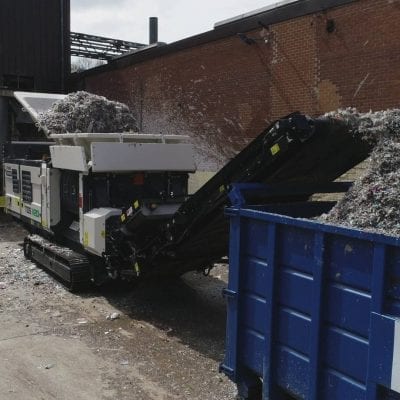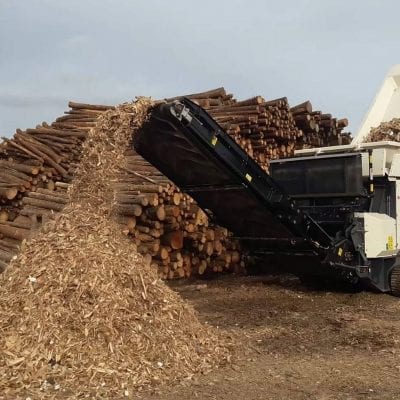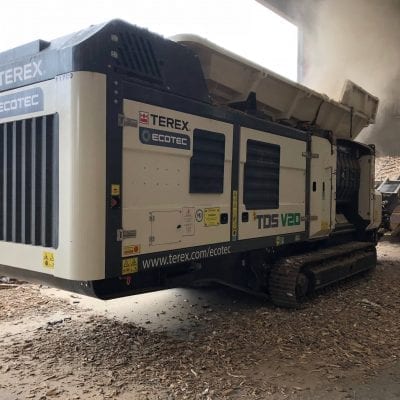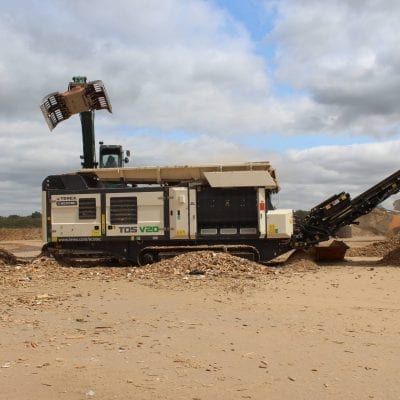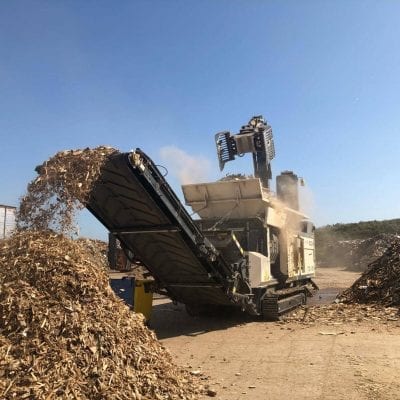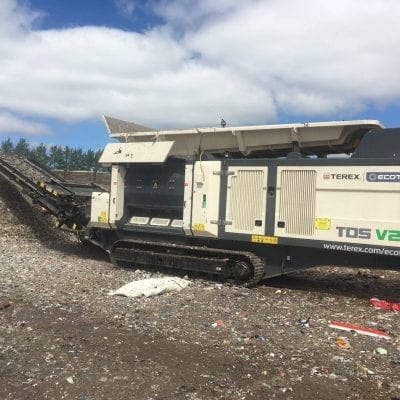 equipment for sale
Ecotec TDS V20 Medium-Speed Shredder
Medium speed, twin shaft shredder complete with sizing screens and tramp relief system
The Terex TDS V20 medium speed shredder is a revolution in mobile shredding. The double shaft shredder chamber developed by Vecoplan specifically for the mobile industry benefits from an independent hydrostatic drive and a product sizing screen.
The TDS V20 screen system which is available in different sizes, comes complete with an intelligent protection system, allowing a desired particle size to be produced, whilst still being able to cope with foreign objects. The TDS V20's ability to produce a controlled product size in one pass is of huge benefit to the operator saving both time and fuel. However, its versatility means it can be used as a primary or secondary shredder if the need arises. The highly user friendly control interface shared with the TDS 820 complete with pre-installed programs allows the TDS V20 to shred difficult materials such as wood waste, green waste, domestic and industrial waste and is particularly suited to producing SRF.
GET MORE INFORMATION
FINANCING
TECHNICAL SPECS

User-friendly colour display offering simple operation and diagnostics
Customizable shredding programs allow operators to tailor the machine for specific applications
Medium speed shredder with aggressive cutting teeth
Intelligent tramp protection system
End product sizing screens
Hydraulic folding side doors for excellent service access
Bolt-on cutting teeth
Can be rotated to maximize wear part life
Tight tolerance cutting action
A separate transfer conveyor with a high specification belt ensures material is effectively removed from below the shredding chamber
A powerful Scania engine with a low operating speed combined with an efficient hydrostatic drive creates a very  responsive shredding action with protection against unshreddable contaminants
Excellent service access reduces operator downtime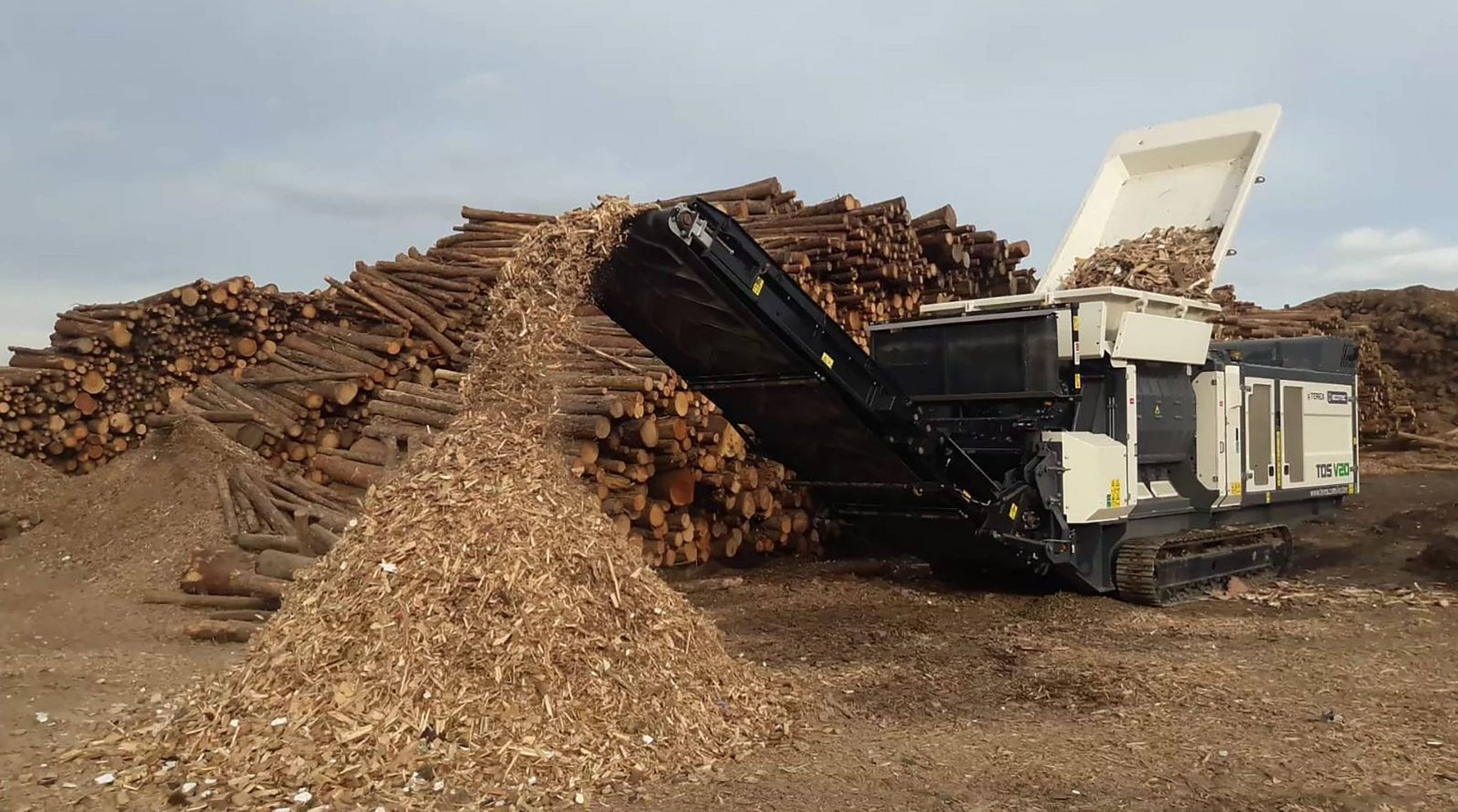 Accurate end product
The TDS V20 medium speed twin shaft shredder comes complete cutting teeth, counter knives and sizing screens for accurate product production.
Intelligent protection system
The counter knife and size screens on the TDS V20 shredder are held in position via 4 airbags. If tramp material enters the chamber the airbags deform allowing the material to pass the counter knives and sit on the screens. The sensor detects this and the shafts are stopped. The side doors can be lowered and the operator can easily remove the tramp material.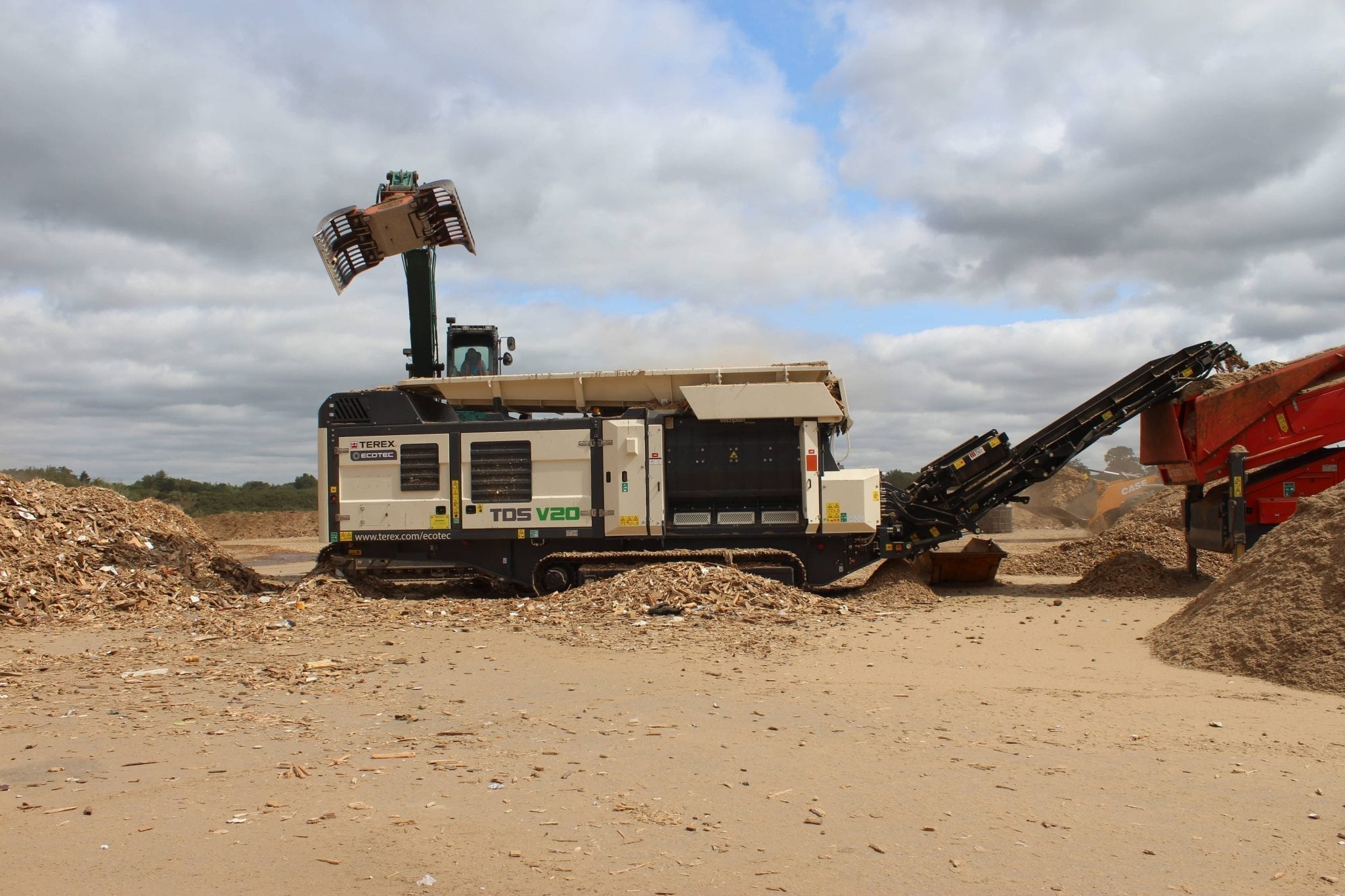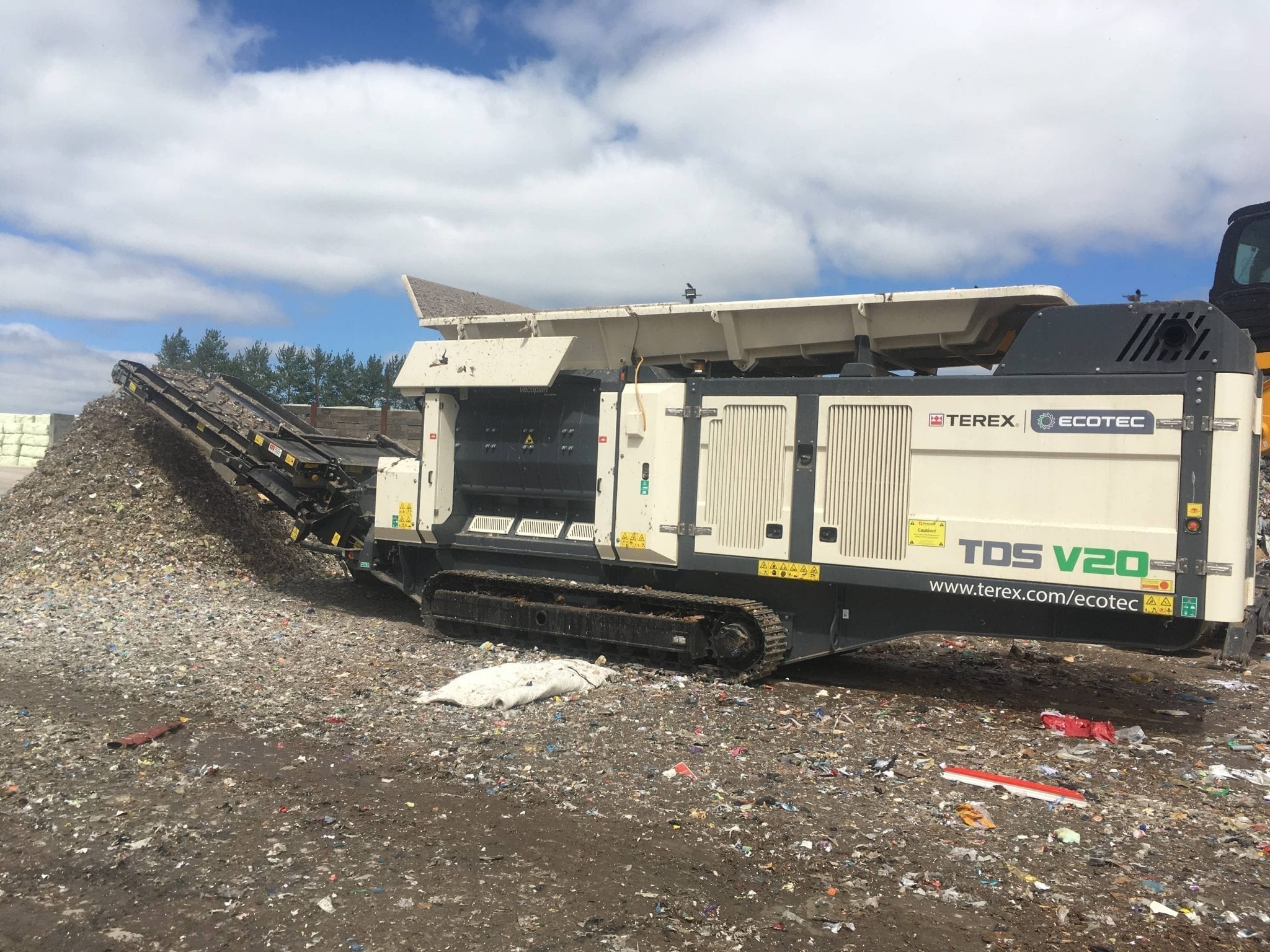 Independent Shafts
An independent gearbox and hydraulic drive on the Ecotec TDS V20 shredder allows each shaft to be controlled separately for application flexibility and ultimate shaft control.
Cassette style transfer conveyor
The transfer conveyor on the TDS V20 shredder is an independent cassette-style conveyor made of a high strength Grade "X" Chevron belt. The 2-ply straight warp design is highly resistant to damage in difficult applications while the cassette design improves ease of maintenance.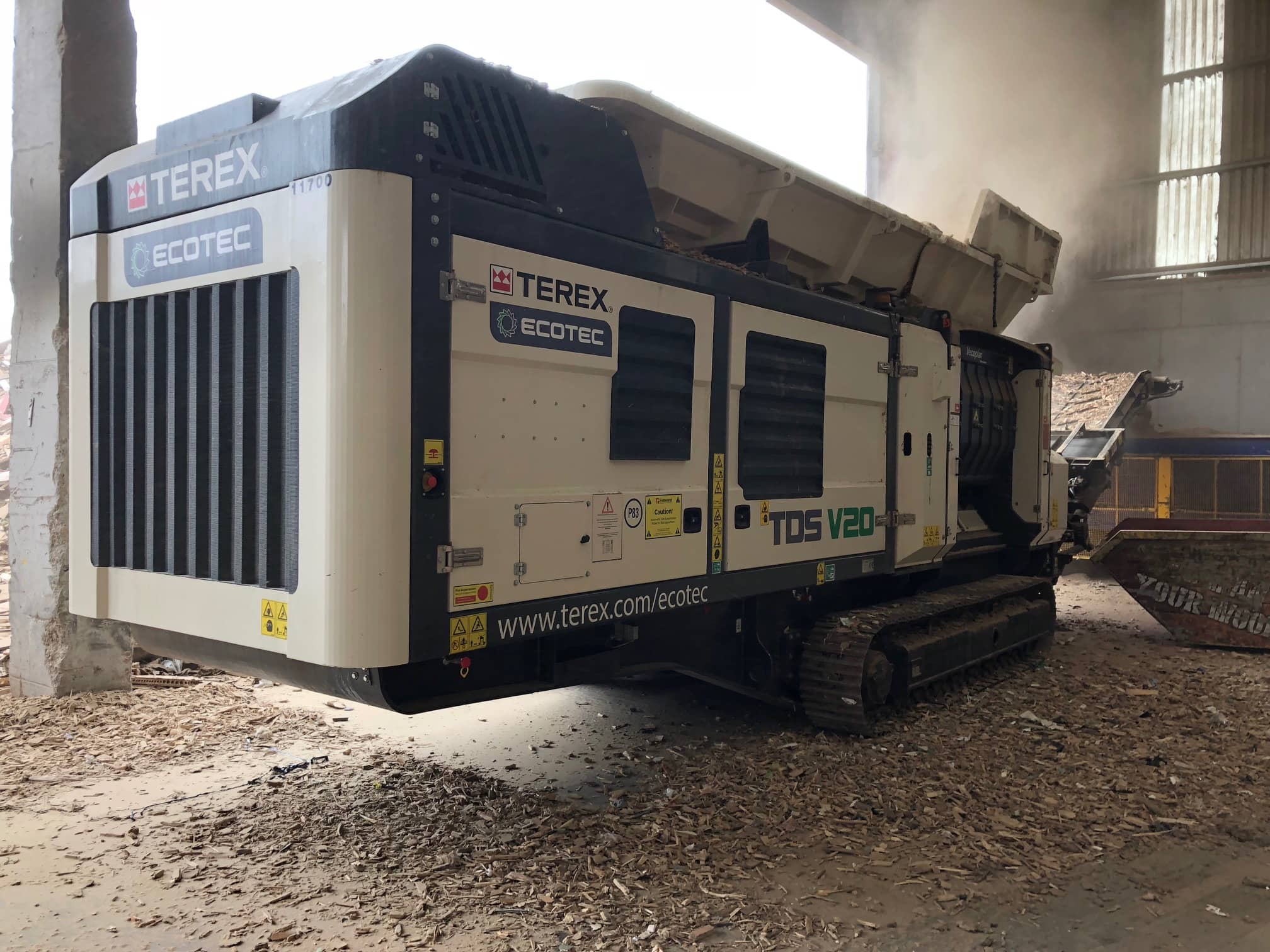 Vast product porfolio
Ecotec's broad range of equipment allows for more targeted efficiency in niche operations. Behind an aggressive research and development strategy, Terex Ecotec now offers a full product portfolio that meets the needs of today's professionals and will shape the industry for years to come. The Terex Ecotec product line has grown significantly and expanded production out of a new 105,000 square foot manufacturing facility Today their comprehensive product portfolio includes, Slow, Medium & High Speed Shredders, Trommel Screens, Recycling Screens, Waste Handlers, and conveyors.
Field support
Ecotec is your proven industry-leading partner for the design, service, and support of primary waste recycling, wood recycling, and composting equipment. They have dedicated sales and service staff for the Ecotec product range with a driving focus on providing customers the best support in and out of the field. Their world-class dealer distribution network provides the sales and aftermarket service demanded in the marketplace giving customers the support required to maximize production and minimize downtime.
Industry leader
Terex® Ecotec, part of the wider Terex Materials Processing group, is an industry leader in the design and manufacture of wood processing, biomass, and recycling equipment. The range of innovative machines available is robust yet user-friendly with a focus on throughput, efficiency, and serviceability. Their world-class range of mobile equipment that will shape the industry for years to come.