equipment for sale
Ecotec TBG 630 High-Speed Shredder
Powerful, compact and flexible mobile high-speed shredder featuring a robust swinging hammer
The TBG 630 High-Speed Shredder is the ultimate processing machine for medium to large scale biomass and green waste processors. Powered by a 661HP V8 Scania engine, the TBG 630 has been designed to give operators unrivaled production rates and ease of maintenance. The open-fronted feeder uses heavy-duty drag chains, a powerful feed wheel, and an unrestricted feeder design to effectively utilize the 1,100mm diameter x 1,750mm wide-swinging hammer rotor. This robust rotor comes with a wide selection of hammer designs and customizable screens that ensure end product material specification is met.
Metal contaminants are always a concern when using a high-speed machine; the TBG 630 has an intelligent screen opening system to quickly discharge such contaminants reducing the risk of accidental damage. The unique machine layout and maintenance catwalks offer unrestricted access to both sides of the engine making servicing a simple task. Industry-leading conveyor discharge height of 5.1m maximizes stockpile capacity and allows loader operators to easily remove processed material.
Get More Info
Financing
Technical Specs

See the Ecotec TBG 630 High-Speed Shredder in action!
1000rpm Upturn Rotor
36 Swinging Hammers
Extra-large screening area with kickback for unshreddable material
Over 5m discharge height at 35° – Max speed 220m/min
Intelligent feed system and feed wheel lift/downward assist
Unrivaled service access
Scania DC16 493kW (661Hp)
Tier 4 Final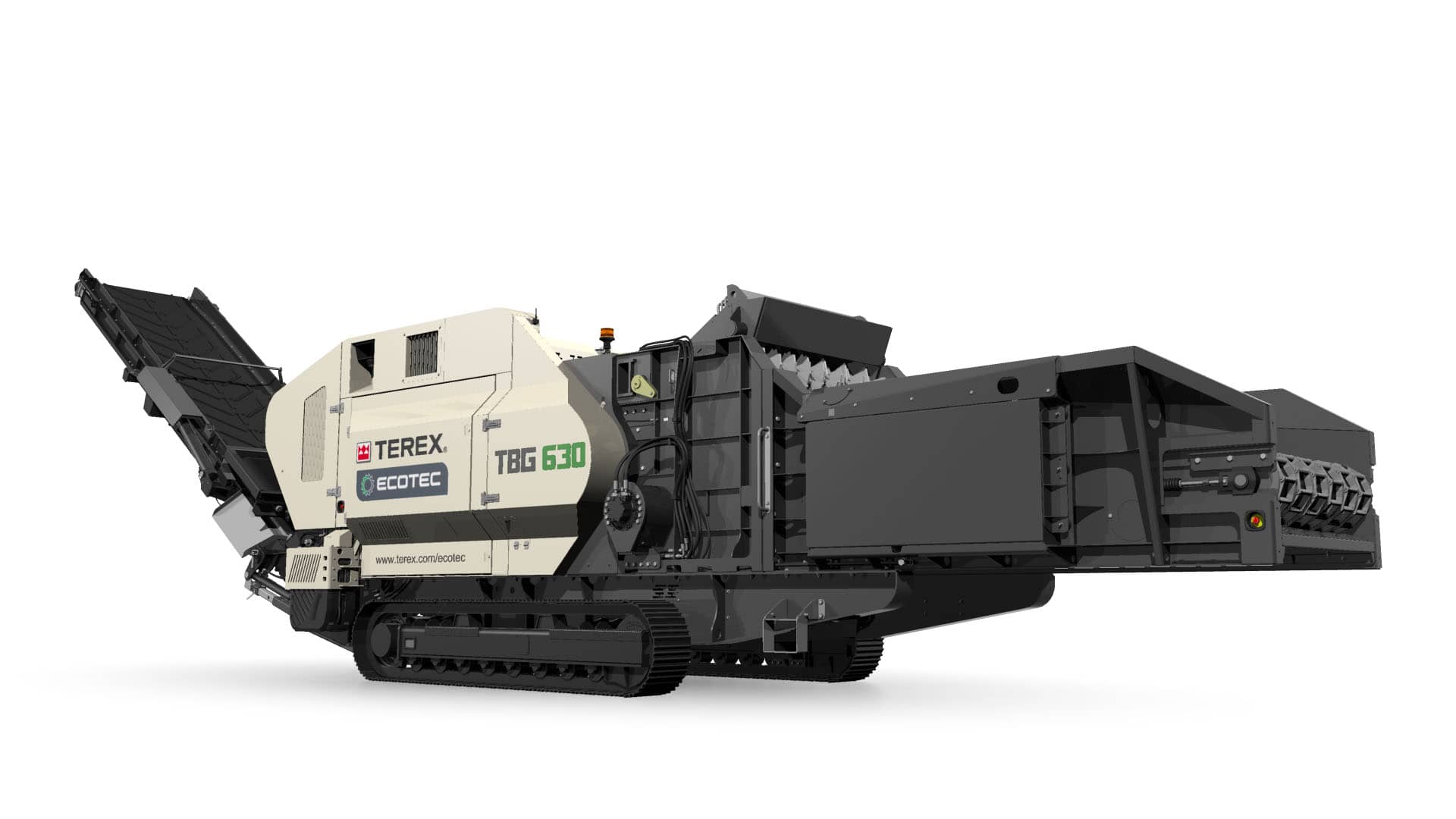 Rear infeed
The TBG 630 high-speed shredder features a rear infeed system. This system offers a low feeding height of 1.55m and efficient loading as the material can be easily 'thrown' into the feed hopper at the same time the six staggered infeed chains direct the material into the hydrostatically driven feed wheel.
Robust rotor
The robust upturn rotor on the TBG 630 shredder consists of 36 swinging hammers. Single piece or replaceable tip hammers are available operating at a speed of 1000rpm (1500 engine rpm).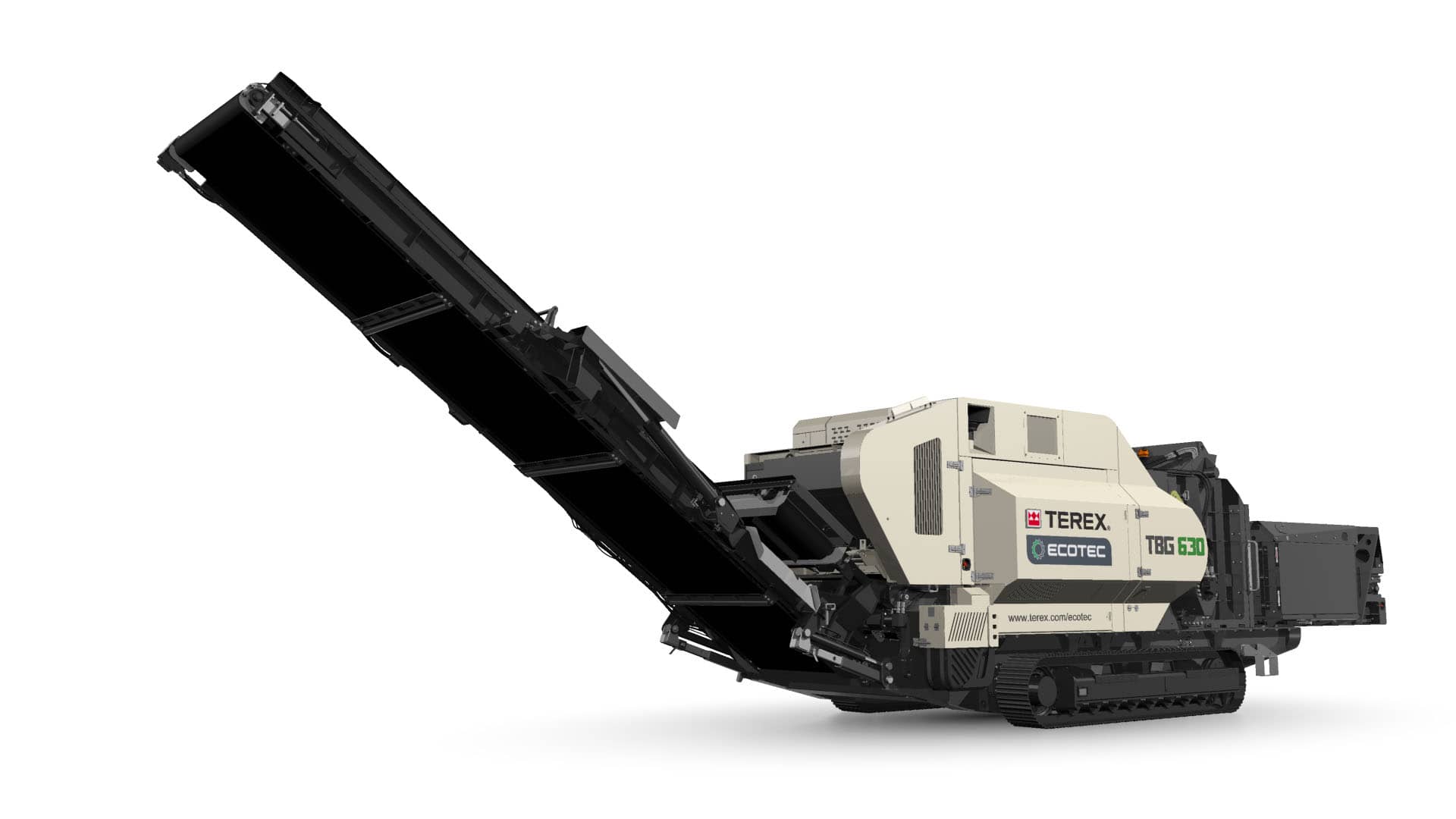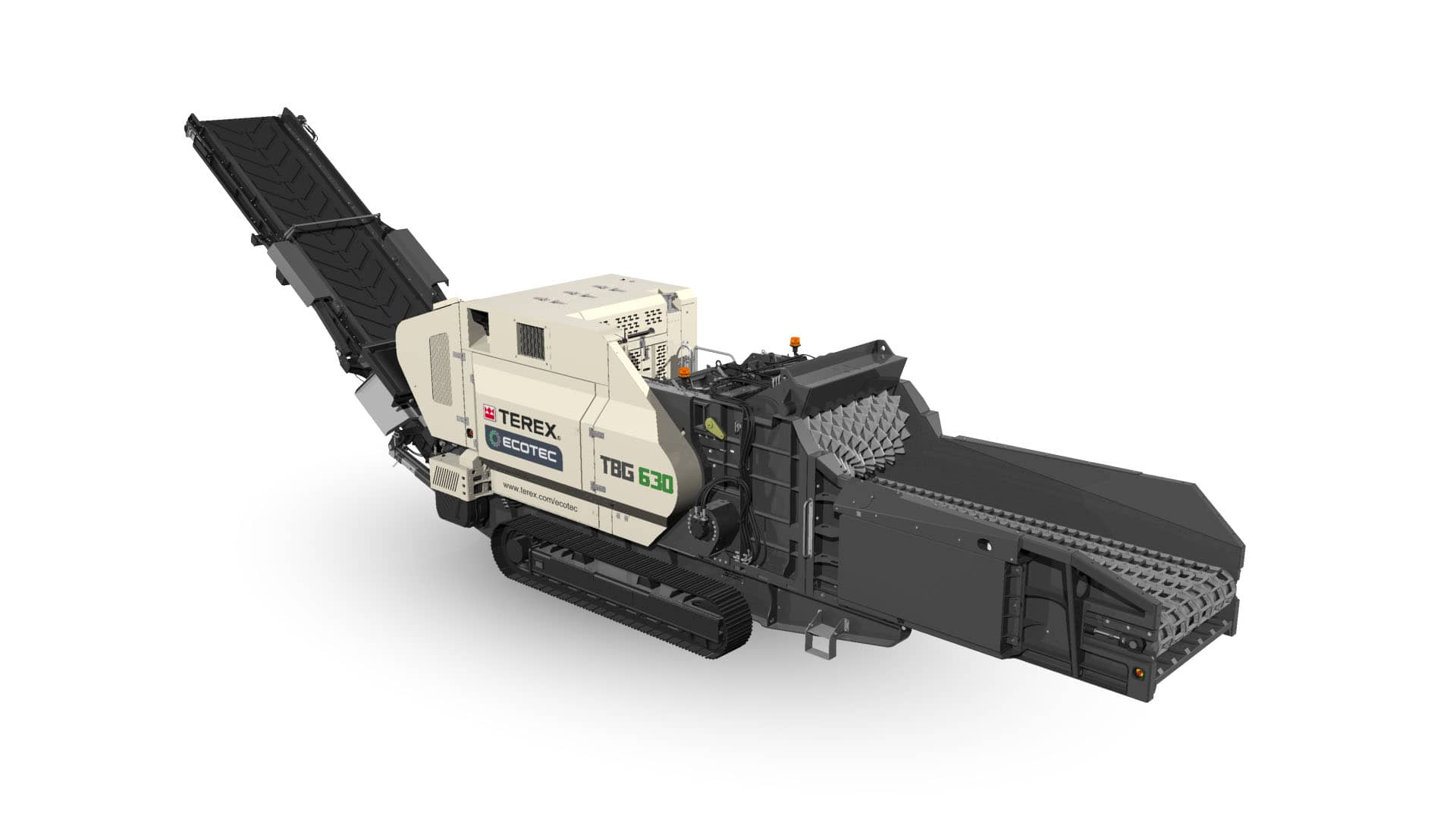 Vigorous infeed roller
Spiked for maximum performance, the infeed roller assists with pulling material into the rotor. It can also apply downforce to break up and push the material further. Similar to the feed chains, the feed wheel speed can vary depending on the engine load.
3D screen basket
The TBG 630 high speed shredder offers a 3D screen basket which provides an increased open area, fewer fines production, decreased oversized, reduced wear while reducing fuel consumption – all contributing to a reduced cost per ton produced.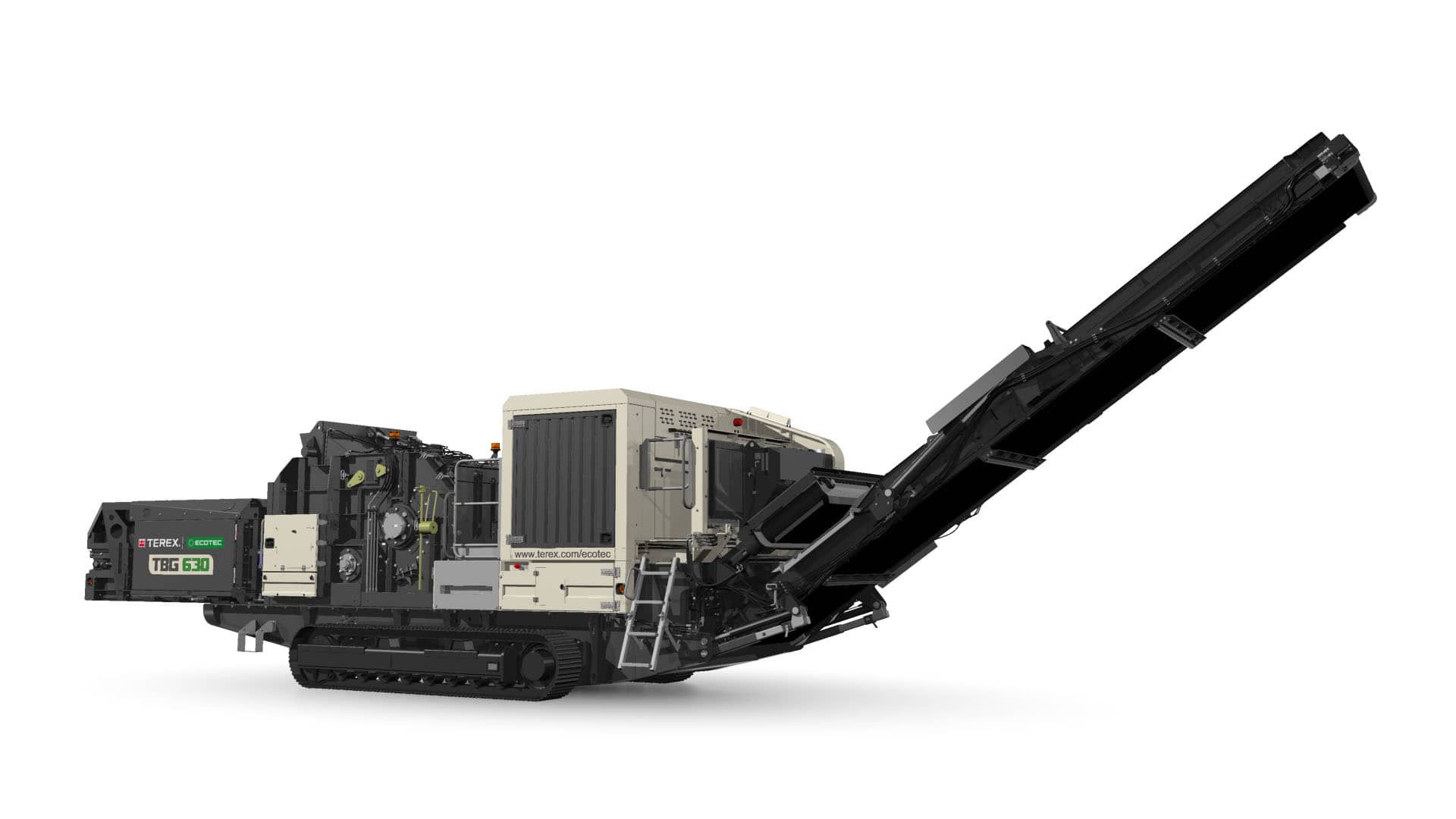 Vast product porfolio
Ecotec's broad range of equipment allows for more targeted efficiency in niche operations. Behind an aggressive research and development strategy, Terex Ecotec now offers a full product portfolio that meets the needs of today's professionals and will shape the industry for years to come. The Terex Ecotec product line has grown significantly and expanded production out of a new 105,000 square foot manufacturing facility Today their comprehensive product portfolio includes, Slow, Medium & High Speed Shredders, Trommel Screens, Recycling Screens, Waste Handlers, and conveyors.
Field support
Ecotec is your proven industry-leading partner for the design, service, and support of primary waste recycling, wood recycling, and composting equipment. They have dedicated sales and service staff for the Ecotec product range with a driving focus on providing customers the best support in and out of the field. Their world-class dealer distribution network provides the sales and aftermarket service demanded in the marketplace giving customers the support required to maximize production and minimize downtime.
Industry leader
Terex® Ecotec, part of the wider Terex Materials Processing group, is an industry leader in the design and manufacture of wood processing, biomass, and recycling equipment. The range of innovative machines available is robust yet user-friendly with a focus on throughput, efficiency, and serviceability. Their world-class range of mobile equipment that will shape the industry for years to come.