equipment for sale
Ecotec TBG 620 High-Speed Shredder
Powerful, compact and flexible high-speed shredder featuring a robust swinging hammer
The TBG 620 is a powerful, compact and flexible High-Speed Shredder that can be utilized for various shredding tasks.  With its unique comb system, the TBG 620 allows an adjustment in product size on the fly.  This provides the flexibility to meet different material specifications without the need to change screens. The compact size, roadworthy undercarriage and 21-tonne weight give the TBG 620 excellent mobility.With a 500HP Scania engine driving a robust swinging hammer rotor the TBG 620 is ready for a wide range of applications.  A generous feed area and aggressive intake system allow for non-stop productivity under all circumstances. The discharge conveyor, with a discharge height of 3.5m, can be equipped with an overband magnet to remove metal contaminants.  The TBG 620 can also be fitted with a hydraulic self-propelled drive system.  Excellent service access, quick machine set-up and time tested reliability reduce downtime.
GET MORE INFORMATION
FINANCING
TECHNICAL SPECS

See the Ecotec TBG 620 High-Speed Shredder in action!
The TBG 620 high-speed shredder is shown here with a 200 x 200 mm grate shredding green organic waste
CAN bus control for efficient and secure system management
Automatic detection of overload. All at one glance and quick response options
Large feed chamber for constant material feeding
Ideal specifications for non-stop productivity under all circumstances
Reduced tool wear and tear
The easily replaceable mallet is equipped with hard metal plates
Excellent service access reduces operator downtime
Excellence service access reduces operator downtime
Only short dwell times and a daily inspection in a couple of minutes
Highest level of efficiency
Direct power transmission from motor through coupling to the flail bar
Options which can increase the individual applications:

5 metre long conveyor belt
Overband magnet on conveyor to capture iron and other metals
Fire fighting equipment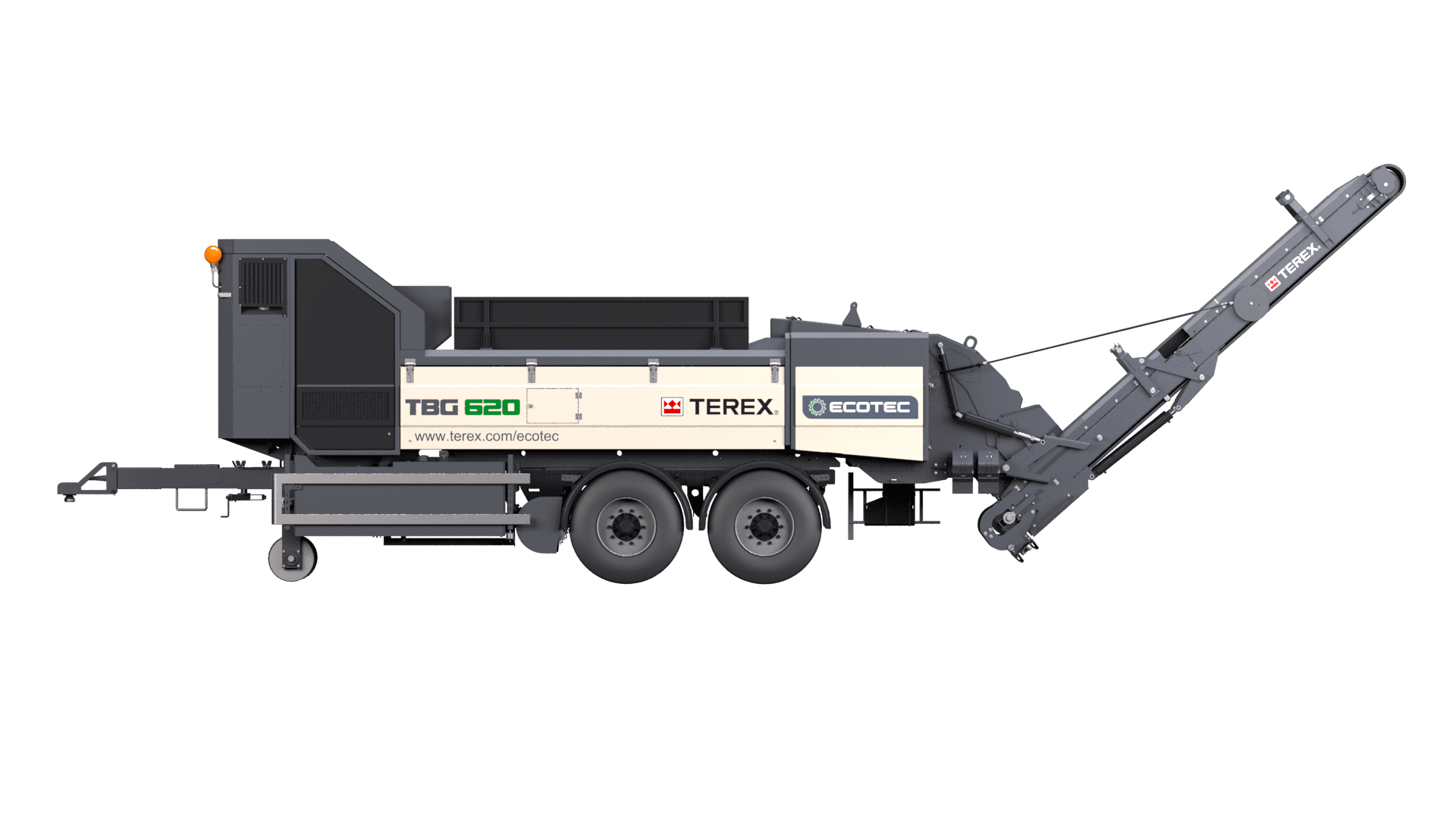 Efficient direct drive
The TBG 620 high-speed shredder bodes a highly efficient direct drive system with automatic belt tensioning. The direct power transmission from the motor is provided through a continuously engaged fluid coupling to the flail bar.
Vigorous infeed roller
Spikee for maximum performance, the 1,500mm (4'11") x 450mm (1'6″) infeed roller is held in position by the weight of the roller itself. The hydraulic drive infeed ensures a continuous and powerful feed.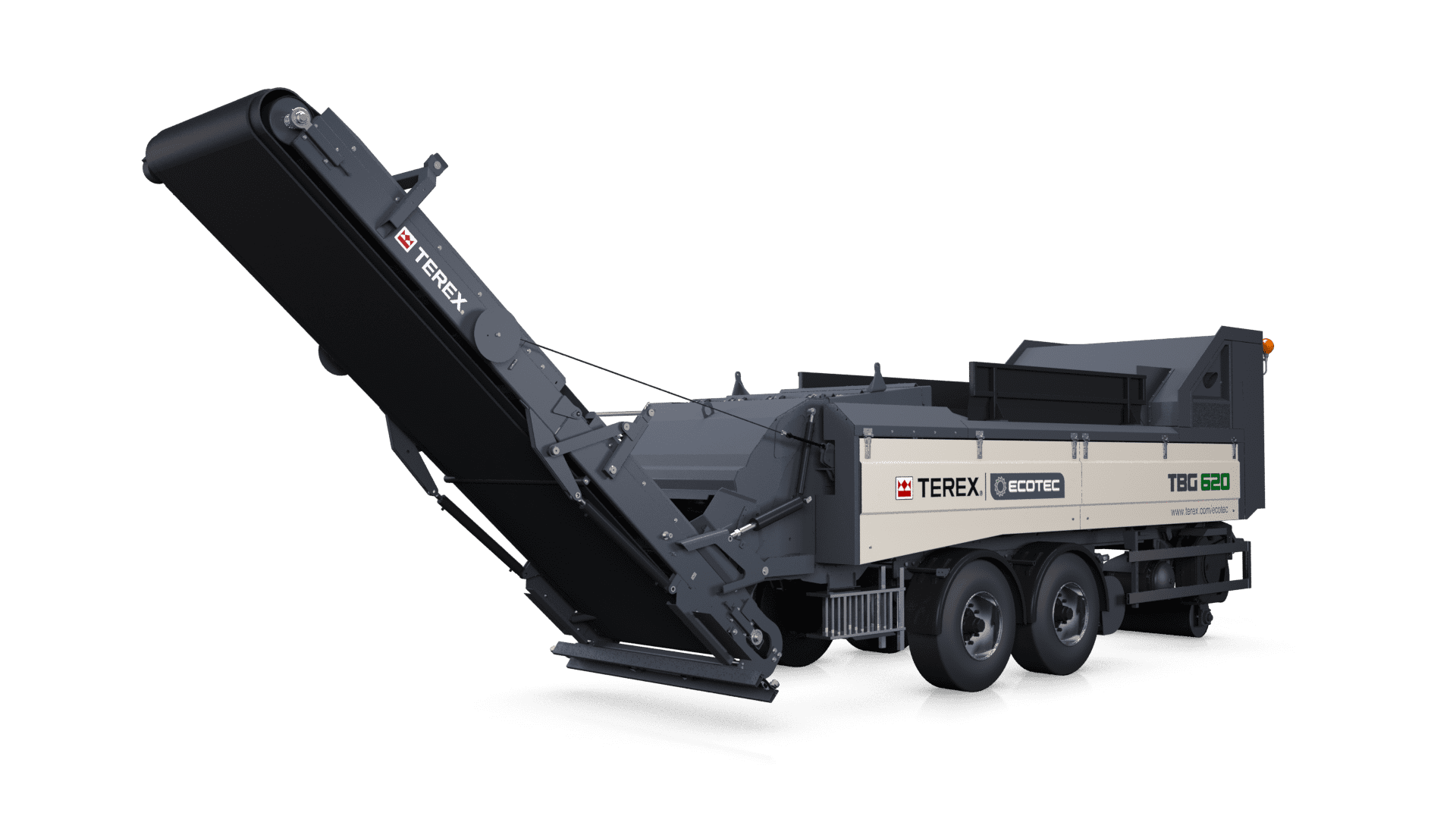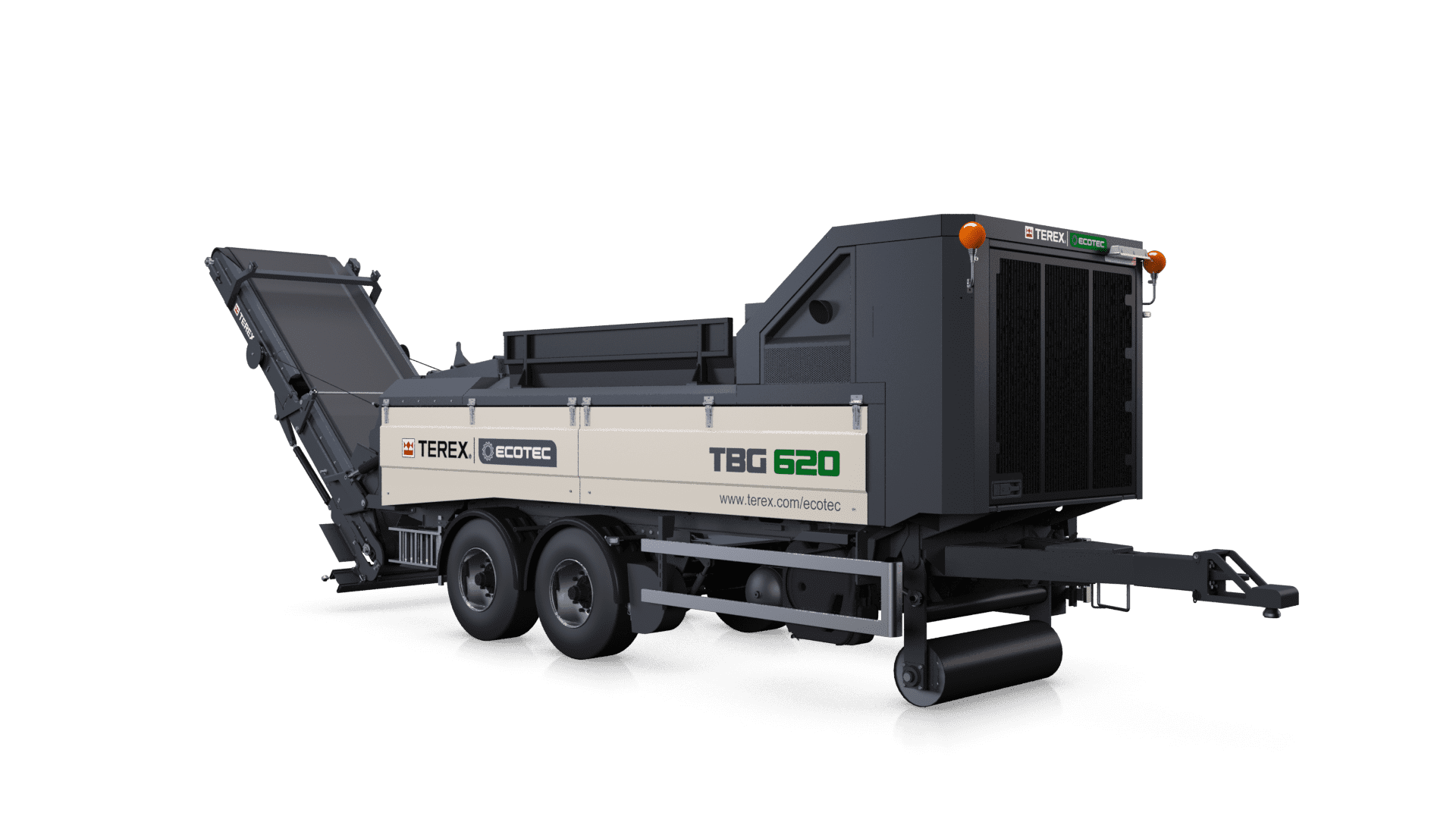 Robust rotor
The robust upturn rotor on the TBG 620 high-speed shredder consists of 28 swinging hammers. The hammers feature a heavy-duty tool holder and replaceable tools, each weighing roughly 16 kg making it the heaviest in its class.
Smooth material flow with adjustable sizing
A consistent smooth material flow is supported by an internal feed wheel. The sizing grate can be lowered into the path of material to reduce end product size and clean the hammers. While raising the grate reduces material retention and increases the end product size.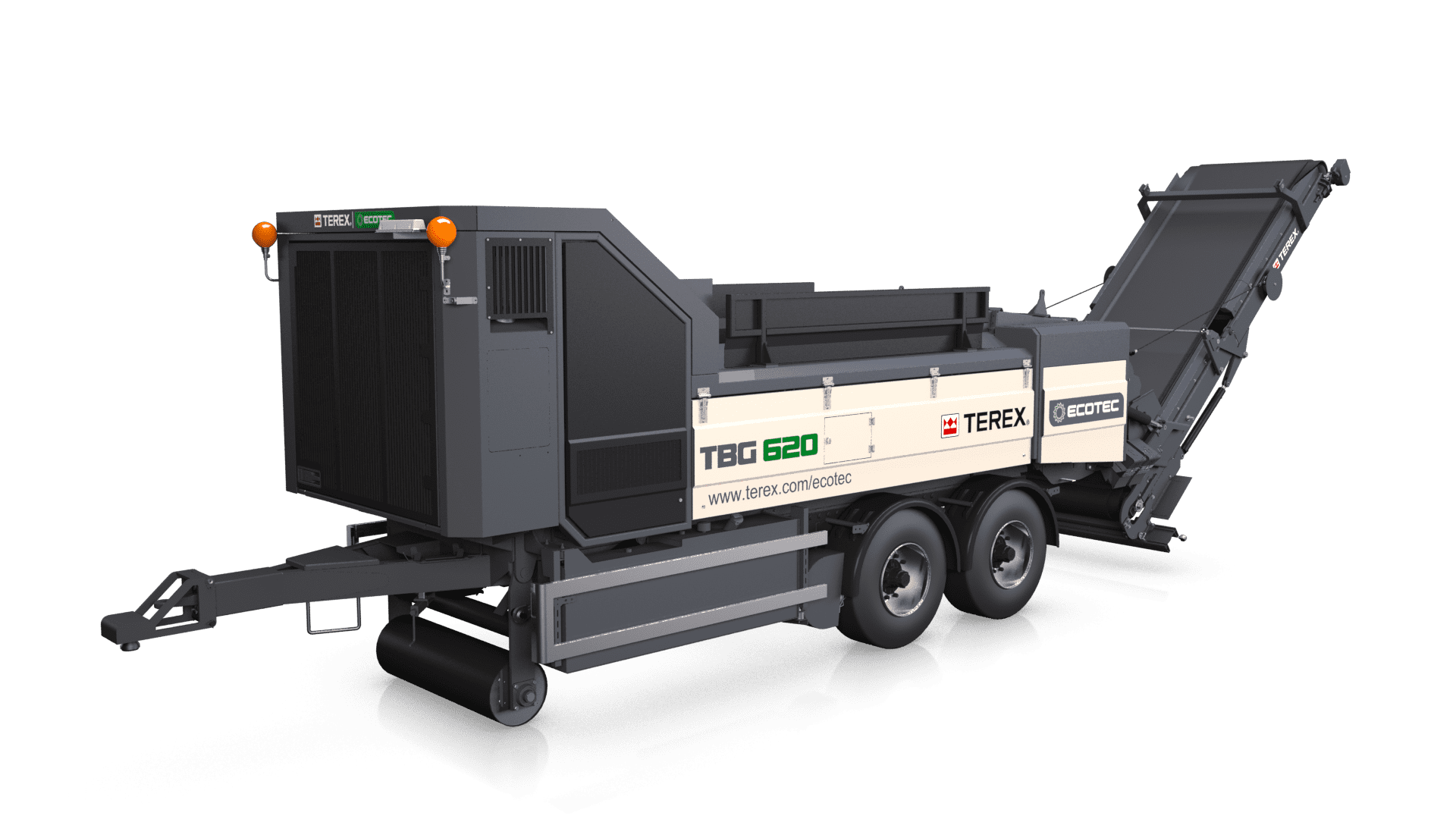 Vast product porfolio
Ecotec's broad range of equipment allows for more targeted efficiency in niche operations. Behind an aggressive research and development strategy, Terex Ecotec now offers a full product portfolio that meets the needs of today's professionals and will shape the industry for years to come. The Terex Ecotec product line has grown significantly and expanded production out of a new 105,000 square foot manufacturing facility Today their comprehensive product portfolio includes, Slow, Medium & High Speed Shredders, Trommel Screens, Recycling Screens, Waste Handlers, and conveyors.
Field support
Ecotec is your proven industry-leading partner for the design, service, and support of primary waste recycling, wood recycling, and composting equipment. They have dedicated sales and service staff for the Ecotec product range with a driving focus on providing customers the best support in and out of the field. Their world-class dealer distribution network provides the sales and aftermarket service demanded in the marketplace giving customers the support required to maximize production and minimize downtime.
Industry leader
Terex® Ecotec, part of the wider Terex Materials Processing group, is an industry leader in the design and manufacture of wood processing, biomass, and recycling equipment. The range of innovative machines available is robust yet user-friendly with a focus on throughput, efficiency, and serviceability. Their world-class range of mobile equipment that will shape the industry for years to come.