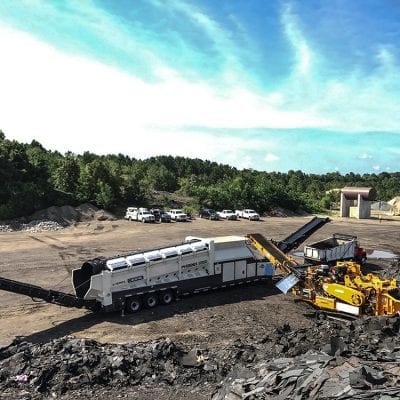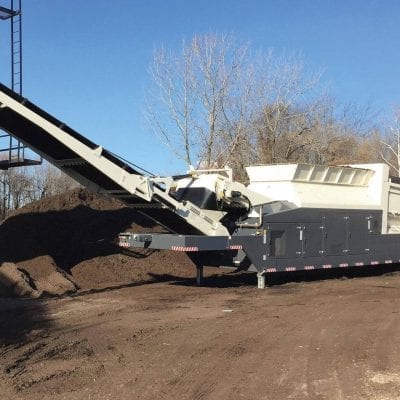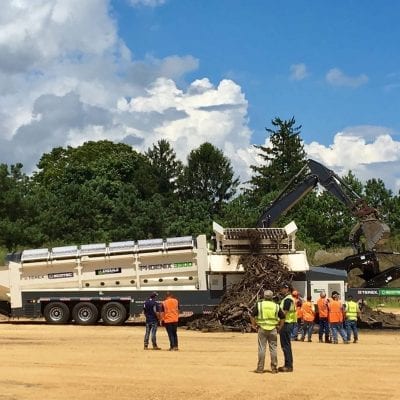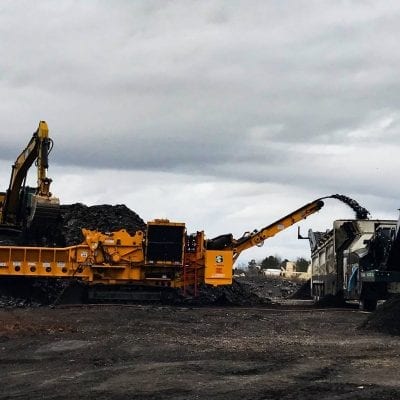 equipment for sale
Ecotec Phoenix 3300 Trommel Screener
Extremely productive trommel screener for C&D applications and high volume compost production
Terex Ecotec's Phoenix 3300 trommel screen is designed to offer unrivaled production throughput and application flexibility. The robust design with optional features such as a heavy-duty tipping grid or double deck vibrating grid makes the Phoenix 3300 the most versatile trommel on the market today. The machine performs equally well in heavy C&D applications as it does in high volume compost production. The 180° swivel fines conveyor, with a 5.8m (19') discharge, means the machine can generate massive stockpiles. This swivel feature can be controlled via a radio remote while the machine is in operation, minimizing downtime.
A powerful four-wheel-drive system with high-performance friction grip wheels is used to turn the trommel drum giving operators the ability to run bi-directionally. Woven mesh or heavy-duty punch plate panels can be fitted to the trommel drum ensuring all application requirements are met.
Caterpillar Tier 3 or Tier 4 engines combined with powerful hydraulics and auto feeder speed control guarantee the machine is always working at its optimum. A fifth wheel connection, triple axle bogie and a rapid setup time make the machine highly mobile.
The Phoenix 3300 is highly efficient in the separation and processing of wood chippings, top soil, compost, green waste, C&D waste and aggregates.
Get More Info
Financing
Technical Specs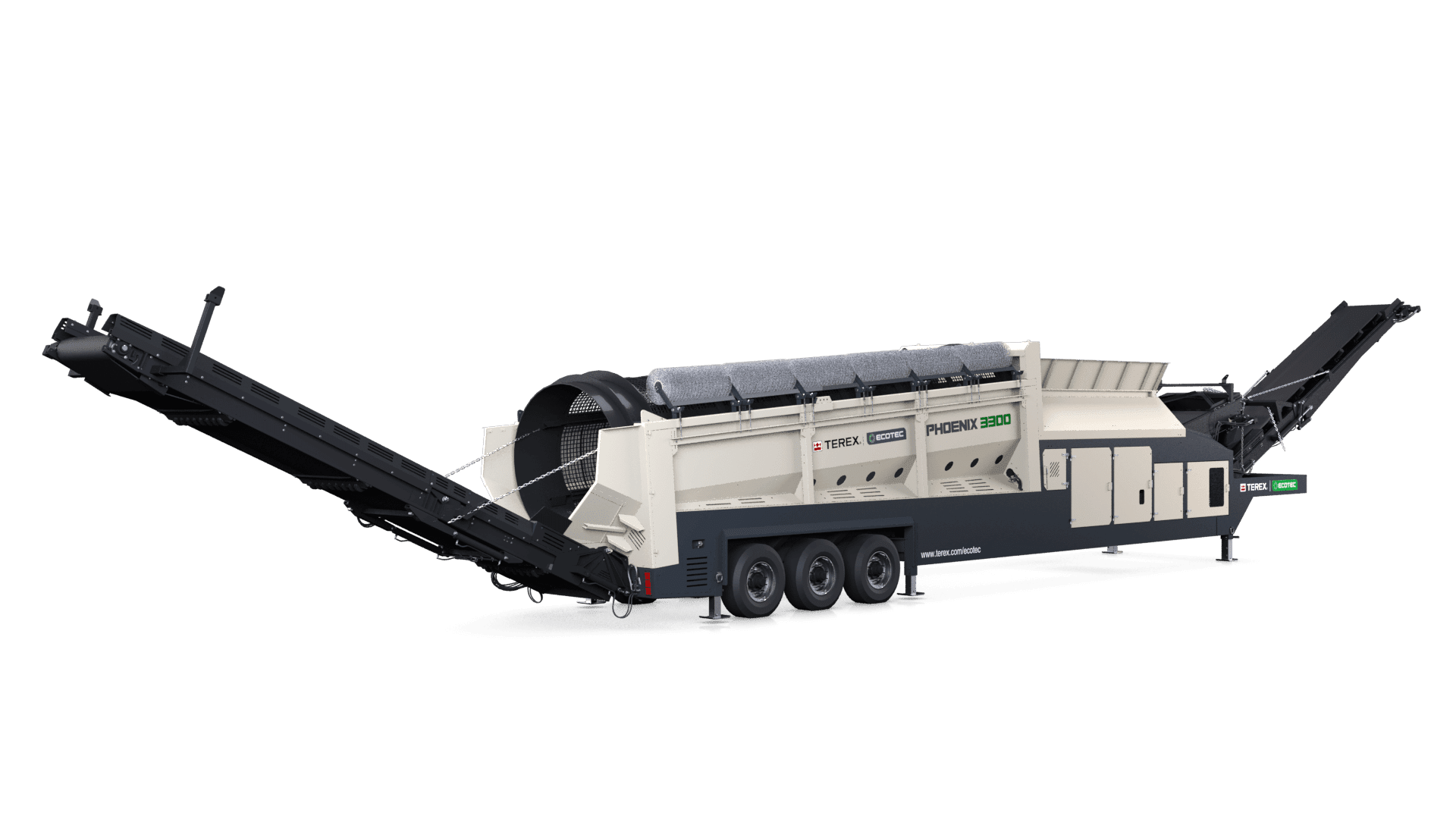 Efficient and quiet power unit
Powered by a Caterpillar C4.4 engine, the powerful hydraulics, efficient low engine RPM, and Flexaire reversible cooling fan ensure the Phoenix 3300 is always working efficiently.
Highly versatile
Whether you are screening topsoil, compost, sand and gravel, wood chip, and C&D waste, the Phoenix 3300 can be fitted to meet each application's unique requirements while providing extremely efficient material separation.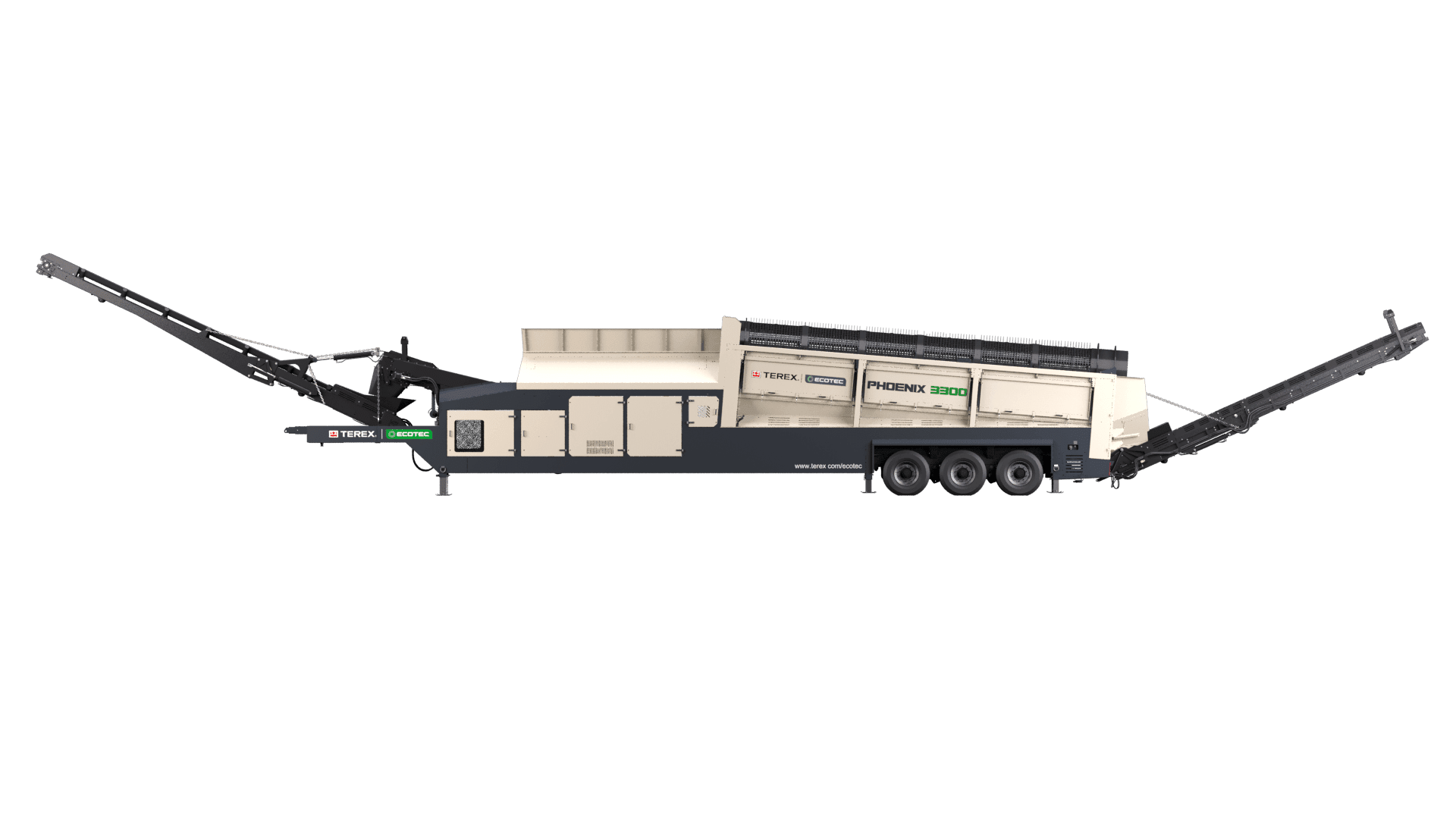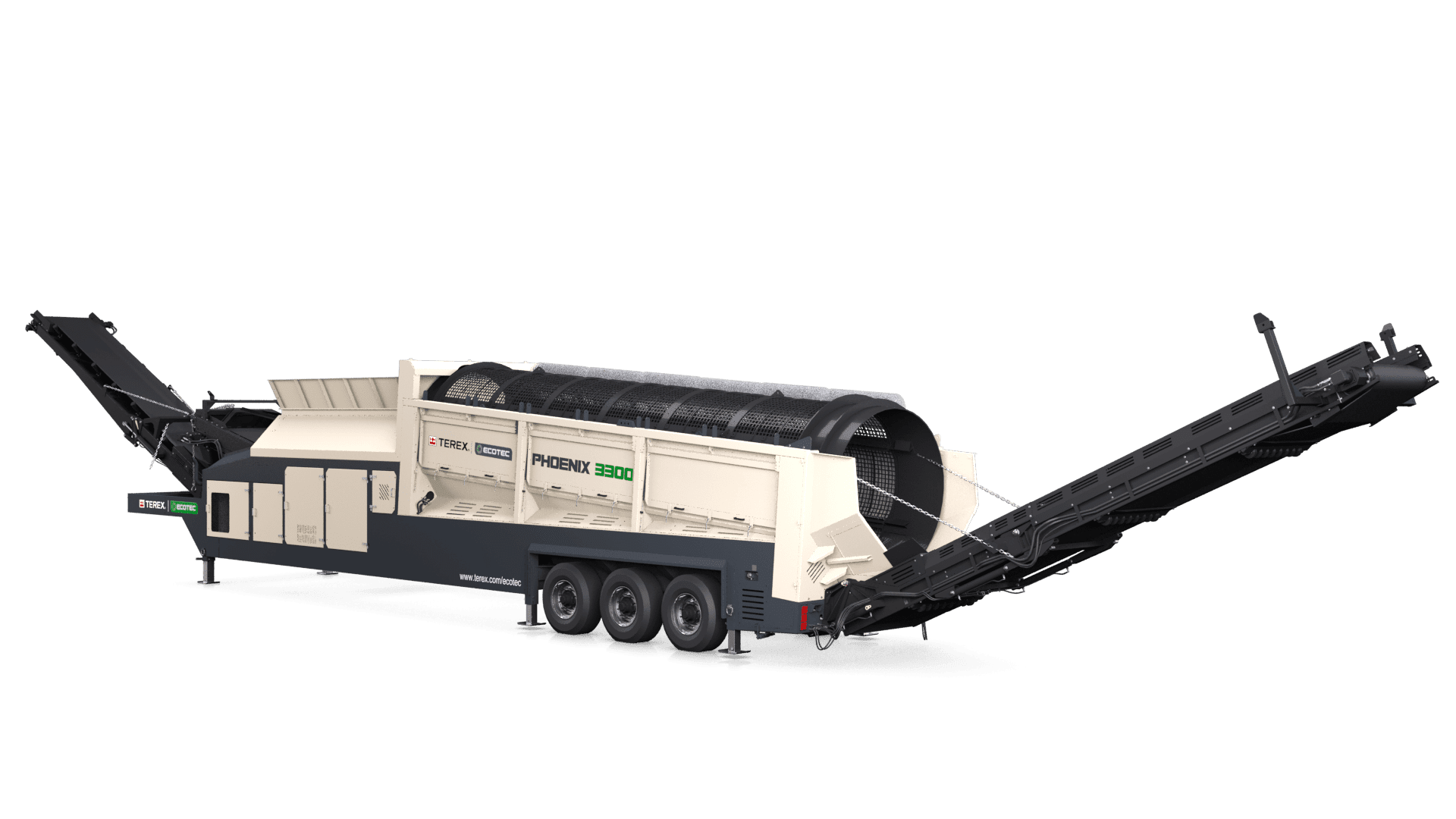 Extremely tough
The Phoenix 3300 rugged design ensures it can stand up to the test of time in heavy-duty applications including C&D, aggregate and high volume compost. Optional features include a heavy-duty tipping grid or double deck vibrating grid.
Bi-direction drum
Operators can run bi-directionally due to the powerful four-wheel-drive system with high-performance friction grip wheels that turn the trommel drum.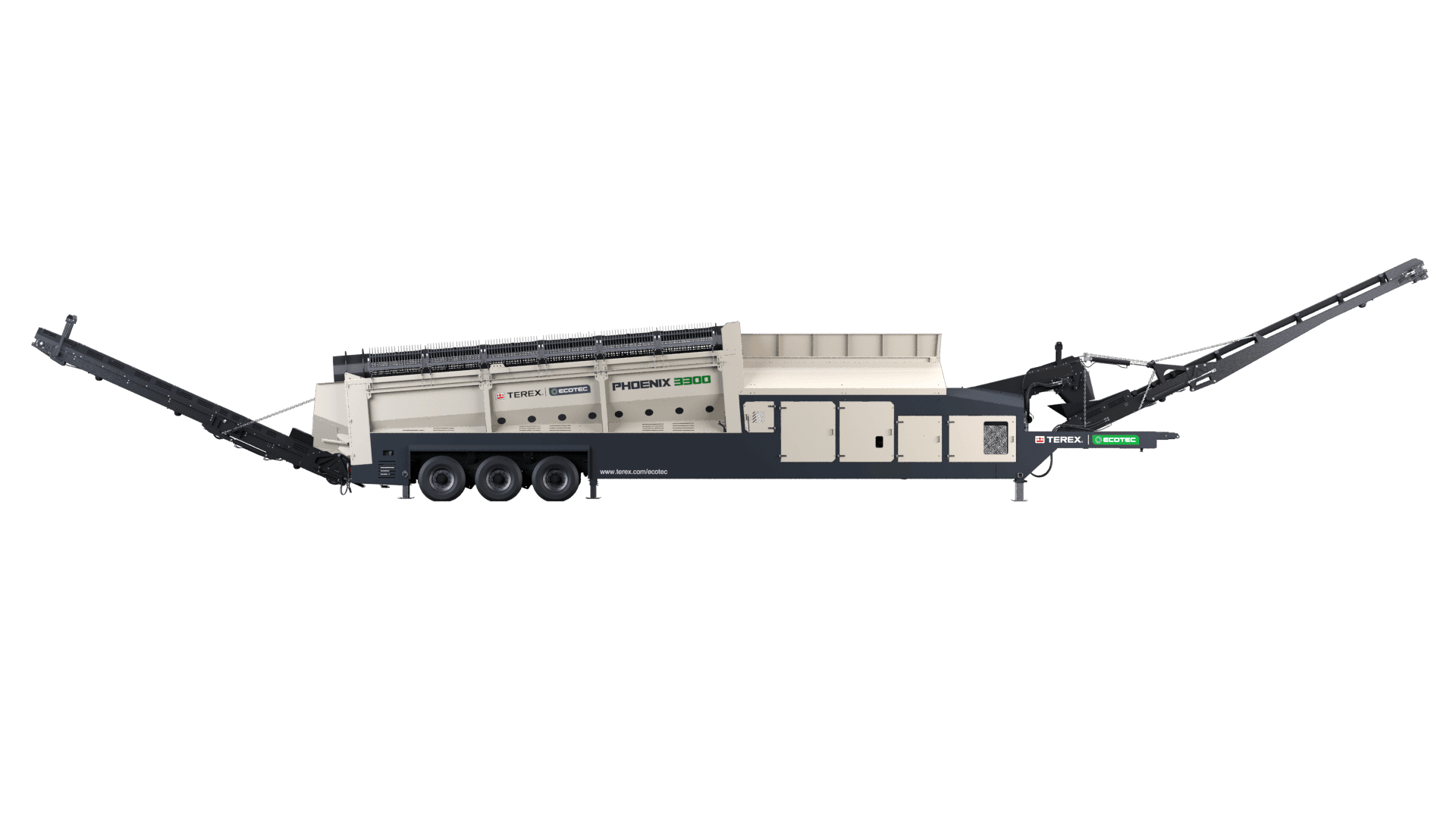 Vast product porfolio
Ecotec's broad range of equipment allows for more targeted efficiency in niche operations. Behind an aggressive research and development strategy, Terex Ecotec now offers a full product portfolio that meets the needs of today's professionals and will shape the industry for years to come. The Terex Ecotec product line has grown significantly and expanded production out of a new 105,000 square foot manufacturing facility Today their comprehensive product portfolio includes, Slow, Medium & High Speed Shredders, Trommel Screens, Recycling Screens, Waste Handlers, and conveyors.
Field support
Ecotec is your proven industry-leading partner for the design, service, and support of primary waste recycling, wood recycling, and composting equipment. They have dedicated sales and service staff for the Ecotec product range with a driving focus on providing customers the best support in and out of the field. Their world-class dealer distribution network provides the sales and aftermarket service demanded in the marketplace giving customers the support required to maximize production and minimize downtime.
Industry leader
Terex® Ecotec, part of the wider Terex Materials Processing group, is an industry leader in the design and manufacture of wood processing, biomass, and recycling equipment. The range of innovative machines available is robust yet user-friendly with a focus on throughput, efficiency, and serviceability. Their world-class range of mobile equipment that will shape the industry for years to come.