New equipment for sale
CBI 754 Disc Chipper
Track-mounted disc chipper for high-quality wood chip production
The Magnum Force 754 Disc Chipper is a portable unit that provides the pulp and paper industry with a highly productive disc wood chipper. Capable of producing up to 150 tons per hour of uniform wood chips, this disc chipper features a 75" diameter, 4-knife chipper disc to produce wood chips from 5/8" to 1". CBI's DC 754 is
specifically designed to work in unison with the CBI Flail 604 either as a wheel-mounted or track-mounted unit. The track-mounted unit comes with a heavy-duty track frame and a retractable fifth wheel stinger. This allows operators to quickly connect the CBI Flail to the Disc Chipper and quickly move them down the logging road, saving set-up time and skidder distance. The 75″ diameter 4-knife chipper disc is provided by Fulghum Industries, Inc., and delivers the most uniform chip thickness and chip length.
GET MORE INFORMATION
FINANCING
TECHNICAL SPECS

Check out the CBI 754 Disc Chipper in action!
Specifically designed to work in unison with the CBI Flail 604 either in a wheeled or track-mounted
version.
Heavy-duty track frame with fifth wheel plate hookup allows for B-train connection with Flail.
Trash separator discharges on the opposite side of chip discharge allowing trailer and chip system to be parallel.
High-torque Poclain internal drive on the top feed roll and high-torque Brevini planetary drive on the bottom feed roll. Both designed for extended life and reduced maintenance.
75″ diameter 4-knife chipper disc with babbited or Key Knife system.
Large 26″ feed opening designed to accept larger diameter trees.
Complete chipper hood opens hydraulically for ease of service.
All bolt-in wear liners.
CAT C-27; 1050 hp engine.
Engine access from both sides simplifies maintenance.
Parker IQAN control system.
Radio remote control.
Intuitive controls
The control system by Parker IQAN provides increased monitoring and protection of the wood disc chipper. Radio remote control with full mechanical backup runs all functions of the machine
Sophisticated feed system
Providing a continuous positive feed, the top feed roll on the CBI 754 disc chipper is equipped with a high-torque Poclain internal drive and the bottom feed roll is equipped with a high-torque Brevini planetary drive, both designed for extended life and reduced maintenance.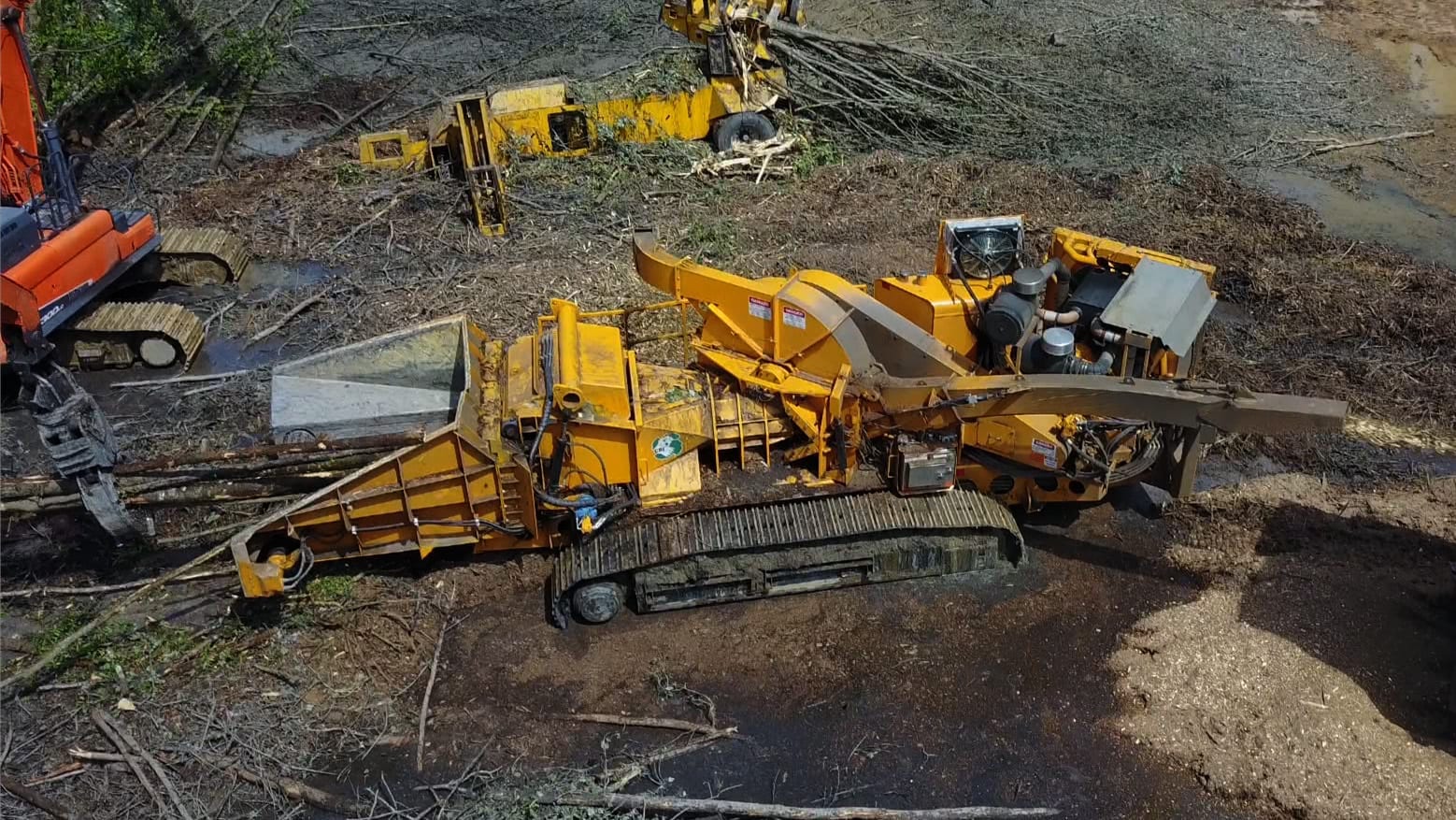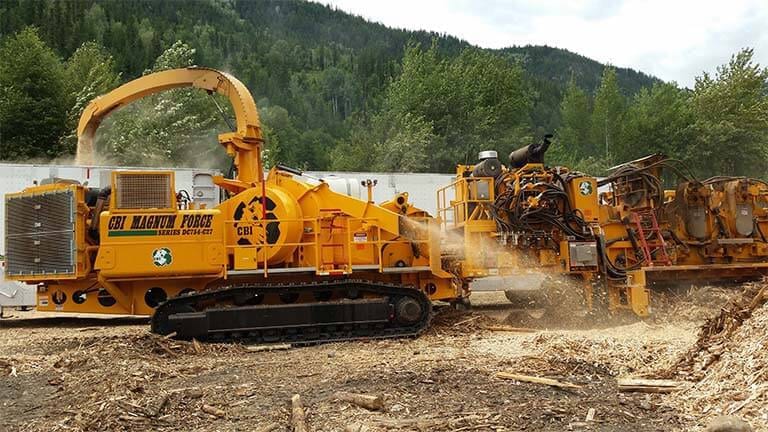 Convenient side-by-side processing
The trash separator on the 754 disc chipper discharges on the opposite side of the chip discharge, which allows for convenient side-by-side processing especially while chipping on road sides.
High-quality components
The CBI 754 disc chipper features high-quality components including an extra-large AKG radiator for dusty and high ambient temperature operations, Flexxaire auto-reversible fan, Donaldson air filtering system with Enginaire pre-cleaners, fire suppression (optional), emergency shutdown, and all-weather electrical control enclosures.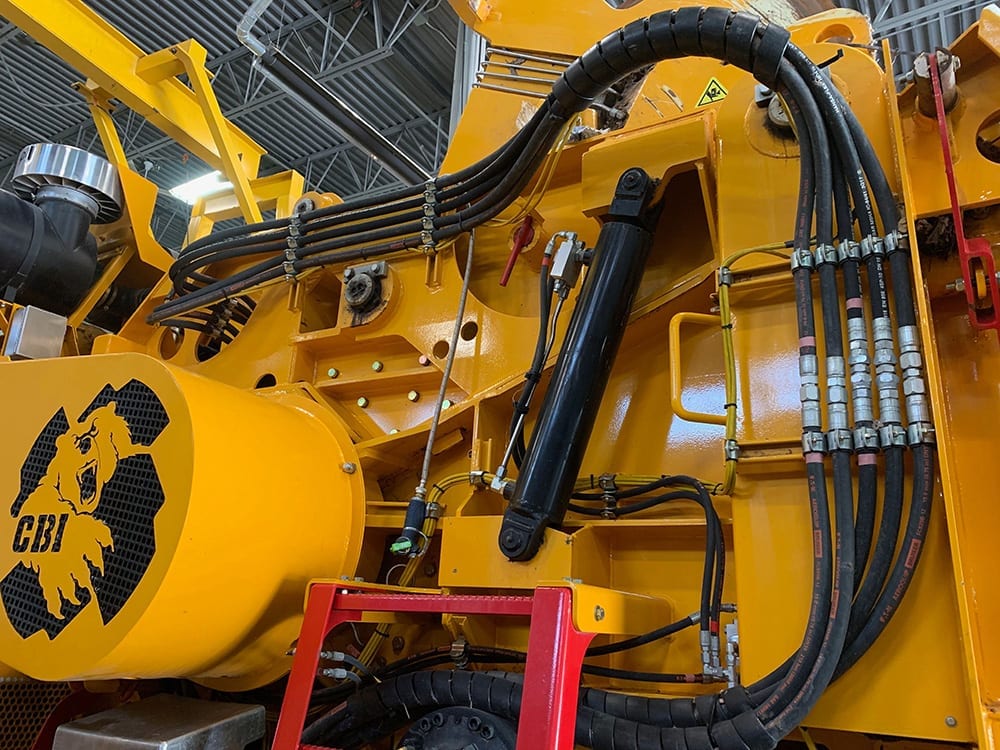 Industry leader
Terex® CBI, part of the wider Terex group, is an industry leader in the design and manufacturing of wood processing, biomass, and recycling equipment. CBI's tradition of quality runs through complete lines of horizontal grinders, industrial wood chippers, flail debarkers, screens, stacking conveyors, stationary systems, and attachments.
Outproduce. Outperform. Outlast.
Since 1988, CBI machines have been purpose-built to outproduce, outperform, and outlast anything in the market. Diverging from the pack of sorely inadequate wood grinders, CBI completely reimagined the value curve by producing the ultimate workhorses for unmatched production.
State-of-the-art Technologies
CBI started with the design of the CBI Grizzly Mill with its patented, extremely rugged offset-helix rotor that uses kinetic energy in order to consume less power while aggressively outperforming anything on the market in terms of throughput. This technology became the basis for product lines like Grizzly Mill® wood waste hogs, Magnum Force® horizontal grinders, and Magnum Force® chippers. From this technology, CBI grew into one of the premier wood grinder and wood chipper manufacturers in the United States and around the world.
Additional information
| | |
| --- | --- |
| Application | |
| Configuration | |
| Manufacturer | |
| Model | |
| New/Used | |