Huska Holdings grinds through challenging terrain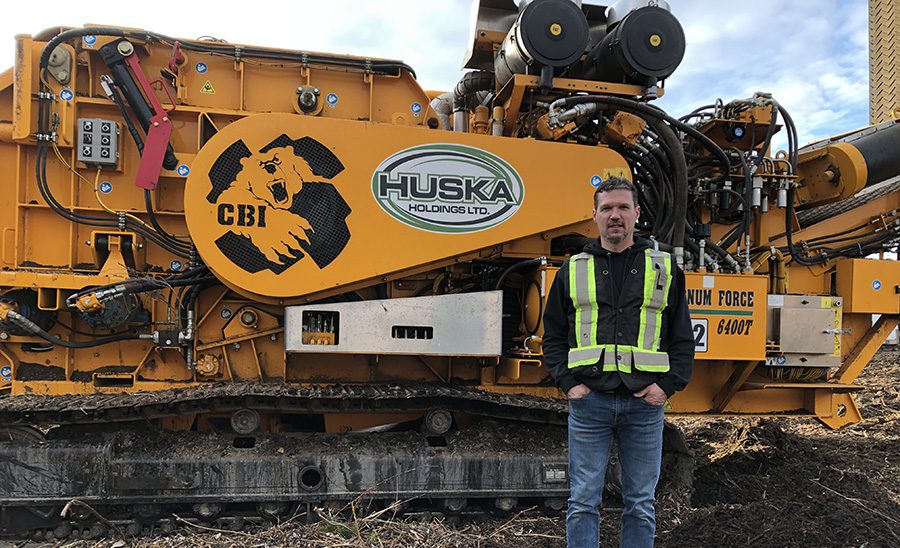 SICAMOUS, BC – The ongoing Highway 1 expansion project in British Columbia will include the installation of a new four-lane bridge and improvements to local road connections. A key phase of the project required a specialized land clearing operator to work on the route's most challenging segments of terrain. The job wasn't for everybody, but Huska Holdings met it head-on with their CBI 6800CT Horizontal Grinder and was able to complete the job in two weeks.
Huska Holdings is on the forefront of wood recycling creating renewable energy from wood waste. As one of the industry leaders in their region, they contract to a wide variety of clients including regional districts, municipalities, provincial ministries, mines, mills, land developers, civil contractors, and road builders. Huska Holdings significantly reduces the amount of wood waste being landfilled and supplies high-quality biomass to local power plants.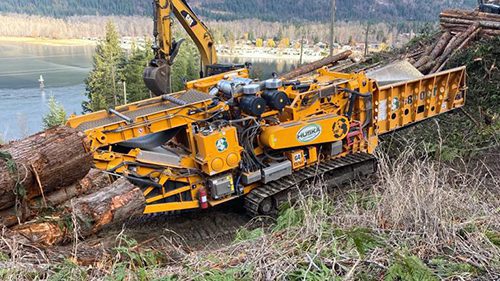 The Highway 1 project was a unique challenge. Steep terrain, narrow trails, traffic considerations, power lines, and extreme weather were just some of the obstacles. British Columbia declared a provincewide state of emergency after a storm led to flooding in southern B.C., causing mudslides along Highway 1 and making the ground unstable for heavy equipment.
"Fortunately, we have a grinder that was built for this exact scenario," said Justin Huska.
Known as the "King of Land Clearing," the 6800CT Horizontal Grinder is associated with high production rates, but for this project, it was the 6800CT's mobility and heavy-duty design that were difference makers.
Using hog fuel for access
The team was tasked with grinding land clearing debris down to hog fuel. While it's common for hog fuel to be trucked to nearby powerplants to produce energy, there are a number of other practical uses for it. They packed hog fuel along the trail to make it traversable for their equipment.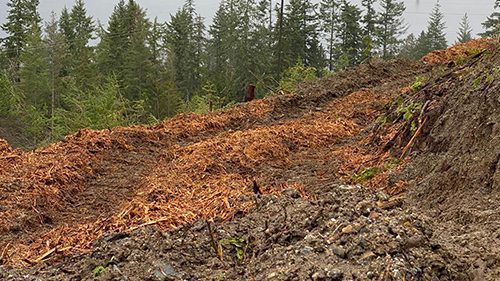 "Some of the ways we had got access to the land clearing debris was to build our trails and access ramps from the main road system out of the hog fuel feedstock to make the slope more stable from mud and debris," he explains.
Their 6800CT Horizontal Grinder is equipped with aggressive single grouser tracks that provide superior tread. Even with the added traction, it took skilled operation to safely maneuver and feed an 86,500lb piece of heavy equipment on muddy hills.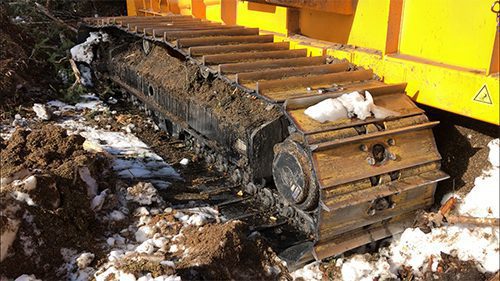 After gaining access to the trail systems via their own hogfuel ramps, they still encountered challenging grades and awkward loading angles.
"We would place a large log on the trail and back the grinder up on the log to get it to a safer grade for operating," Huska explained.
Nearby roads, overhead powerlines, and underground water mains added complexity to work on the vertical terrain, but the Huska Holdings team executed the contract without issue. When the RW Bruhn Bridge project is complete, it will improve traffic flow along the Highway 1 corridor and enhance safety for pedestrians and cyclists.
CBI manufactures a complete line of horizontal grinders for forestry, recycling, and organics markets.
If you're interested in learning more about CBI products, contact us today.