Highway Expansion Keeps Moving with Mobile Crushing Strategy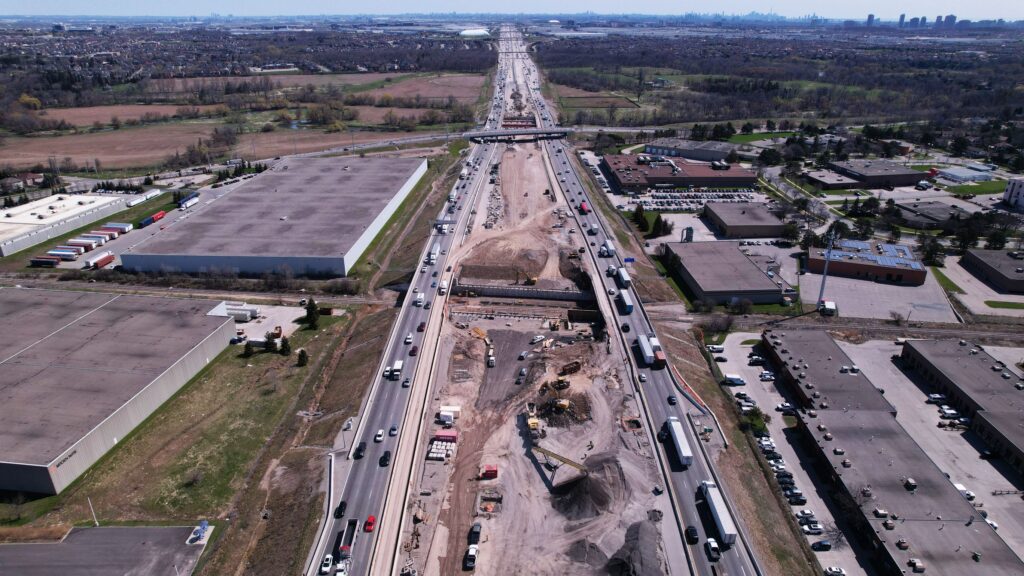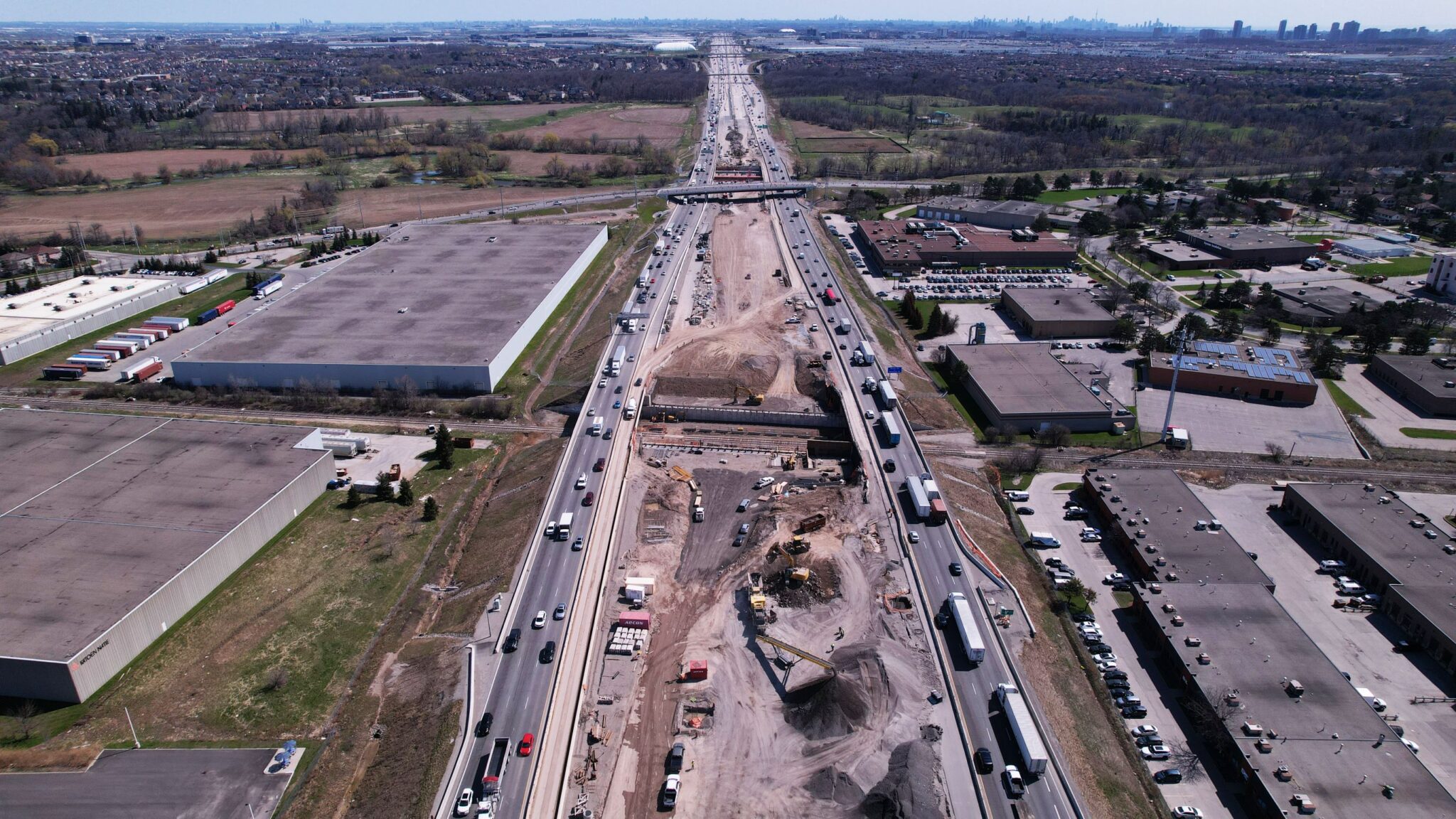 Upgrades to Ontario's Highway 401 are benefiting from onsite aggregate recycling and crushing
The stretch of Ontario Highway 401 running through the Greater Toronto Area is the busiest piece of highway in North America and has been an ongoing point of congestion for drivers. An expansion project currently underway will add lanes and capacity to the highway, focusing on 18 km through Mississauga and Milton. In that segment of the highway, the six-lane road will be replaced by 10 to 12 lanes, plus HOV lanes, support facilities, and more features.
West Corridor Constructors, a consortium of Aecon, Parsons, and Amico, is the contractor overseeing the expansion work. Part of its goal was to ensure efficient construction and a reduced impact on the environment; to meet this goal, WCC has taken a unique approach to aggregate supply and reuse, by opting to use on-site crushing and recycling with equipment that, instead of being placed in one location and served by trucks, moved along with the project as construction continued.
WCC worked with the Ontario branch of Frontline Machinery, a Canadian dealer specializing in mobile and portable aggregate processing equipment, to select the right crushing and screening equipment for the project, and then collaborated on training and maintenance to ensure successful completion of aggregate crushing and supply for the project.
Extensive planning results in efficiently produced in-spec product
For this large-scale highway project, it was obvious that WCC would need vast amounts of material to support the construction. According to Harrie Van Dyk, construction manager with Amico Infrastructures Inc. – West Corridor Constructors, the decision to consider on-site crushing was reached early and set off a lengthy planning process.
"The project, from a design and construction perspective, was four years. One year to design, with three years to build eighteen (18) kilometres of full reconstruction and widening," Van Dyk said. "So, we needed to look at opportunities to help our schedule and work within our budget. The recycling process development itself was almost nine months in the making. WCC looked at numerous scenarios we had in our project associated with varying widths and material composition."
Traditionally, projects would remove old road surface, haul it to a yard, crush it, then return it back to the site when needed. However, the time taken to truck material away and eventually bring it back is significant because of road capacity, storage space issues, and other factors.
"The last thing we wanted to do was start filling quarries and landfills with asphalt, concrete, and rebar. One thing we demonstrated early through our demos with Frontline is that we could produce a product that was going to meet the required output specifications," Van Dyk described. "We were able to recycle the old concrete road, existing aggregate, and we were able to introduce asphalt RAP into the granular mix. That helped WCC avoid disposing of this material."
That led the project managers to a different approach: instead of taking material to the crusher, bringing the crusher to the material.
With an estimated 800,000 tons of material that could potentially be reused through the project, having crushers that could keep up the pace was a big need, and took some time to nail down.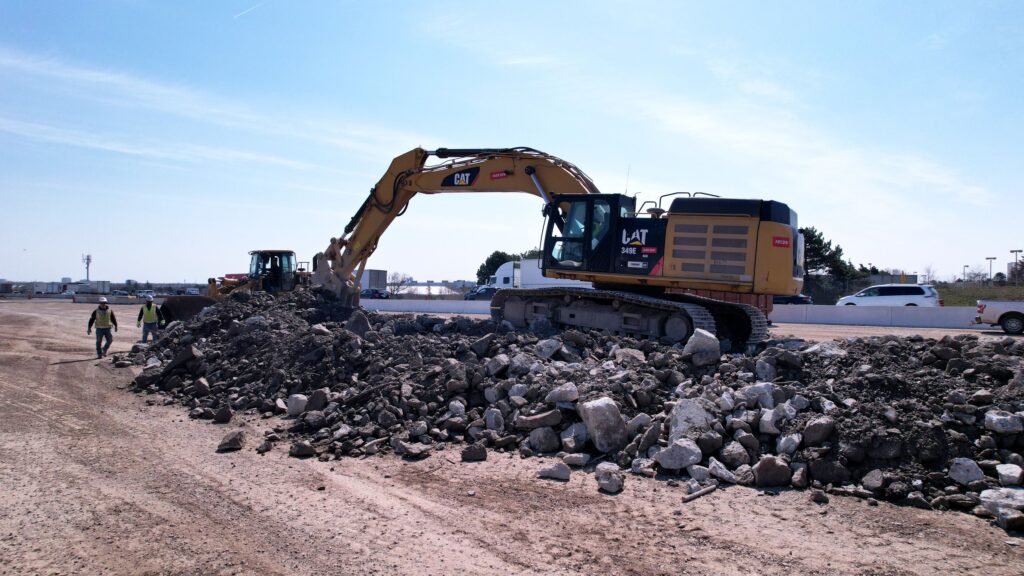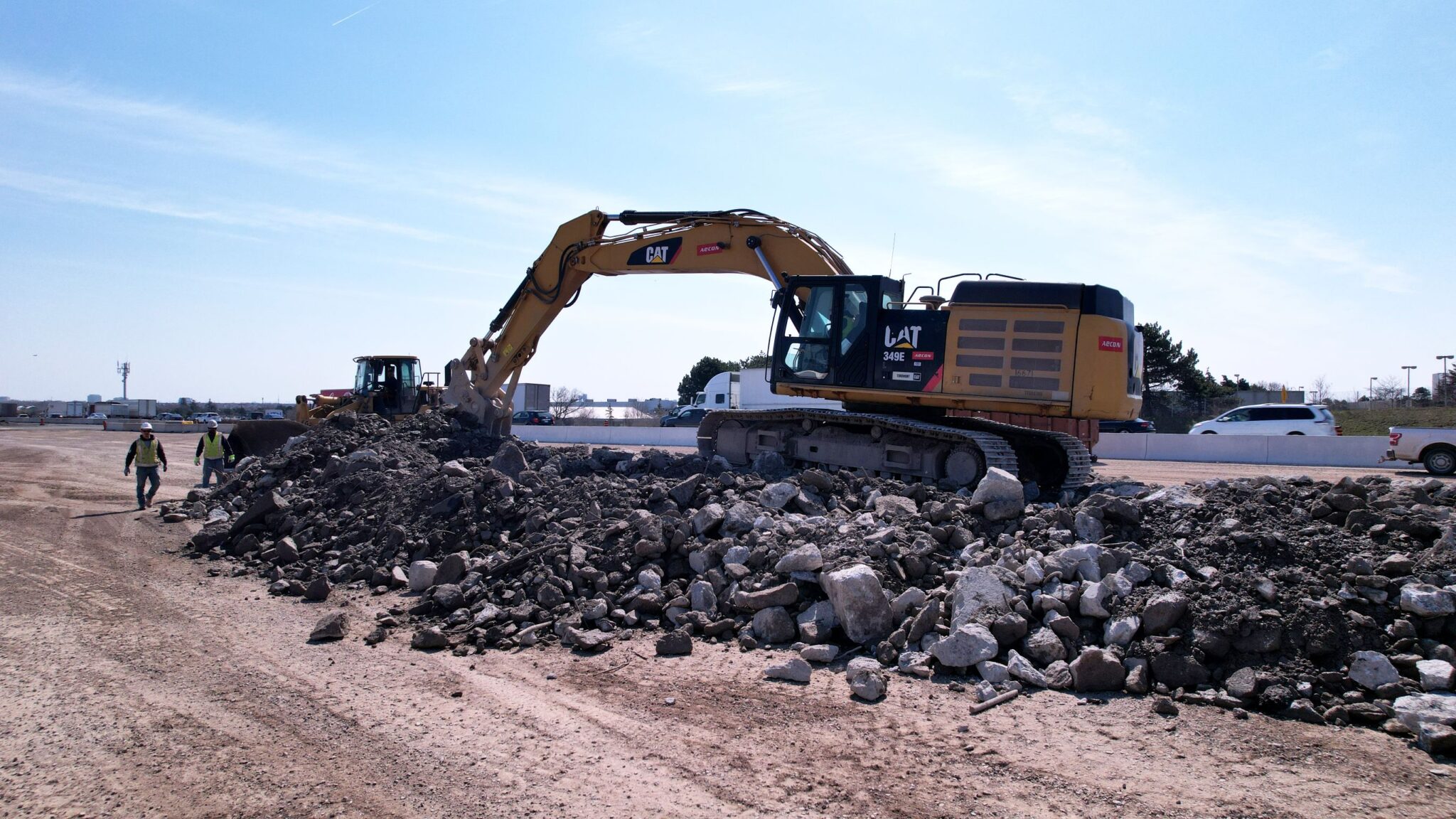 Demonstrations of performance with Frontline Machinery proved crusher capabilities
WCC took a cautious approach to its aggregate management, Van Dyk said.
"The challenge was that no one had actually done this before on this scale, so there were a lot of trials and demonstrations of equipment, but we also had to consider logistics. How we were going to get this all to fit in a hundred-foot-wide corridor while maintaining our other operations around the clock," he explained.
For Frontline Machinery, the trials with WCC were an opportunity to show the qualifications of Keestrack's R6 impact crushers and S5 stackers. Frontline Regional Manager Martin Anderton said the goal for his team was to go into the demonstrations and show exactly how effective Keestrack machines could be in demanding circumstances.
"They replicated what they expected the job to be, so they built a 100-metre-long by 15- to 20-metre-wide berm. Each machine had two days, and what we had to do was crush the material as efficiently as possible," he explained. "They measured everything that went through the crusher using Optical Belt Scales so they could average it for all the machines."
Van Dyk said the demos were an opportunity to achieve several goals: evaluate the feasibility of on-site crushing, determine which crushers were able to handle the role, and sort out many potential logistical challenges that might crop up during the project.
"The demonstrations we did with Frontline early on in the process really allowed us to try a lot of different things, to figure out what would and wouldn't work, and refine things a lot faster," he said.
WCC even got a little old-school with its planning – it used scale drawings and even 1-50 scale models of crushers and other equipment to determine the best placement and configuration of machines, piles, access routes, and all the other aspects of the project.
"The job is so large that you get lost in the magnitude of the project – it's challenging to see what a 2,000-ton pile looks like when you have 30 or 40 of them," Van Dyk said.
In the end, WCC rented multiple Keestrack R6 impact crushers and S5 stackers from Frontline to deploy on the project. In addition, Frontline continued to be heavily involved, starting with operator training.
"Frontline was responsible for training all six crews that were working on these machines – we trained them on everything from equipment maintenance, operation, and troubleshooting to be able to work with these machines in different situations," Anderton said. "Frontline was right there from the beginning throughout the project, making sure their operators had the skills necessary to run the machines."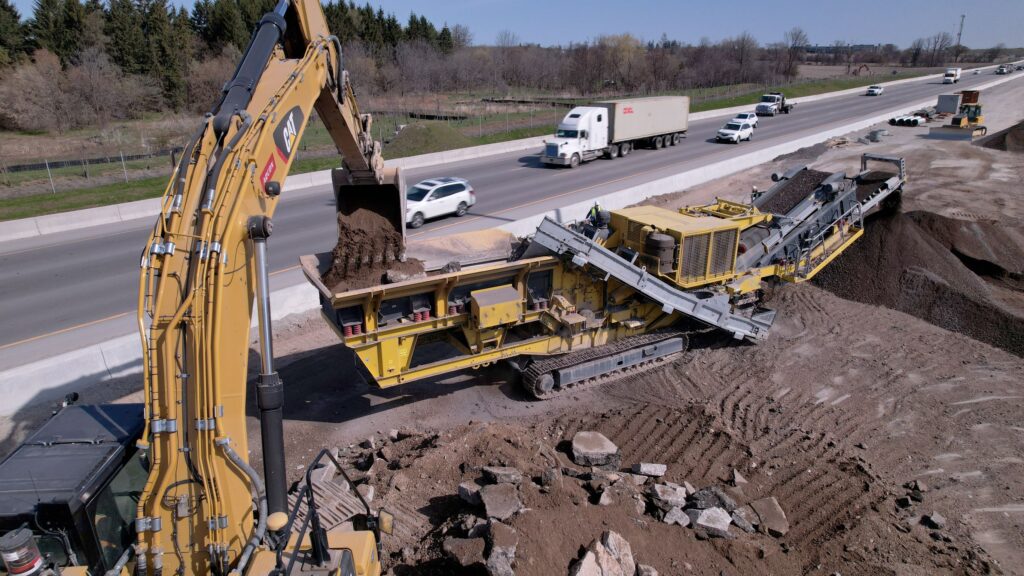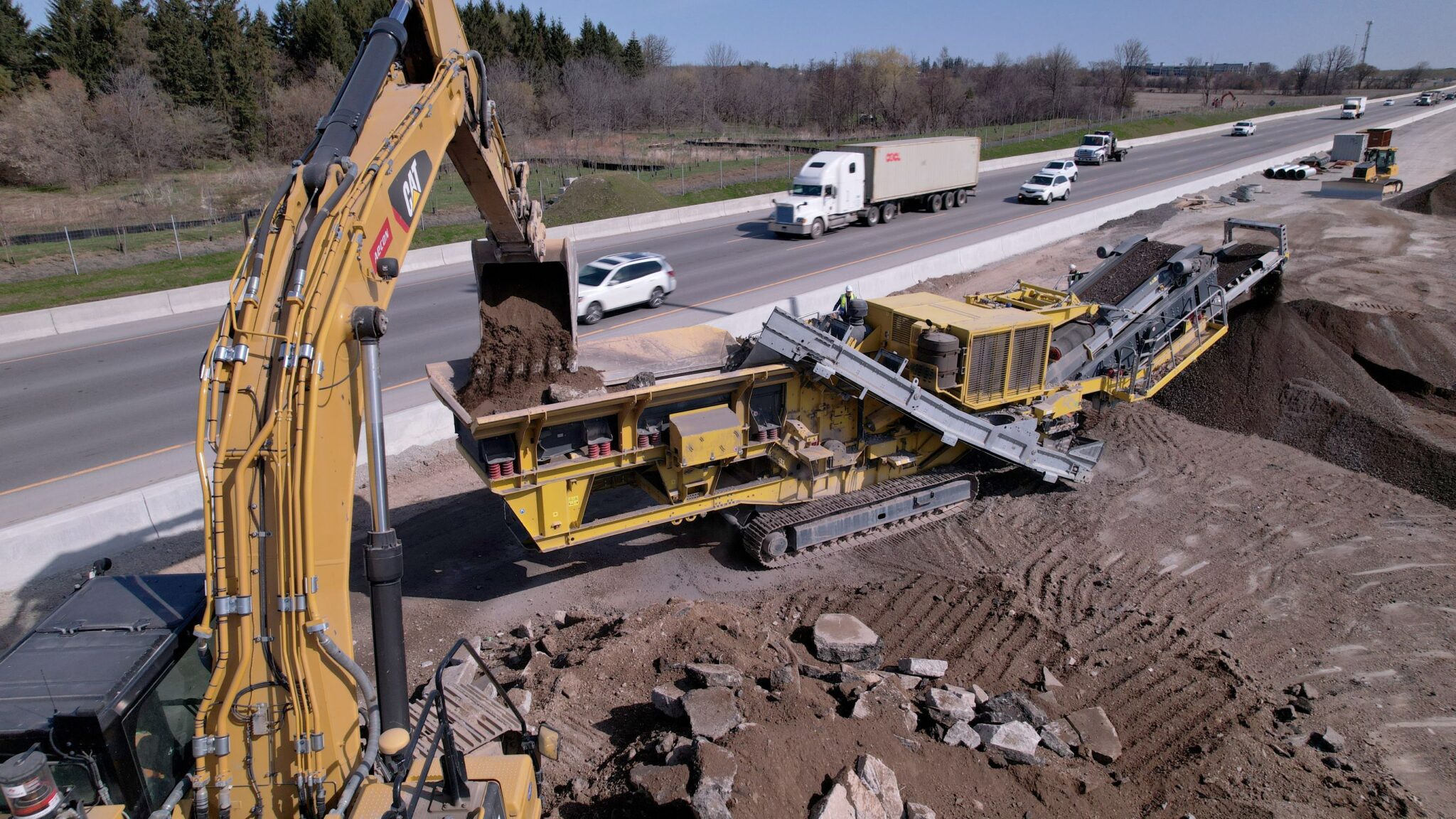 Crushers keep up with construction
Once the crushing equipment was on the job, the plan was to keep it moving constantly as the road construction continued around it. Van Dyk said WCC's intention was to move the material as little as possible – so the crushers moved instead.
"They were moving probably every half hour to 45 minutes – they would process an area by running it through the crusher, then move. We were bringing the crusher to the material in a windrow," he described. "The crushers were very easy to move."
With multiple operators trained to run each unit, WCC was able to run the crushers steadily, including some stretches of round-the-clock work, with minimal downtime between shifts for basic maintenance, Van Dyk related. More extensive maintenance was handled quickly and easily by both Frontline and on-site service teams.
"We worked with Frontline and had some of our guys work with their folks to do some of the maintenance – it was a good strategy for us to help understand the equipment better, and it allowed us to do some of the maintenance, rather than Frontline, as part of the rental agreement. We were able to mitigate some of our costs by taking on some of the maintenance," he said.
Frontline's team handled much of the routine maintenance, working with WCC to find convenient times to reduce the impact on progress. A unique aspect of the agreement was Frontline's on-site provision of a 20-foot container custom stocked with wear components and other parts that allowed for quick response by the WCC teams when needed.
"It was important to be able to provide parts so that if something did happen, a bar breaks or a wear component gets worn out, that they would be easily accessible and immediately available. By working with the customer, we realized that the amount of time that might be used up having to send someone to pick up parts or have a tech go on-site was cost prohibitive," Anderton said. "The on-site parts support was definitely unique to this job and unique to the scale of parts that were supplied to the project. We have done it in the past on a small scale, but this was the largest and most detailed parts support we've ever provided."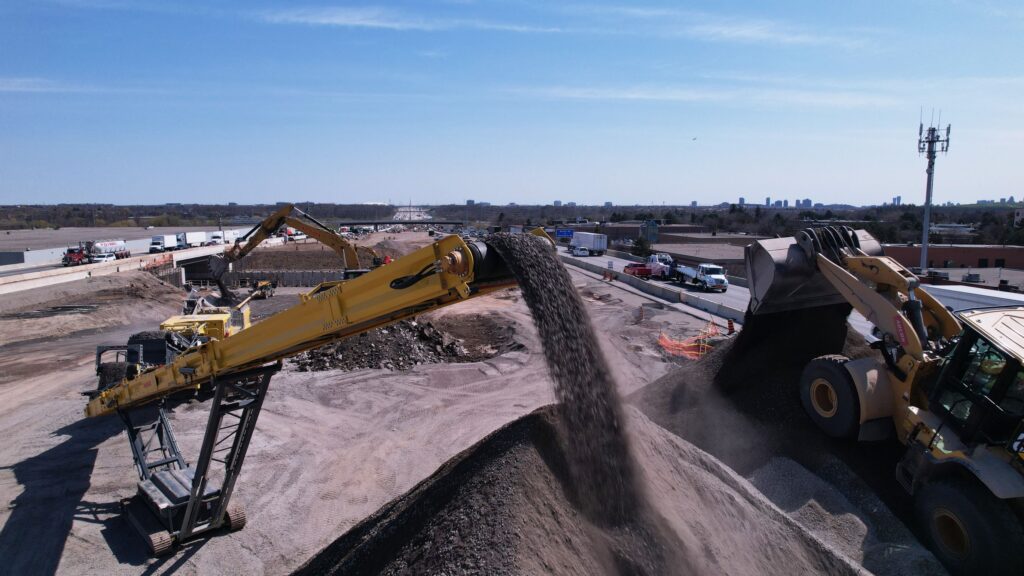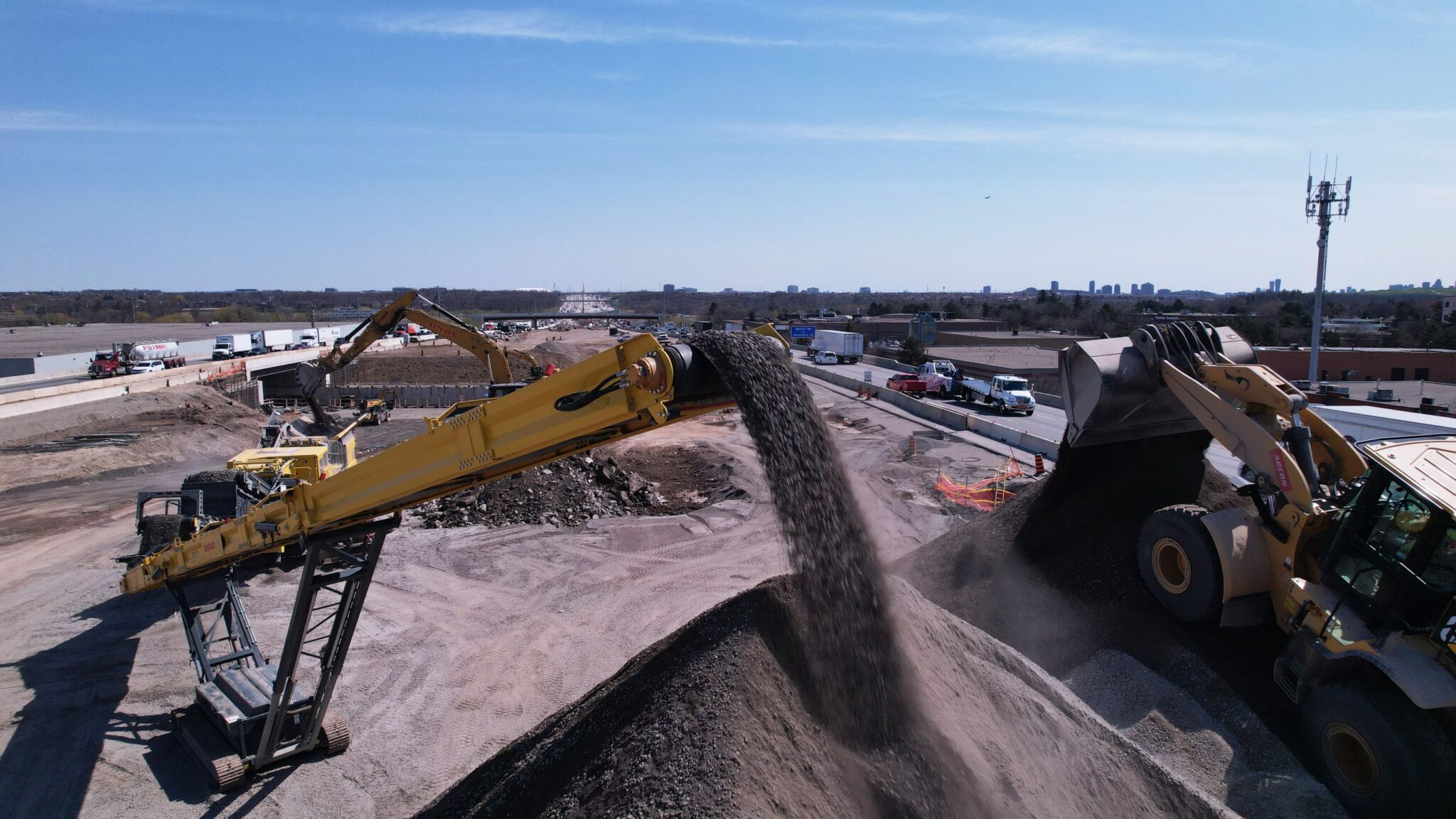 Crushing phase proves successful
With a targeted end date of November 2022 for the expansion project, the crushing component wrapped up in July and, according to Van Dyk, the Keestrack equipment has fit the bill when it comes to production and overall expectations. The crushed material has met specifications, the innovative approach to recycling has proven to be impressive in its results, and the machines themselves worked well throughout the project.
"Our downtime was very minimal in the grand scheme of things. We wanted something that was going to work, and when it worked, it worked hard," Van Dyk said. "We pushed these machines, and we were getting some pretty high production numbers out of them. They had some really hard days, a lot of easier days, but for the most part they stood up to our demanding schedule and the production targets we set."
From Frontline Machinery's perspective, the project proved to be a winner as well.
"The project was a complete success – that's the overall feeling based on the open communication we had with the WCC team, from the boots on the ground doing the crushing on a daily basis up to the team overseeing the project in the office," Anderton said. "We were able to show different efficiencies in the way we do business, and also that for construction companies, not having to remove material from the site is a huge cost savings from being able to recycle that amount of material and reuse it on the site. I think this is a template for tons of future generational projects."
Case Study Video