Frontline Machinery Continues to Expand with the Acquisition of Chieftain Equipment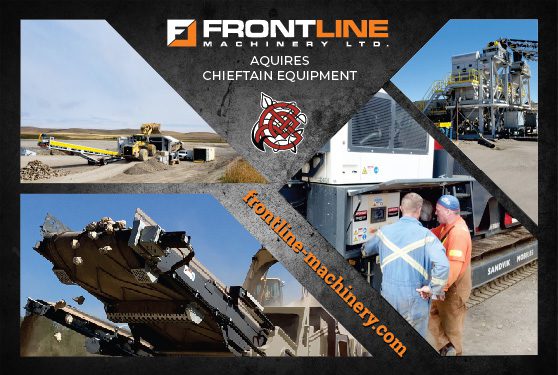 Effective July 4th, 2022, Frontline Machinery has acquired Chieftain Equipment and its aggregate processing equipment lineup.
Founded in 1991, Chieftain Equipment is a well-established and widely respected aggregate equipment dealer based in the Edmonton, Alberta region representing Astec Group of Companies (for Astec's static & mobile crushing and screening, material handling, washing, and classifying product lines), Sandvik mobile crushers and screens, Vale Industries, and more.
Consistent with Frontline's expansion and service strategy, this strategic acquisition increases Frontline Machinery's infrastructure and personnel, allowing for continued growth in the province of Alberta and the ability to better serve existing customers in the region.
"Over its existence of over 30 years, Chieftain Equipment has developed a deep heritage and strong market share in the aggregate industry," said Daryl Todd, President of Frontline Machinery. "Their highly experienced, knowledgeable, and dedicated team has supported their growth, helping build a reputation of trust and transparency. Together we are well-positioned to expand and look forward to delivering a consistent, high-quality customer experience."
By combining and leveraging Frontline's and Chieftain's strengths, abilities, and relationships, Frontline Machinery expects to drive aggressive growth. The company plans to ramp up regional operational and service capabilities through a significant increase in parts, service department capacities, and the equipment rental and sales fleet. At the same time, they will add additional resources and investments where necessary.
"We are excited to become a part of the Frontline family." Said Willie Thompson of Chieftain Equipment. "They understand the needs of our customers and share a common vision and mindset. We are confident that Frontline will continue to enhance and develop what we have built over the last three decades while supporting the uptime and productivity of existing Chieftain customers."
Frontline Machinery plans on providing a fully integrated industry-leading material processing equipment and service portfolio consisting of crushing, screening, washing, conveying, grinding, chipping, and shredding solutions.