CBI debuts 6400CT Horizontal Grinder and presents Frontline Machinery with the 2019 Dealer of the Year Award at September Factory Forum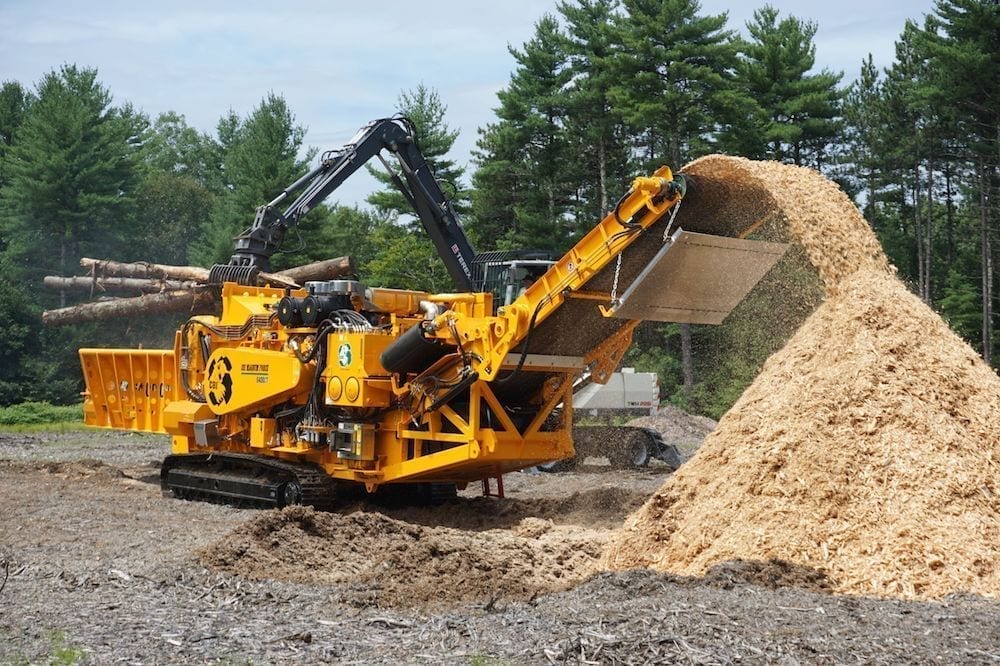 NEWTON, NH – Continental Biomass Industries (CBI) premiered the 6400CT Horizontal Grinder and Chipper at the 2019 Factory Forum in Newton, New Hampshire. The 6400CT processed steel contaminated railroad ties along with a mix of construction and demolition debris to headline the range of environmental equipment at the show.
"The 6400CT's patented cassette-style rotor is a great example of CBI's customer-driven product development," said George Wilcox, Director of Sales and Marketing at CBI & Ecotec – Americas. "This is an excellent machine for customers who demand productivity, reliability, and versatility without compromise."
The CBI Magnum Force 6400CT Horizontal Grinder is an extreme-duty machine engineered for resilience and high production when grinding contaminated demolition debris, railroad ties, whole trees, pallets, storm debris, shingles, logs, mulch, slash, and stumps. The revolutionary new "cassette style" clam shell design allows end-users to completely swap out rotors faster than any other grinder in its class. Operators can go from grinding to chipping in half the time as before and accept jobs with various material demands. Four interchangeable rotors give this horizontal grinder the versatility needed to stay on top of changing markets.
Customers and members of CBI's Global Distribution Network were invited to attend the Factory Workshop Circuit prior to the Demo Day. Guests received personalized instruction on basic machine anatomy, tip and screen changes, controls, hydraulics, and rotor bearing changes.
The Factory Forum concluded with CBI's Annual Golden Grizzlies Awards Dinner. Frontline Machinery was named CBI's 2019 Dealer of the Year and Columbus Equipment Company was named the Terex Ecotec North American Dealer of the Year.
"As a manufacturer, Frontline Machinery is exactly who you want representing your products in a territory," said Wilcox. "Their world-class customer support for sales, service, and parts continues to set them apart as one of North America's leading industrial heavy equipment dealerships."
About CBI
Since 1988, CBI machines have been purpose-built to outproduce, outperform, and outlast anything in the market. CBI's tradition of quality runs through complete lines of portable and stationary horizontal grinders, industrial wood chippers, flail debarkers, screens, stacking conveyors, stationary systems, and attachments for composting, forestry, biomass recovery, and wood-waste processing. Designed to maximize production and minimize downtime, CBI machines reduce a customer's total cost of ownership and have raised industry expectations.