STANDALONE SOLUTION FOR DEBARKING AND HIGH QUALITY CHIP PRODUCTION
2016 CBI 7544 Delimber / Debarker and Disc Chipper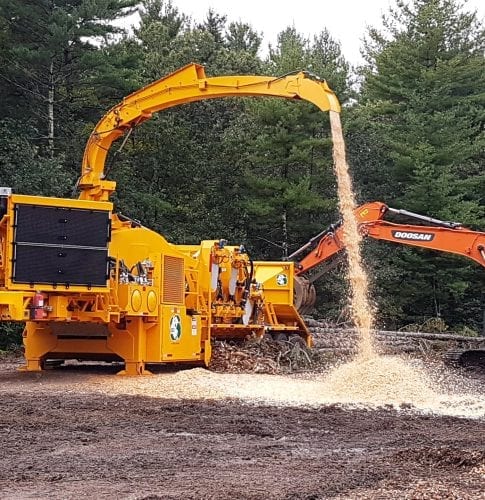 Model:

CBI 7544

Year:

2016

Hours:

1000
Highights
All wear surfaces made from Hardox AR 450 plate.
Feed Opening:  48" x 24" with wings on side for easier feeding and added protection.
Flail Drum:  Three Flails each 48" long x 40" chain swing diameter; drum capable of running single or dual 9-link chains; capable of running flail speeds of 300-800 rpms.
Machine main frame will be prepared for optional 4th flail.
Flail Drive: hydrostatic Rexroth 210-HP hydraulic motors, poly-carbon belt rated at 345-HP capacity with metal detection system on hydraulic system properly guarded.
Debris Removal Push Ram; 2-way bidirectional.
Five (5), large diameter, high torque feed rolls (2 upper, 3 lower).
Three (3) powered support rolls.
75" 4-knife chipper disc; key knife or babbited system (chipper disc by Fulghum Industries). (PLEASE SPECIFY CHIP SIZE)
26" feed opening.
Chip discharge chute hydraulic fold for transport. Chute can turn 180 degrees to discharge chips on either side of the machine.
Trash separator discharges inside bark pusher.
48" wide x 21" diameter top feed roll with high torque Poclain internal drive.
48" wide x 13" diameter bottom feed roll with high torque Brevini planetary drive.
Complete V-belt drive with Kevlar belts.
Caterpillar C-32, 1200 HP, Tier 4 interim, AKG high-ambient radiator; Flexxaire Fan, silencer and Caterpillar air cleaner system; PT Tech 21 hydraulic clutch.
Hydraulic system with hydrostatic pumps for feed system and flails, open loop pumps for all other functions, stainless steel tubing and high-pressure hoses.
Parker IQAN electrical system with full radio remote control.
Working lights mounted on machine.
One 500 gallon fuel tank.
Hutchens H9700 tri-axle suspension; 3 axles, 10'6″ spread; six super single wheels with Michelin, 425-65R 22.5 tires.
Two front stabilizers.
Overall dimensions:  11'-5.5" Wide  53′-5.5″ Long  13'-5.25″ Tall  Approx. 113,000 lbs.
Watch Video
Contact Us