Large quarry modular jaw crushing plant
Cedarapids MJ47R Modular Jaw Crusher Plant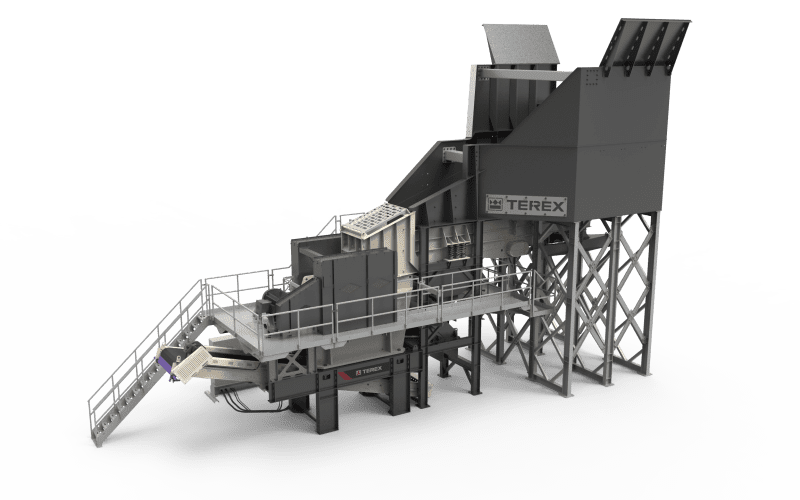 https://frontline-machinery.com/our-equipment/cedarapids-mj47-modular-jaw-crusher/
The Cedarapids® MJ47 Modular Jaw Crusher is designed for large quarries or contractors that want a stationary type design without the complexity of a normal stick-built plant.
The MJ47 module features the robust, 36″ x 48″ (914mm x 1219mm) Terex® Jaques ST47 jaw crusher. Other key features include the Simplicity® 51″ x 24′ (1.3 m x 7.3 m) heavy-duty double-deck vibrating grizzly feeder, and a large capacity truck dump hopper.
Highlights
Optional extension and wings increase live capacity of hopper to 93 tons (85 tonnes)
Live capacity of standard hopper 69 tons (63 tonnes)
Bolts together on-site, quick setup time with basic tools
Entire module easily transports in standard 40′ (12.2 m) shipping containers
Galvanized/painted steel structure
Galvanized steel walkways, steps and guard rails
Wrap-around maintenance access platform
Extra heavy-duty I-beam frame
Optional rock breaker structure and walkways to module are available
Terex® Simplicity 51″ x 24′ (1.3 m x 7.3 m) vibrating double-deck grizzly feeder
Terex® Jaques ST47 jaw crusher
200 hp (150 kW) jaw crusher electric motor
E-stops located for easy access
20 hp (15 kW) discharge conveyor electric motor
48″ (1200 mm) wide fully skirted discharge conveyor with replaceable feed box liners
Contact Us to Receive a Quote
Found what you're looking for? Contact us and we'll be happy to give you a free quote on any of our machines.
Request a Quote