Flexible and robust modular cone crusher
Cedarapids MC380X Modular Cone Crusher Plant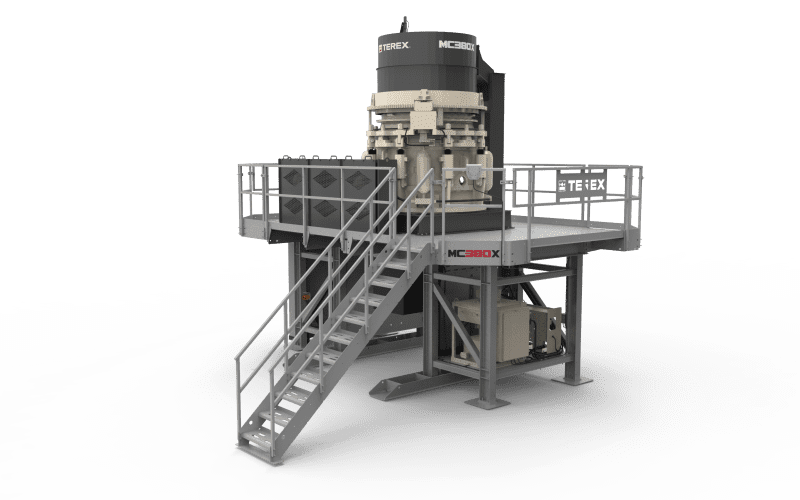 https://frontline-machinery.com/our-equipment/cedarapids-mc380x-modular-cone-crusher/
The MC380X cone module further extends the capabilities of the range. With the new Terex®Cedarapids MVP380X cone crusher, the MC380X boasts numerous features that increase productivity and ease of use. Major new enhancements include high-speed clearing of jammed material; quick crusher separation capability for faster manganese changes; and user-friendly computer controls enclosed in a weather-protected control panel.
Module Structure
Bolts together on-site, quick setup time with basic tools
Pre-wired "plug and play" design, minimal on-site wiring
Robust weather-protected control panel with user-friendly controls
Galvanized steel structure including walkways, stairs, guard rails, and skid mounting feet
Flexible design permits two locations for discharge conveyor
Crusher discharge chute with rubber dust sock CE compliant module structure and components
Systematically packed in shipping containers for quick site setup and easy transport
Cone Crusher
Cedarapids MVP380X with patented Rollercone® design for high efficiency
Single drive electric motor 300 hp (225 kW) 50 Hz
Adjustable motor mount slide-base tensioning system
V-belt drive, drive guard, V-belts, motor sheave, hub and key
Hydraulic skid with 10 hp (7.5 kW) provides hydraulic power for tramp and adjustment systems
Separate lube skid with 2 hp (1.5 kW) electric lube pump, filter, and valves
Counterweight wear guard
Electrical Controls
4 emergency stop station
IP55 electrical panel for manual/automatic control of operation; includes cone hydraulic gap/wear/ dump control to set and monitor closed-side setting, calibration, and manganese wear
Automatic sequence start-up and shut-down
Plant operation interlocks upstream and downstream Module run/fault indication
Facility for remote operation
Ammeter
Optional Equipment
Motor starter kit to run off-plant cone feed conveyor, product discharge conveyor and feeder
Overflow chute
• Full-length skid base
Contact Us to Receive a Quote
Found what you're looking for? Contact us and we'll be happy to give you a free quote on any of our machines.
Request a Quote