Flexible and robust modular cone crusher
Cedarapids MC320 Modular Cone Crusher Plant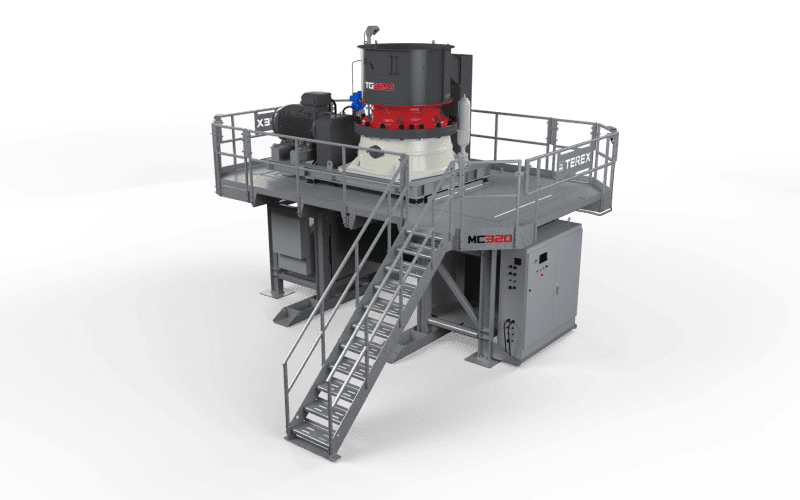 https://frontline-machinery.com/our-equipment/cedarapids-mc320-modular-cone-crusher/
The MC320 cone module features the TG320 or optional TGS320 cone on the same universal base structure as the MC and MV Series modular lines. The all electric, pre-engineered solution can be easily transported in standard containers and can be bolted together onsite quickly with basic tools and minimal wiring.
The galvanized steel structure includes oversize walkways, repositionable stairs and guard rails for safe access. Four plant emergency stops are placed conveniently around the platform for easy access during operation.
The MC320 comes with standard crusher controls but can be optioned up with the addition of the CCM switchgear panel. Additional options include an overflow chute and off plant conveyor starter kit.
Key Features
Fast set-up time
Ease of operation
On-site assembly with minimal wiring
Integrates with existing plant configuration
All electric
Compact – can be transported in containers and by road
Robust, weather-protected panels with user-friendly controls
Galvanized steel structures including walkways, stairs and guard rails
Extra heavy-duty I-beam frames
CE-compliant modules, structures and components
Universal Platform
Controls
Manual/Automatic one touch startup with start sequencing
Eriez Metal detector kit
Commonality
Standard live frame and drive kit with MPS Static/Portable
Advanced automation control system
Durability
Fully Galvanized Structure
All electric
Heavy Duty Nema Type 12 / IEC60529 Control Panel
Rock shelves or bolt in liners in high wear areas
Set Up
Easy assemble and disassemble
Pre-assembled sections to enable quick set up time and as little lifts as possible from the container
Lift points provided on all parts and assemblies over 50lbs Transport (Standard Build)
(1) 40' Standard Open Top Container + (1) 20' for Cone Open Top Container
Options
Overflow Chute
Electrical Switch Gear
Off Plant conveyor starter kit
Ultrasonic Level Control
Operator working light kit
Cone Feed Camera kit
Contact Us to Receive a Quote
Found what you're looking for? Contact us and we'll be happy to give you a free quote on any of our machines.
Request a Quote