Flexible and robust modular cone crusher
Cedarapids MC1150 Modular Cone Crusher Plant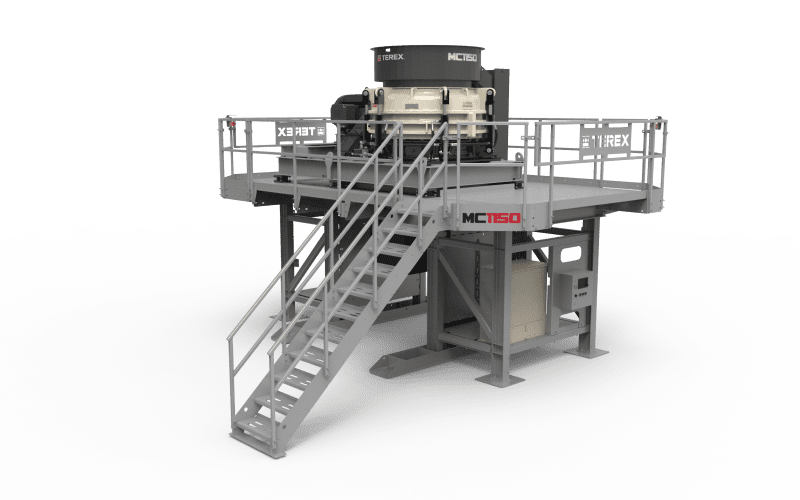 https://frontline-machinery.com/our-equipment/cedarapids-mc1150-modular-cone-crusher/
Designed around the proven, high-performance TC1000 & TC1300 cones, the TC1150 offers a nominal cone head diameter of 45"(1150 mm). It features a one-piece upper frame for all liner configurations, a no-hit concave and new mantle liner retention systems. Other enhancements include greater tramp clearance and increased clamp hold down pressure.  Options include an anti-spin device and an upgraded platform offering wider walkways plus easier maintenance access.
Key Features
Fast set-up time
Ease of operation
On-site assembly with minimal wiring
Integrates with existing plant configuration
All electric
Compact – can be transported in containers and by road
Robust, weather-protected panels with user-friendly controls
Galvanized steel structures including walkways, stairs and guard rails
Extra heavy-duty I-beam frames
CE-compliant modules, structures and components
Universal Platform
Controls
Manual/Automatic one touch startup with start sequencing
Flexibility to remove standard base cone control panel ACE6 and option to add switchgear panel
Eriez Metal detector kit
Commonality
Standard live frame and drive kit with MPS Static/Portable
Standard Base Cone Controls "ACE6"
Flexibility to interchange TC1150 with standard TC1000 & TC1300 Cone crusher and components
Ability to Plug & Play with standard TC components & parts where practical
Durability
Fully Galvanised Structure
All electric
Heavy Duty Nema Type 12 / IEC60529 Control Panel (Hoffman style)
Rock Box design discharge chute
Set Up
Easy assemble and disassemble
Pre-assembled sections to enable quick set up time and as few lifts as possible from the container
Pre-wired
Transport
1 x 40' Standard Open Top Container + 1 x 20' for Cone Open Top Container
Options
Overflow Chute
Electrical Switch Gear
Off Plant conveyor starter kit
Ultrasonic Level Control
Operator working light kit
Cone Feed Camera kit
Main Components
Galvanized Modular Structure, steps and guardrails 23,654 Kg 52,150 lbs
Contact Us to Receive a Quote
Found what you're looking for? Contact us and we'll be happy to give you a free quote on any of our machines.
Request a Quote