New equipment for sale
Cedarapids CRV2050 Portable Impact  Crusher Plant (VSI)
Highly mobile all-electric vertical shaft impact crushing plant
The CRV2050 portable VSI features the world-renowned Canica 2050 Vertical Shaft Impactor, available in a number of chamber configurations. This highly mobile all-electric plant comes with our latest CCM automation system and is available in both single or dual drive.
GET MORE INFORMATION
FINANCING
TECHNICAL SPECS

Canica CRV Series Standard Features
Crusher
Heavy-duty bearing pedestal
Astralloy main shaft
Cast chrome pedestal protection
Patented "Hydralid" hydraulic lid lifter
Externally adjustable feed tube system
Cast feed tube
Cast lid and mainframe liners
Heavy-duty motor mounts with motor covers and adjustable take-ups Vibration shut-off switch
Belt guards
Heavy-duty open shoe table
Cast lined flywheel
Drive belts and sheaves
Patented vaulted anvil system
Inspection door with safety lock
Modular Oil System
35 gallon (132 liter) reservoir
Positive displacement oil pump
Low pressure relief valve and high pressure lid lifter valve
Low pressure shut-down switch
Oil heater
Oil sight gauge, oil temperature gauge, and lube oil pressure gauge
Ancillary Electrical Control Cabinet
Tachometer/Hour meter
2 HP (1.5 kW) lubrication system starter
15 HP (11 kW) conveyor starter
Oil system heater starter
Contains termination points for ALL safety shut-off switches Warning strobe
Standard Safety Features
Open lid safety lock
Shut-off switches detect: Low oil pressure, Excessive vibration (vibration switch), Open lid
Crusher Optional Equipment
Two-piece crusher design (removable tub section)
Pinion gear drive assembly
4 and 5-port autogenous rotors
4 and 5-port anvil ring rotors
Rockbox
Ceramic wear parts
Tungsten carbide wear parts
Portable chassis mount
Stationary support stand with walkways and ladders Diesel power
Variable frequency drives
Soft starts
Plant Optional Equipment
300 hp (single 300) to 700 hp (dual 350)
CCM automated switchgear panel with crusher soft start
Tether control, radio remote, inter-plant communication
Variable frequency crusher drive in place of soft start
Metal detector
Hydraulic leveling or run-on jacks
Dust suppression & pump
Oversize tires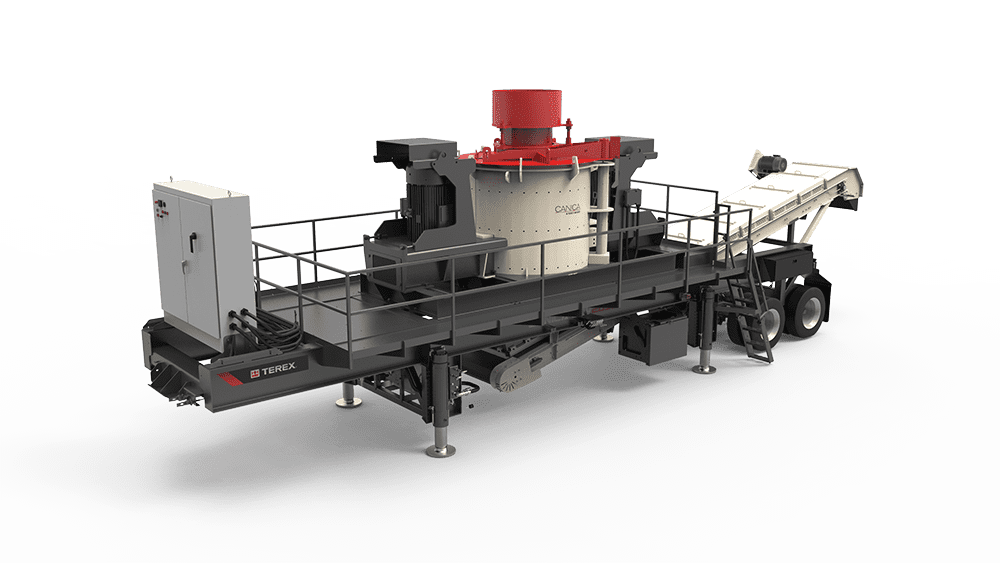 Interchangeable crushing chambers
The interchangeable table and rotor options on the CRV2050 vertical shaft impact crusher plant offer maximum application flexibility.
High quality end product
The interchangeable table and rotor options on the CRV2050 vertical shaft impact crusher plant offer maximum application flexibility.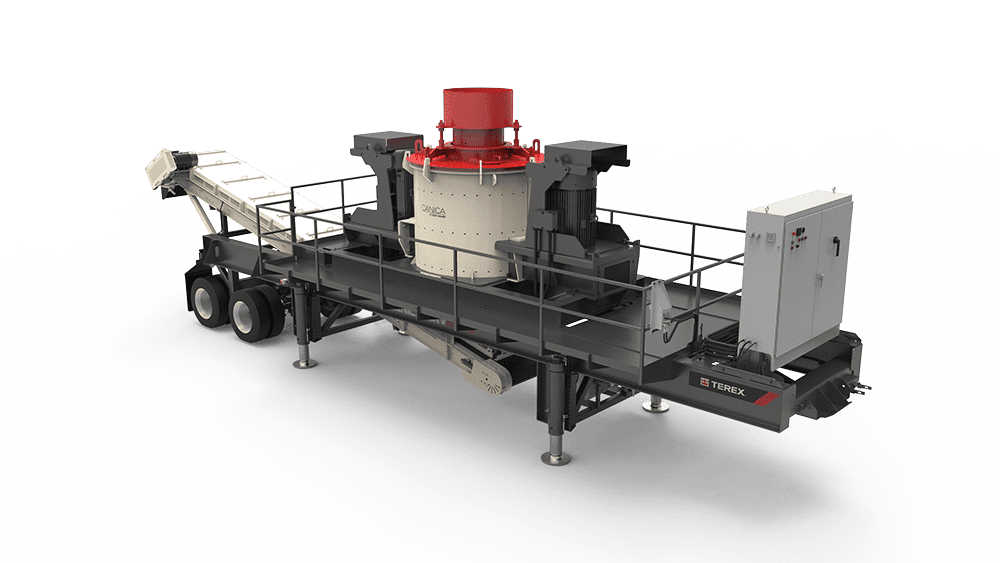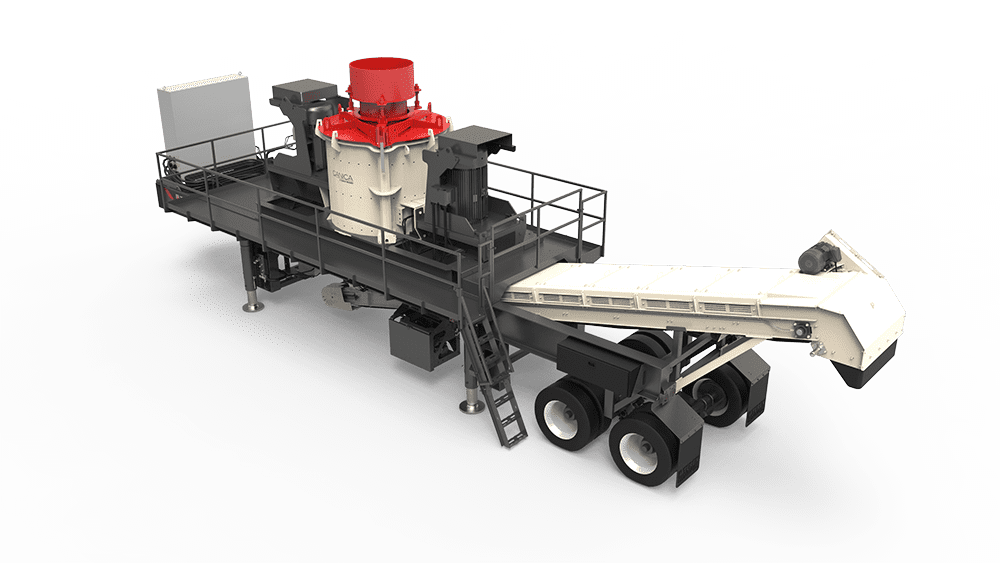 Safety features
The CRV2050 vertical shaft impactor features standard safety features such as an open lid safety lock and a shut-off switch detection monitoring low oil pressure, excessive vibration (vibration switch), and open lid.
Optional variable frequency drive
The use of a Variable Frequency Drive (VFD) can make a VSI more flexible to produce a number of products from the same application by raising or lowering the rpm to fine-tune the discharge.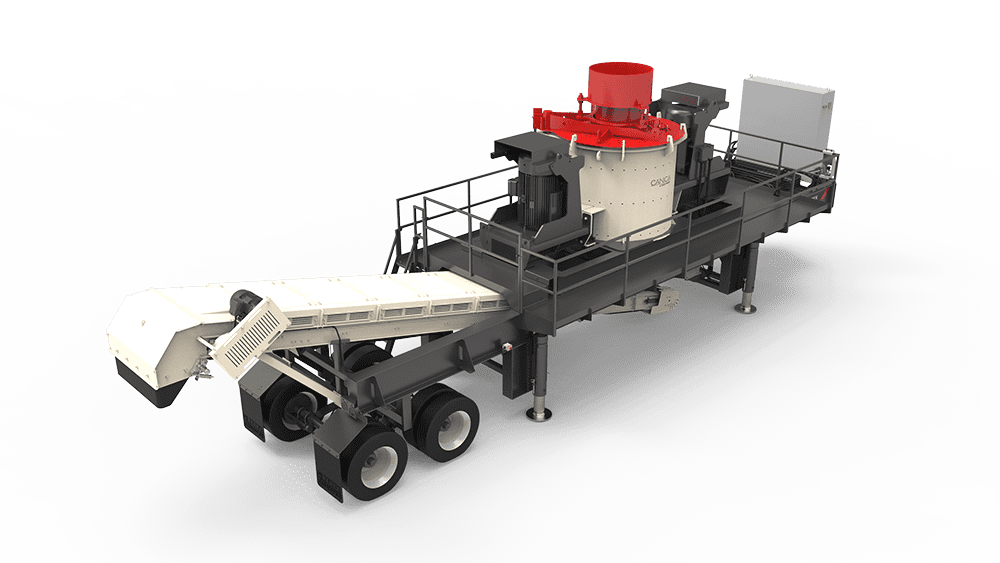 Centuries of experience
With almost 200 years of crushing and screening manufacturing experience, Cedarapids delivers rugged, field-proven crushing and screening solutions. Cedarapids® Crushing & Screening Plants offer the essential flexibility, control, and reliability to make the difference – whatever the application, wherever the location.
Field proven
Cedarapids® Crushing & Screening Solutions Cedarapids® provides a complete range of crushing and screening equipment to customers around the world operating in four key industries: mining. aggregates. demolition and recycling. To date they have thousands of plants operating througout the globe are known for equipment designs and technologies which are built to last.
Best-in-class engineering
"With Cedarapids®, you don't just get best-in-class engineering technology. You get the service, training and support to match. They understand owners needs to maximize productivity and control operating costs across the working life of every piece of equipment. This means you can count on engineering technology that delivers in terms of maintenance access, longevity, and cost per tonne."
Additional information
| | |
| --- | --- |
| Application | |
| Configuration | |
| Manufacturer | |
| Model | |
| New/Used | |