Portable Screening Plant
Cedarapids CRS820C Portable Screen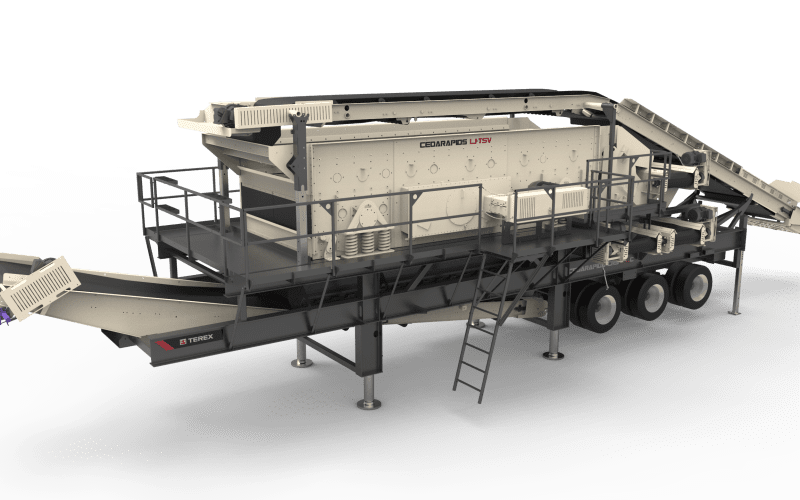 https://frontline-machinery.com/our-equipment/cedarapids-crs820c-portable-screen/
The Cedarapids® CRS820C screen plant features the popular 8′ x 20′ (2438mm x 6096mm) TSV8203 screen, along with a flex shaft screen drive and roll-away blending chutes, make this a leader in the screen plant market. The wide overhead conveyor allows for easy incorporation into any crushing operation without the need for external conveyors.
Standard Features
LJ-TSV 8203-38 heavy-duty triple-shaft El-Jay™ oval stroke screen
Adjustable screen stroke angle and stroke length
5/16" (8mm) thick side plates and beam to beam
braced decks
Patent-pending low maintenance surge dampeners/ship braces
Patented triple-shaft lubrication system
QuickLube connections for TOPS 2.0 filter system
Patented low maintenance 50 hp flex shaft screen drive
No drive belt whip or tension idler
No drive belt pull affecting screen movement
Drive folds for travel without shaft disassembly
Heavy-duty roll-away blending chutes for screen cloth access
3/8" (9.5 mm) AR400 steel construction
Four section (25%) blending gates for all decks
Combine decks: top-center, center-bottom, bottom-fines
Clamp bar stowage racks on feed end of screen walkway
Rugged heavy-duty conveyor systems
Fines Conveyor Inclined 60" (1524 mm) 10 hp (7.5kW)
Dual 36"(915 mm) reversible 7.5 hp (5.6kW) cross conveyors
3 ply belts with vulcanized belt splices
Cema C class troughing idlers and rubber disk return idlers
Class II shaft mount gear boxes with TEFC motors
Belt centering side roller guides
Easy access belt take-up (end pull on cross conveyors)
Extra-wide walkways on both sides and feed end of screen
Fold down sides for travel
Non-skid surfaces can be shovel cleaned
Walk around drive and screen incline
Removable ladder
Heavy Duty I-Beam main frame
Tandem axle 25,000 lbs (11,340kg) leaf spring suspensions
Air brakes with spring applied emergency brakes
Lights and splash guards
Eight 295/75 R22.5 tires and two crank-style landing jacks
Optional Equipment
Extended walkway both sides along chutes
Hydraulic power for roll-away chutes
Removable switchgear panel and frame with 20' (6096 mm) extra cable and cable wraps
Two crank style rear levelling jacks
Four hydraulic levelling on pinned run-on jacks
Patent pending deck deflectors boosting screen effective area
Oversize 315/80 R22.5 tires
2" to 3.5" (51mm to 89 mm) convertible king pin
Magnetic screen deck liners for cross beams and diagonal braces
TOPS 2.0 portable oil filter system
Hinged fines conveyor for export
Contact Us to Receive a Quote
Found what you're looking for? Contact us and we'll be happy to give you a free quote on any of our machines.
Request a Quote