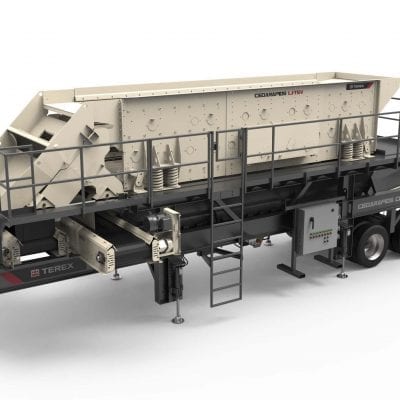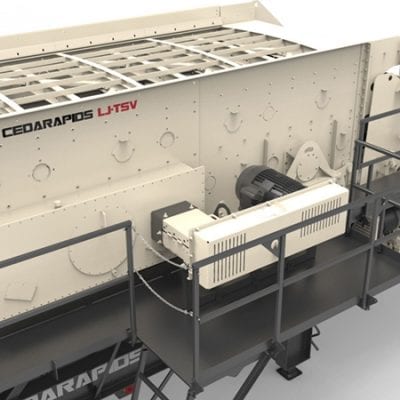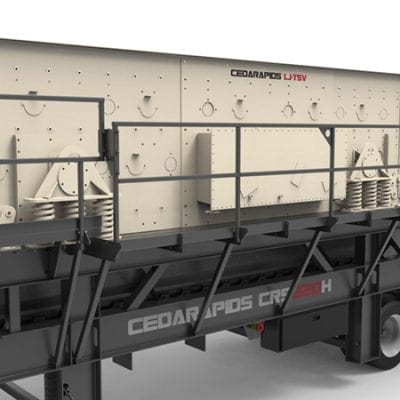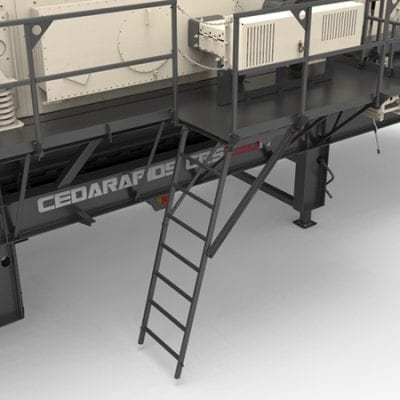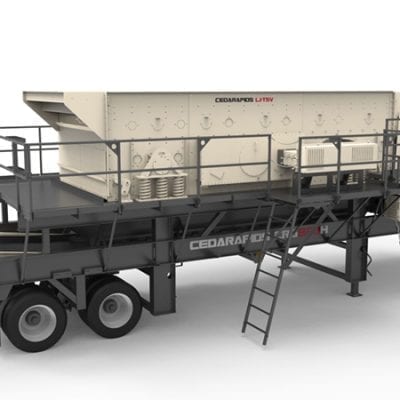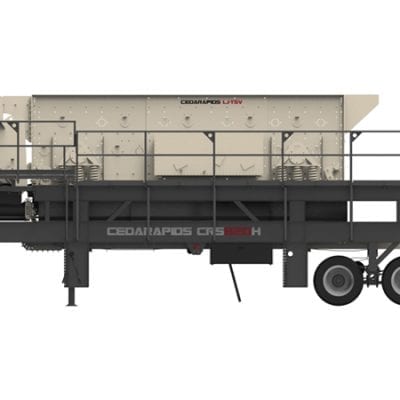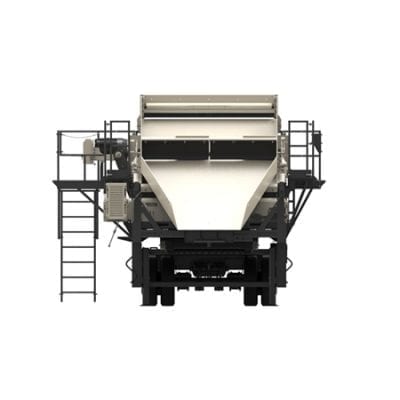 New equipment for sale
Cedarapids CRS620H Portable Screen
Portable screen plant with flex shaft screen drive and roll-away blending chutes
The Cedarapids® CRS620H screen plant features the popular 6′ x 20′ (1830mm x 6096mm) TSV6203 screen, along with a flex shaft screen drive and roll-away blending chutes, make this a leader in the screen plant market. The wide conveyor belts handle peak load conditions easily. The plant is designed to get the most out of the screen so there is plenty of capacity to make the crushers the bottleneck in the circuit, not the screen.
GET MORE INFORMATION
BOOK A DEMO
FINANCING
RENT ME
TECHNICAL SPECS

Standard Features
LJ-TSV6203-32 heavy-duty triple-shaft El-JayTM oval stroke screen
Adjustable screen stroke angle and stroke length
Patented deck deflectors add 12% capacity to the bottom deck
5/16" (8 mm) thick side plates & beam to beam braced decks
Patent-pending low maintenance surge dampers/ship braces
Patented triple-shaft lubrication system
QuickLube connections for TOPS 2.0 filter system
Patented low maintenance 40 hp flex shaft screen drive
No drive belt whip or tension idler
No drive belt pull affecting screen movement
Drive folds for travel without shaft disassembly
Heavy-duty roll-away blending chutes for screen cloth access
3/8" (9.5 mm) AR400 steel construction
Four section (25%) blending gates for all decks
Combine decks: top-center, center-bottom, bottomfines
Clamp bar stowage racks on feed end of screen walkway
Rugged heavy-duty conveyor systems
Inclined 48" (1219 mm) 7.5 hp (5.6 kW) fines conveyor with extended discharge clearance and primary style belt wiper
Dual 30" (9762 mm) reversible 7.5 hp (5.6 kW) cross conveyors extend up to 42" (1067 mm) beyond main frame
3-ply belts with vulcanized belt splices
Cema C class troughing idlers and rubber disk return idlers
Class II shaft mount gear boxes and TEFC motors
Belt centering side roller guides
Easy access belt take-up (end pull on cross conveyors)
Extra-wide walkways on both sides and feed end of screen
Non-skid surfaces can be shovel cleaned
Spring-return safety gates and ladders on both sides
Heavy-duty I-beam main frame
Tandem axle 25,000 lb (11340 kg) leaf spring suspension
Air brakes with spring applied emergency brakes
Lights and splash guards
Eight 295/75 R22.5 tires and two crank-style landing jacks
Optional equipment
Extended walkway along chutes
Hydraulic power for roll-away chutes
Removable switchgear panel and frame with 20' (6096 mm) extra cable and cable wraps
Two crank-style rear leveling jacks
Four hydraulic leveling or pinned run-on jacks
Oversize 315/80 R22.5 tires
2" to 3.5" (51 mm to 89 mm) convertible king pin
Magnetic screen deck liners for cross beams and diagonal braces
TOPS 2.0 portable oil filter system
Hinged fines conveyor for export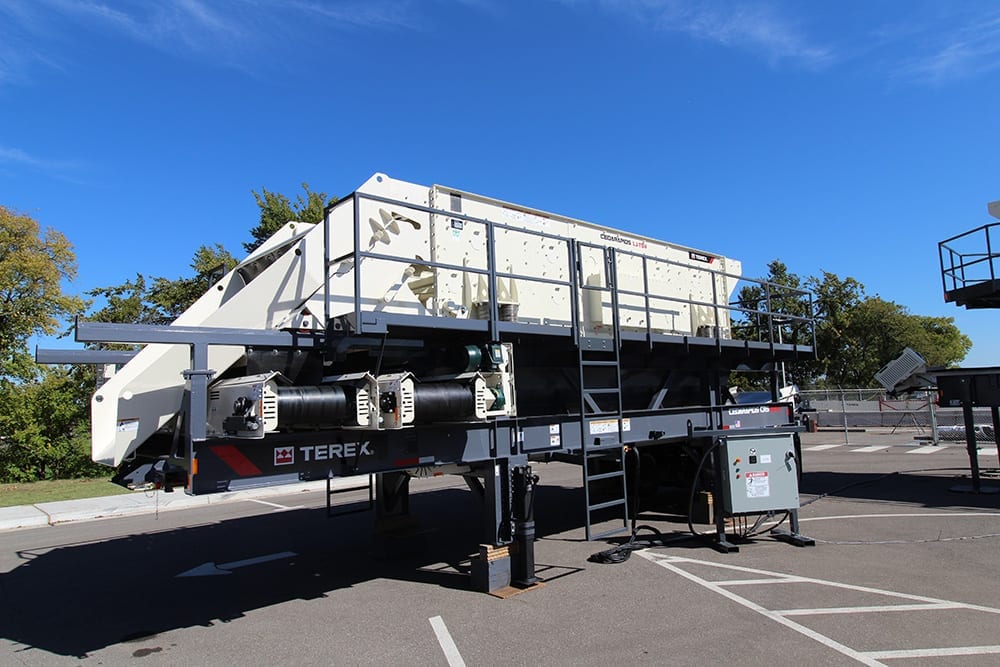 Maintenance-friendly
Cedarapids crushing and screening plants are designed with maintenance in mind. The CRS620H screening plant features conveniently located access panels and hinge guards, remote grease lines and grease banks, large service platforms, and a large lockable toolbox.
Superior belt system
The CRS620H is equipped with a 3-ply vulcanized conveyor belt with Cema C class belt components and guide idlers, Class II gearboxes, and reinforced shaft seals that resist blow-out.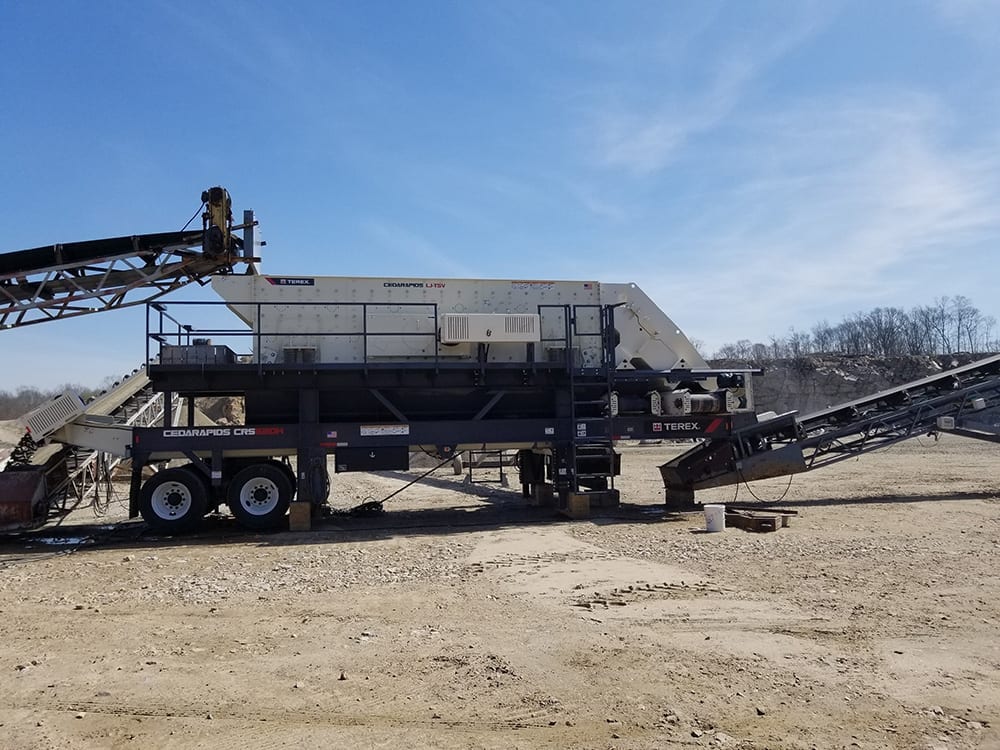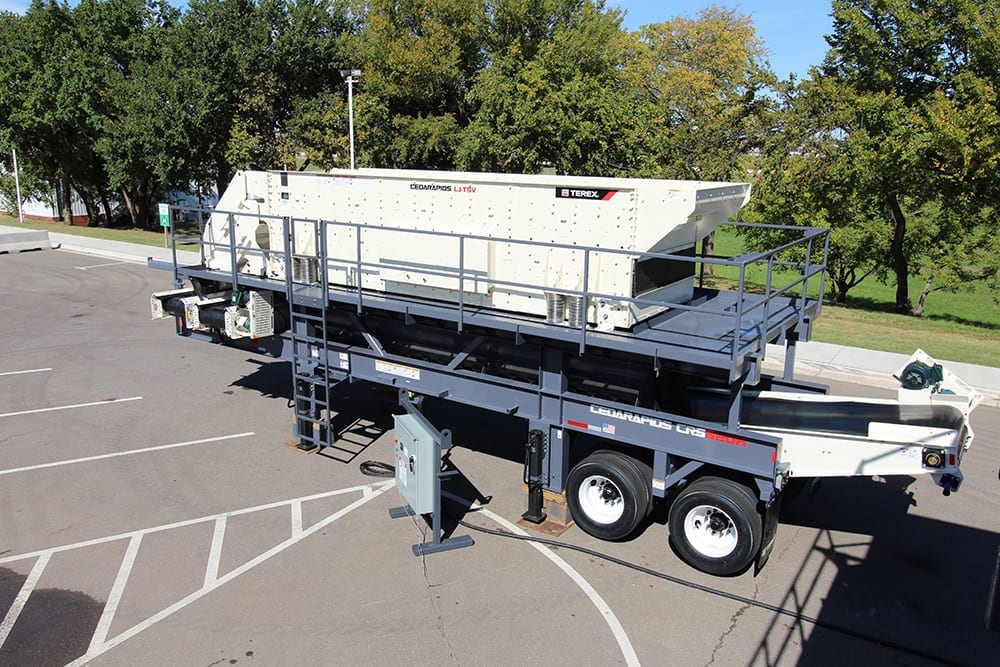 Roll away discharge chutes
The CRS620H mobile screening plant is designed with heavy 3/'8″ AR 400 steel which can roll away with the optional hydraulics and rugged 4-section blend gates providing blending capabilities in 25% increments.
High-performance screen drive
The unique flex shaft screen drive on the CRS620H screening plant features a static V-belt drive helping prevent belt slippage and permanently lubricated flex shaft joints that require no ongoing maintenance. For improved transport, it folds for travel without the need for shaft disassembly, guard removal, or v-belt adjustment.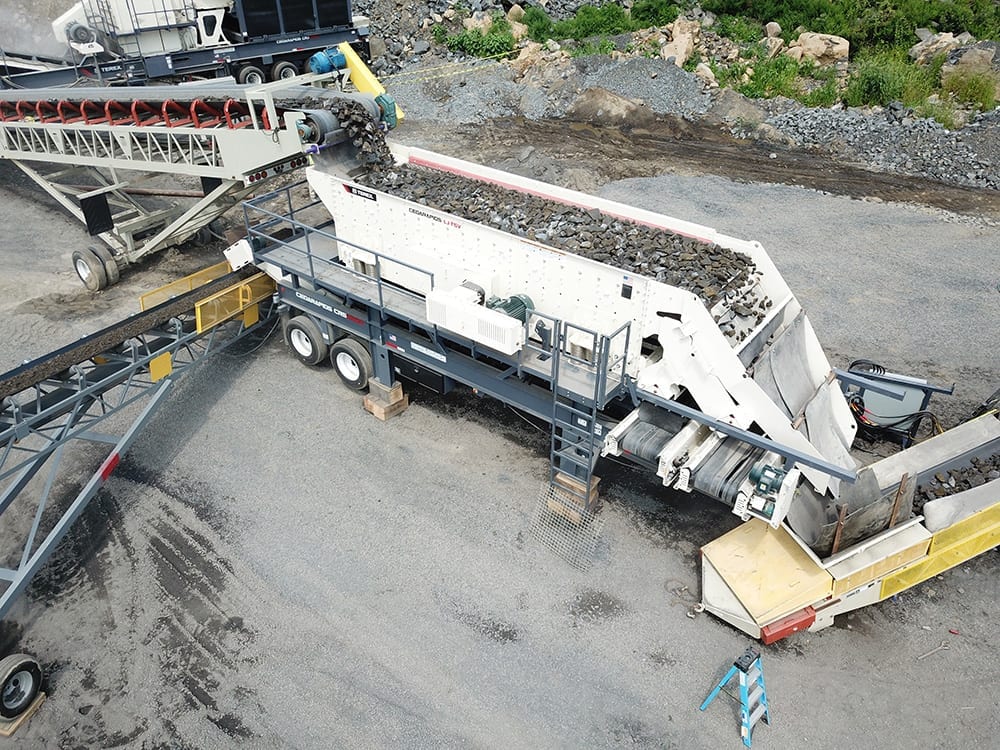 Centuries of experience
With almost 200 years of crushing and screening manufacturing experience, Cedarapids delivers rugged, field-proven crushing and screening solutions. Cedarapids® Crushing & Screening Plants offer the essential flexibility, control, and reliability to make the difference – whatever the application, wherever the location.
Field proven
Cedarapids® Crushing & Screening Solutions Cedarapids® provides a complete range of crushing and screening equipment to customers around the world operating in four key industries: mining. aggregates. demolition and recycling. To date they have thousands of plants operating througout the globe are known for equipment designs and technologies which are built to last.
Best-in-class engineering
"With Cedarapids®, you don't just get best-in-class engineering technology. You get the service, training and support to match. They understand owners needs to maximize productivity and control operating costs across the working life of every piece of equipment. This means you can count on engineering technology that delivers in terms of maintenance access, longevity, and cost per tonne."
Additional information
| | |
| --- | --- |
| Application | |
| Configuration | |
| Manufacturer | |
| Model | |
| New/Used | |