New equipment for sale
Cedarapids CRJ3750 Portable Jaw Crusher Plant
High Stroke 37″ x 50″ portable jaw crushing plant with a vibrating grizzly feeder
The Cedarapids® CRJ3750 plant combines a robust JS3750 jaw crusher with a high stroke, 52″" x 20′ (1321 x 6096 mm)  vibrating grizzly feeder resulting in a high production portable crushing machine. The CRJ3750 is easy to operate and maintain and offers new levels of reliability and convenience. Multiple options are available, allowing customers to configure the CRJ3750 to meet specific needs.
GET MORE INFORMATION
FINANCING
TECHNICAL SPECS

Highly mobile plant with large 37″" x 50″" (940 x 1270 mm) feed opening; 250 hp (186 kW) JS3750 jaw crusher and 52″" x 20′ (1321 x 6096 mm) high-stroke vibrating grizzly feeder with 3/4″" (19 mm) AR hopper to handle severe crushing applications
Optional hydraulic feeder module lift system allows quick and safe removal of the hopper module without a crane; lift legs raise and lower the module for loading to a flatbed trailer for easy transport
Numerous maintenance and safety features include jaw die lift provisions, tool-free ratchet motor drive adjustment, conveniently located remote grease banks, folding safety rails
Straight-line undercrusher conveyor design reduces slippage; mechanical raise/lower system lowers tail section for maximum undercrusher clearance, raises tail section for ease of clean-up, unit locks into raised position for travel
Hydraulic raise/lower switchgear panel system isolates panel from vibration during operation; easily raises and lowers to ground
Optional extended undercrusher conveyor allows 15′ (4572 mm) height to bottom of head pulley (hydraulic legs extended); folds for transport
Optional 15'7″" (4750 mm) wide truck dump hopper and hinged 30″" (762 mm) hopper extensions increase hopper capacity; extension locking supports are safely accessible from ground level; hydraulic operation optional
Various hydraulic jack options available: 2 landing, 6 leveling, or 6 pinned "run-on" jacks; enclosed hydraulic unit
Quad or 3+1 axle options provide portability in most any location
Optional rock breaker with electrical controls and pendent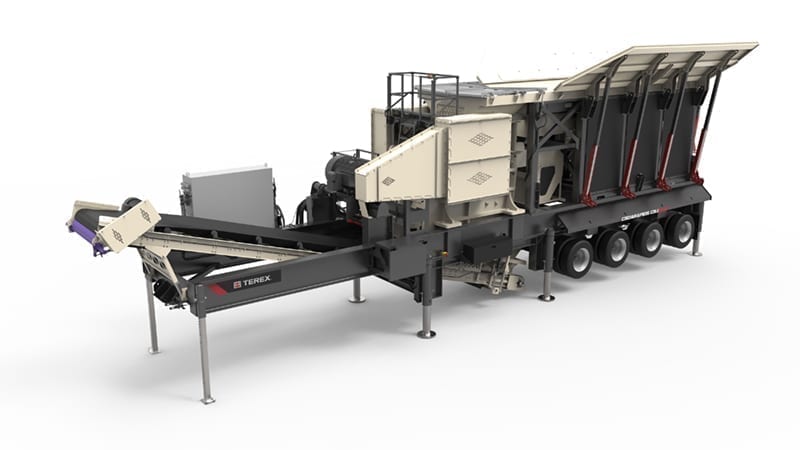 Quarry duty crusher
The CRJ3750 jaw crusher plant is highly mobile but offers a big bite. In the heart of the crusher is the quarry-duty 80,000 lb jaw with a feed opening of 37″ x 50″. The stress-relieved welded frame ensures a solid foundation for the extra-long 74″ stationary jaw teeth for the best nip angle and aggressive bite
Smart features
The CRJ3750 features a quick change wedge with a retained stationary jaw. The life eyes in the jaw eliminate risky weld-on loops and allow for easy shackle attachment. While the drop forged alloy shaft with contoured profile minimizes stress and maximizes strength.


Ruggard conveyor system
Coupled with a robust jaw, the CRJ3750 has a rugged conveyor system for demanding quarry applications. This includes Cema C class belt components, reinforced shaft seals, Class II gearboxes, and a 3-ply vulcanized belt for increased bond strength, longevity, and durability.
Maintenance friendly
Cedarapids crushing and screening plants are designed with maintenance in mind. The CRJ3750 features convenient maintenance access, high-quality machine guarding and platforms, and remote grease lines and grease banks.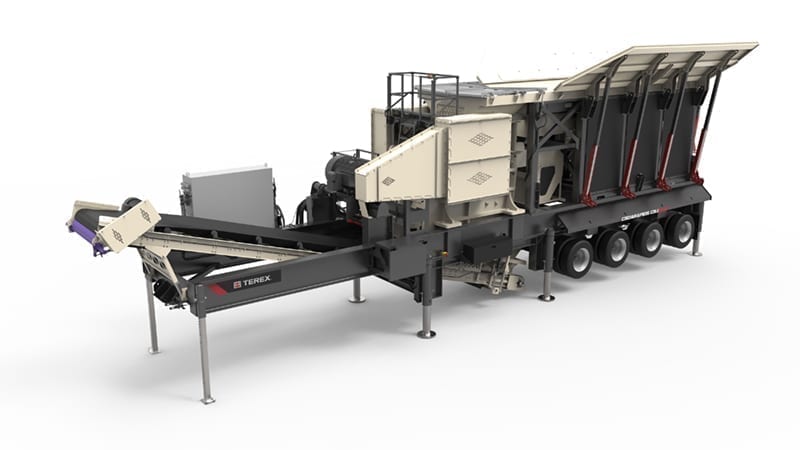 Centuries of experience
With almost 200 years of crushing and screening manufacturing experience, Cedarapids delivers rugged, field-proven crushing and screening solutions. Cedarapids® Crushing & Screening Plants offer the essential flexibility, control, and reliability to make the difference – whatever the application, wherever the location.
Field proven
Cedarapids® Crushing & Screening Solutions Cedarapids® provides a complete range of crushing and screening equipment to customers around the world operating in four key industries: mining. aggregates. demolition and recycling. To date they have thousands of plants operating througout the globe are known for equipment designs and technologies which are built to last.
Best-in-class engineering
"With Cedarapids®, you don't just get best-in-class engineering technology. You get the service, training and support to match. They understand owners needs to maximize productivity and control operating costs across the working life of every piece of equipment. This means you can count on engineering technology that delivers in terms of maintenance access, longevity, and cost per tonne."
Additional information
| | |
| --- | --- |
| Application | |
| Configuration | |
| Manufacturer | |
| Model | |
| New/Used | |