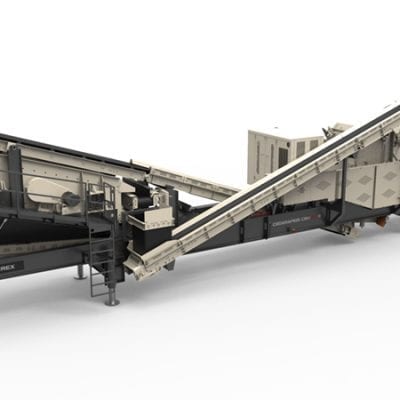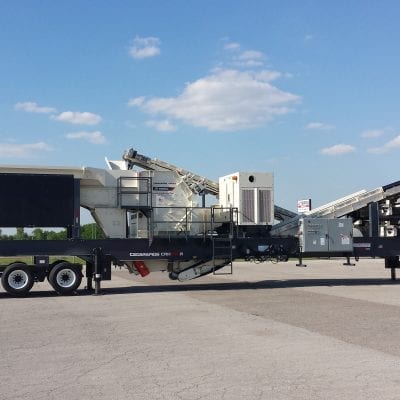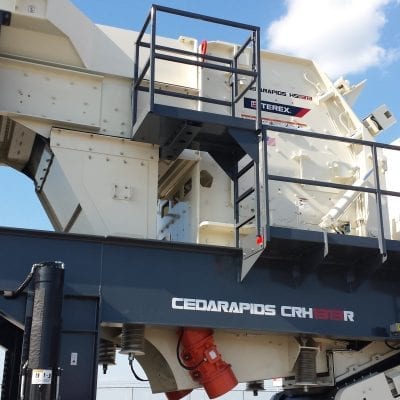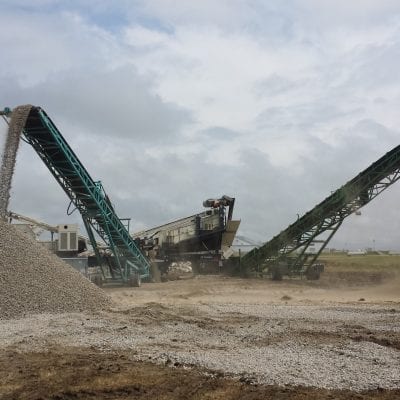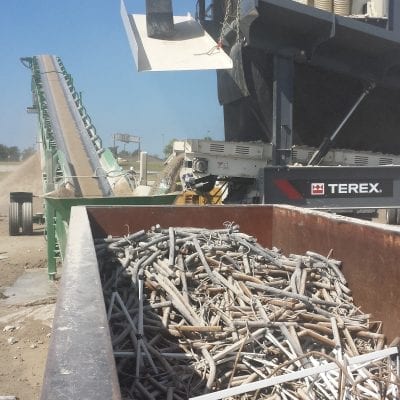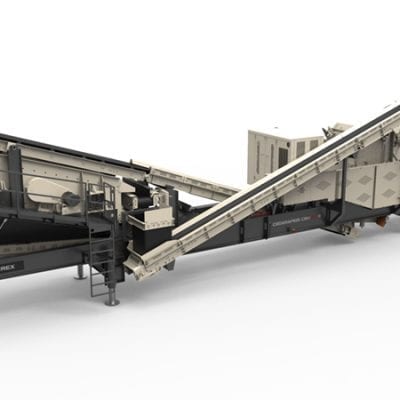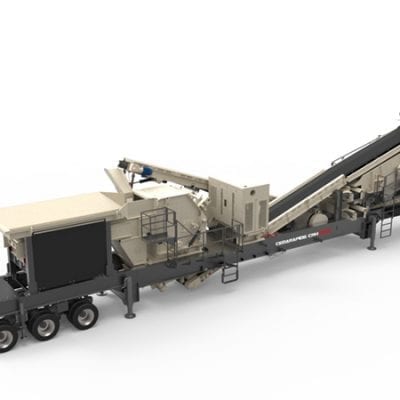 New equipment for sale
Cedarapids CRH1313R Portable Impact  Crusher Plant (HSI)
High production closed circuit impact crusher equipped with a 2-deck dual sloped screen
The Cedarapids® CRH1313R delivers big production and has the versatility to handle rock crushing, concrete recycling, and asphalt recycling. The highly mobile plant is a complete stand-alone closed-circuit unit with three product capability. The plant features a high production Cedarapids IP1313 impactor with a 3 or 4 bar 50" (1270 mm) rotor powered by a Tier 4, 450 hp (335 kW) diesel engine, direct drive to crusher, and 200 hp (150 kW) generator. Uptime is maximized with a heavy-duty undercrusher pan feeder that protects the conveyor belt from damage by absorbing the high velocity discharge from the crusher. More capacity is possible because of the 5'x16′ (1515 x 4875mm) patent-pending dual-slope 2-deck screen which handles heavier loads. In addition, the capability to return both screen deck products to the crusher maximizes production. A rugged 48″" x 16′ (1220 x 4875 mm) high-stroke Cedarapids "Advantage" feeder with 60″" (1525 mm) grizzly bar or optional stepped tine style grizzly section feeds the impactor. The new CRH1313R portable impactor/screen plant is simple to operate, quick to set up, and easy to transport.
GET MORE INFORMATION
FINANCING
TECHNICAL SPECS

Standard Features
Tier 4 Diesel Engine 450 hp (335kW)
Coupled to crusher and generator with hydraulic clutch
200 hp (150kW) generator and removable electrical panel with controls for all on-plant conveyors and vibratory equipment
Panel includes controls for two 25 hp (19 kW) off-plant conveyors (includes plugs and receptacles)
Vibrating grizzly feeder 48" x 16' (1219 x 4877 mm); 25 hp (19 kW)
Straight 5' (1524 mm) long bolt-in adjustable grizzly bars
1/2" (13 mm) AR400 replaceable bolt-on side and floor liners
5/8" (16 mm) AR400 hopper
Bypass chute diverts grizzly fines to undercrusher pan feeder
Wireless remote control for feeder with back up remote (on-off speed control)
Removable feeder module
Screen, conveyors and magnet option move hydraulically into and out of transport position
Triple axle suspension with 295/75 R22.5 tires
Inclined screen 5' x 16' (1524 mm x 4877 mm) two deck, 15 hp (11kW)
Steeper top deck for improved scalping performance
17° top deck and 15° bottom deck
Both decks can recirculate to crusher or discharge off plant
42" (1067 mm) fines conveyor 7.5 hp (5.6 kW)
48" (1219 mm) screen feed conveyor, 20 hp (15 kW)
Two 24" (610 mm) reversible cross conveyors 5 hp (3.7 kW)
24" (610 mm) return conveyor 10 hp (7.5 kW)
All conveyors include vulcanized 3 ply belts, CEMA C Class rollers, rubber disc return rolls and side guide rolls
300 gallon (1135 liter) fuel tank allows over 10 hours of run-time
Four hydraulic leveling jacks with adjustable rear drop down support legs
Lockable 4' (1219 mm) long side mounted storage box
Optional Equipment
All electrical plant 300 hp (225 kW) crusher motor and drive
Tier 3 diesel engine (in place of Tier 4F engine)
Undercrusher 36" x 96" (914 x 2438 mm) high stroke pan feeder
Collects high impact crusher discharge and grizzly fines, reducing conveyor maintenance
Dual 3 hp (2.3kW) motors provide high energy feeder motion
Self-cleaning permanent magnet
Self-cleaning eltro magnet with panel enclosed rectifier circuit
Hydraulic run-on jacks
Two 32" (813 mm) stepped tapered cantilever tine grizzly sections
Hydraulic lift system to remove feeder module from plant
Hopper side extensions
Removable side bulkheads
4 bar crusher rotor
Crusher jib crane
Screen wire cloth
Screen wedge style clamp bolts
Quad axle suspension
Oversize 315/80 R22.5 tires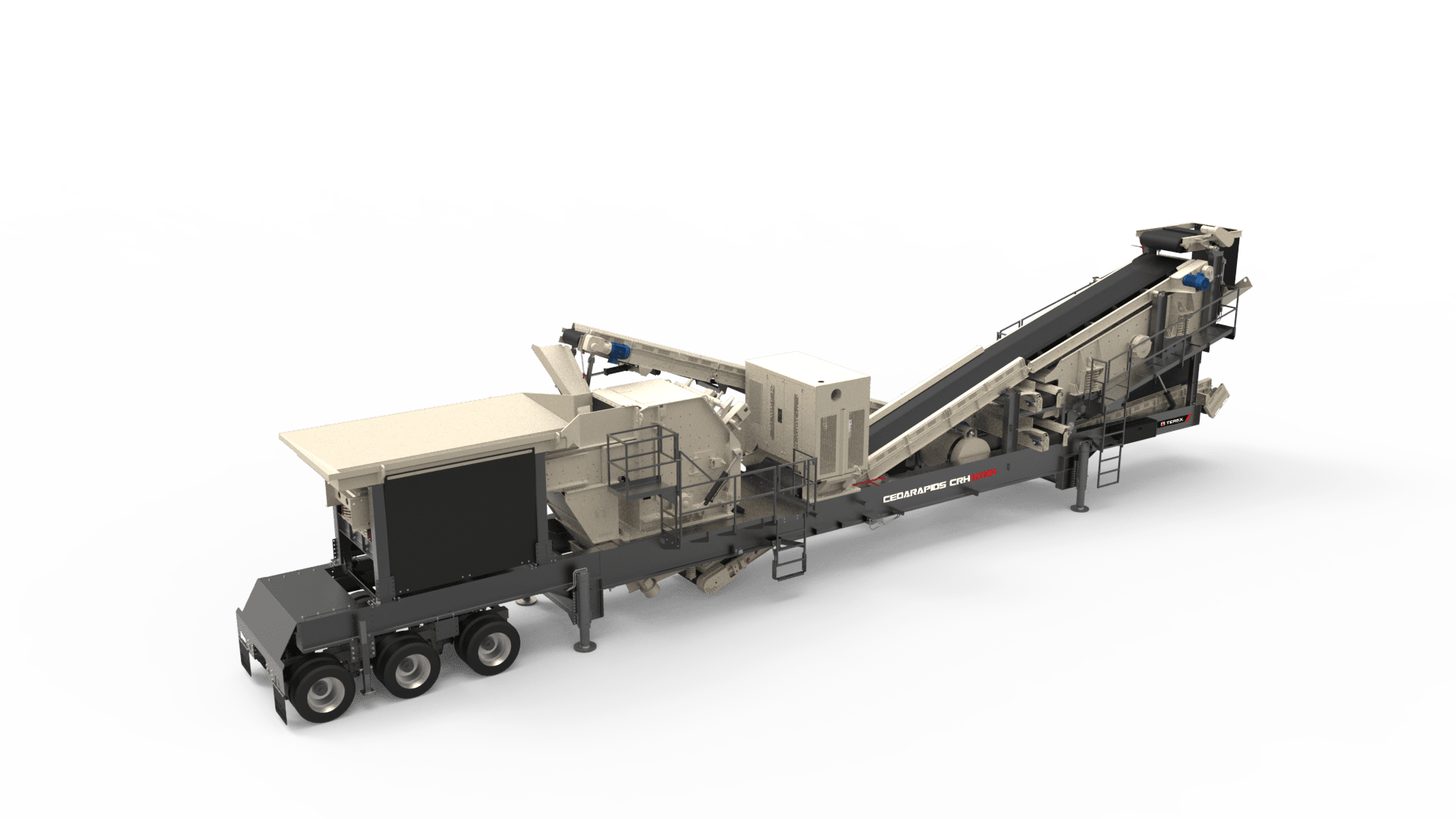 Portability and transportability
If portability is important for your crushing business, look no further than the CRH1113R horizontal shaft impactor. This self-contained unit offers a 1-piece tow system on a 4-axle chassis with an optional 3+1 axle. Fast and easy to use hydraulics offer timely and efficient site set up.
Unique grizzly deck
The CRH1113R bodes a highly unique 6′ two-deck grizzly. The convertible grizzly can be equipped with various cassettes including stepped fingers, a finger and sloped punch plate, or a sloped punch plate.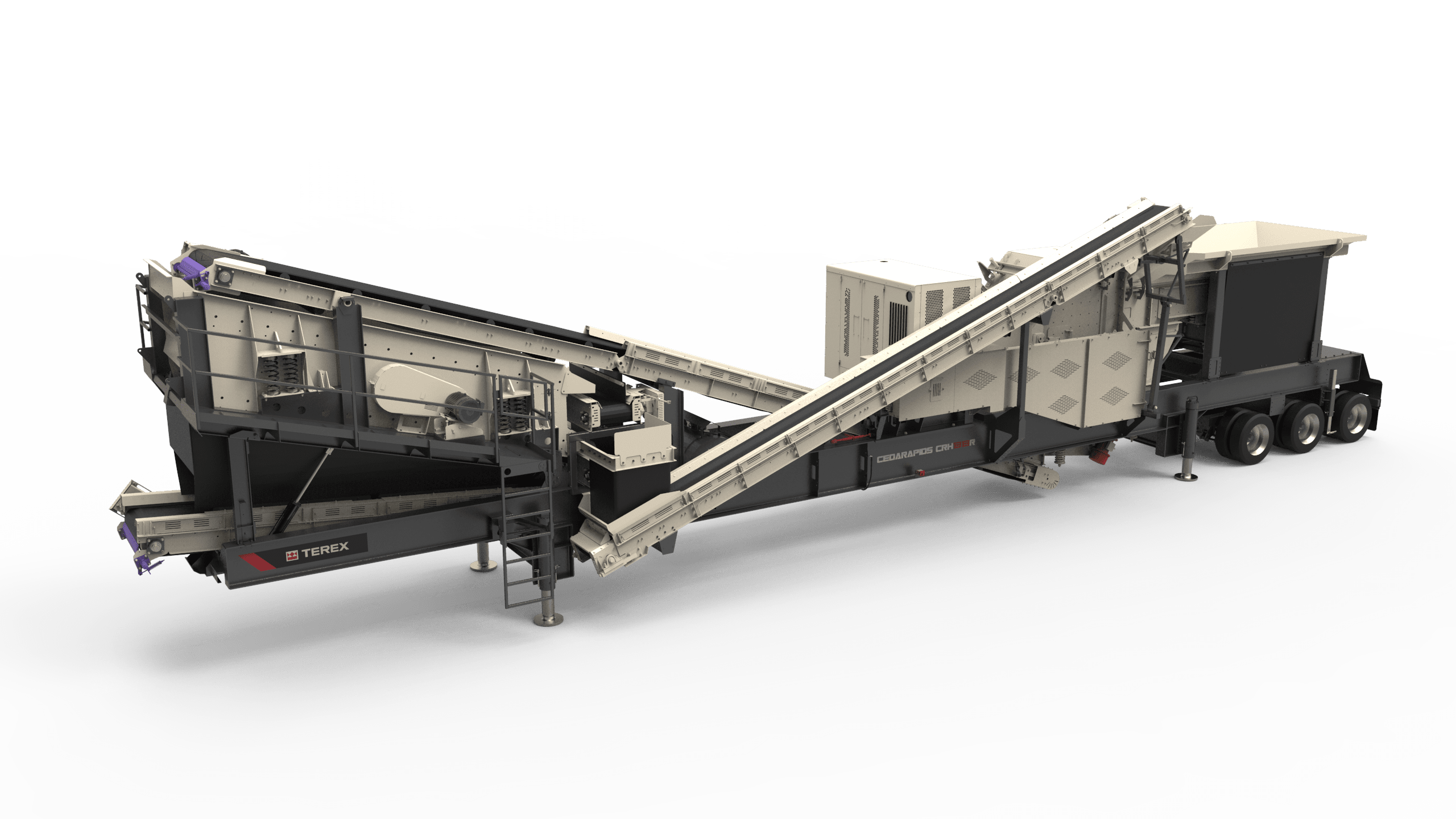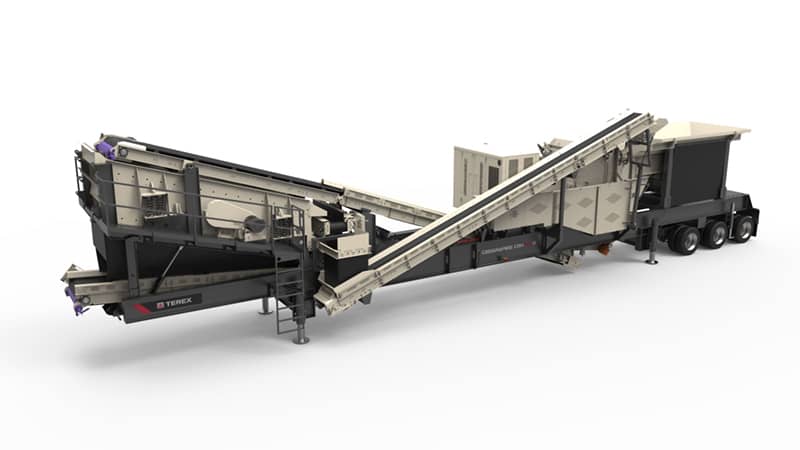 Multi-function remote
The multi-function remote control displays and controls critical functions of the impact crusher including the percentage of speed, fault messages, plant auto on/off, feeder on/off, and feeder speed adjustment. Additionally, it can control up to 2 auxiliary devices independently such as a radial stacker or dust suppression system.
Maintenance-friendly
Cedarapids crushing and screening plants are designed with maintenance in mind. The CRH1113R impact crushing plant features convenient maintenance access, hydraulic overhead conveyor lift access, open access below the mainframe for easy cleanup and an all-electric drive providing a long low maintenance lifespan.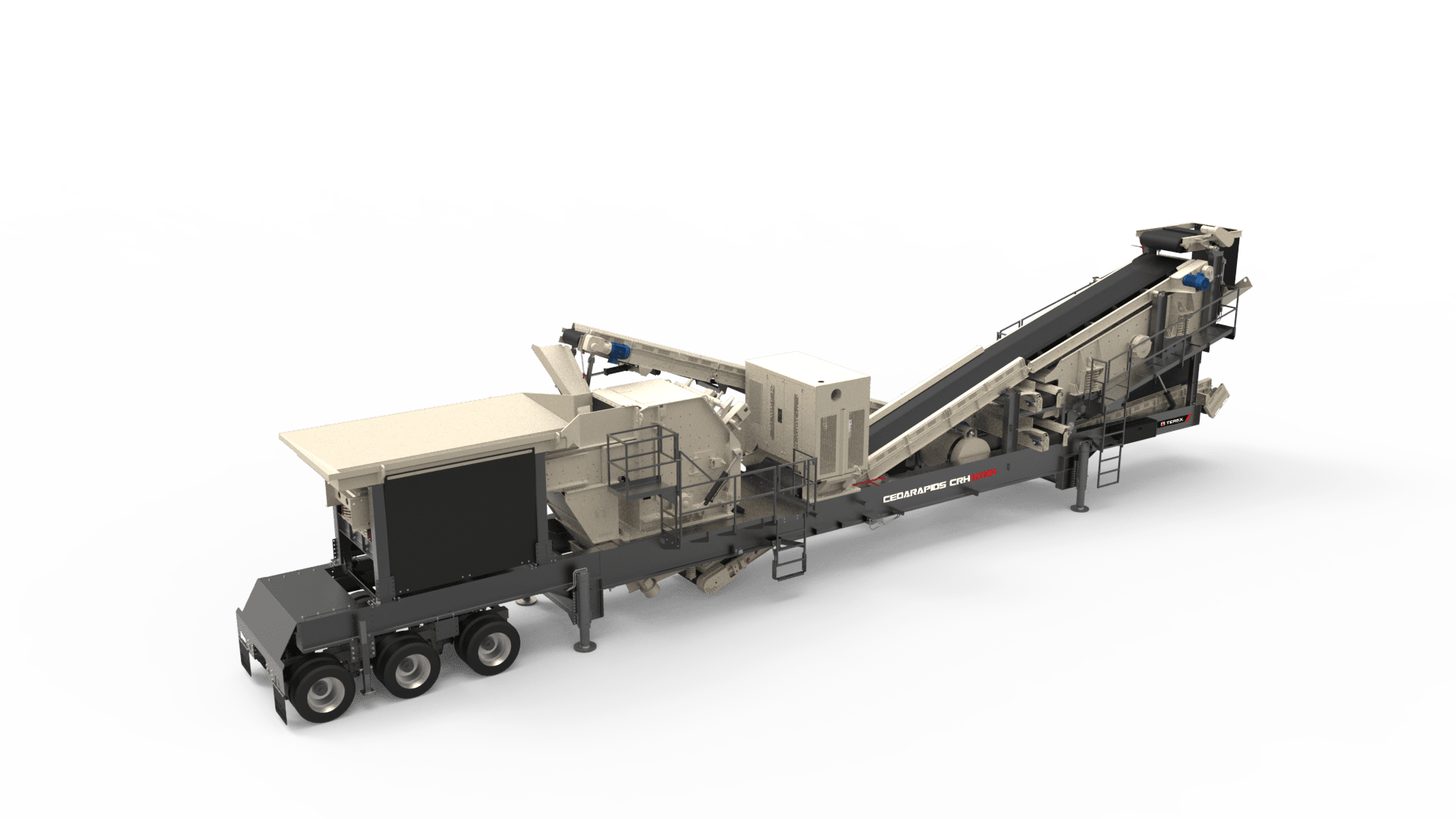 Centuries of experience
With almost 200 years of crushing and screening manufacturing experience, Cedarapids delivers rugged, field-proven crushing and screening solutions. Cedarapids® Crushing & Screening Plants offer the essential flexibility, control, and reliability to make the difference – whatever the application, wherever the location.
Field proven
Cedarapids® Crushing & Screening Solutions Cedarapids® provides a complete range of crushing and screening equipment to customers around the world operating in four key industries: mining. aggregates. demolition and recycling. To date they have thousands of plants operating througout the globe are known for equipment designs and technologies which are built to last.
Best-in-class engineering
"With Cedarapids®, you don't just get best-in-class engineering technology. You get the service, training and support to match. They understand owners needs to maximize productivity and control operating costs across the working life of every piece of equipment. This means you can count on engineering technology that delivers in terms of maintenance access, longevity, and cost per tonne."
Additional information
| | |
| --- | --- |
| Application | |
| Configuration | |
| Manufacturer | |
| Model | |
| New/Used | |