New equipment for sale
Cedarapids CRH1113R Portable Impact  Crusher Plant (HSI)
Portable closed circuit impact crusher equipped with a 6 x 16 inclined screen deck
The CRH1113R Portable Closed Circuit Impactor/Screen Plant features the TI4250 impact crusher and a 6×16 2-deck inclined screen. The crusher is hydraulic clutch driven direct from a 450hp Scania diesel. All other components are electric driven from the 150kw generator. With its large screen, wide conveyors, and low maintenance electric driven components, this is a high production, high value plant.
GET MORE INFORMATION
FINANCING
TECHNICAL SPECS

Check out the Cedarapids CRH1113R Portable Impact Crusher Plant (HSI)
in action!
Standard Features
TI4250 impact crusher
6×16 2-deck screen
450HP T4F Scania Diesel with hydraulic clutch crusher/generator drive
150kw generator
48" x 18' vibrating grizzly feeder with 6' stepped 2-deck grizzly
24" reversible conveyors can feed both screen decks to return conveyor
Gas powered hydraulic leveling jacks & screen lift
Removable CCM automatic switchgear panel
Travel: 11'-11" wide, 13'-6" tall, 4-axle suspension
Optional Equipment
Off-plant starters & radio remote
Screen platforms & ladder
Dual pinned hydraulic run-on jacks
Economical self-cleaning cross belt permanent magnet mid plant
Rolling grizzly reject conveyor with 6′ discharge
Various grizzly options for bar spacing, punch plate & 2nd deck wire
All electric (no diesel)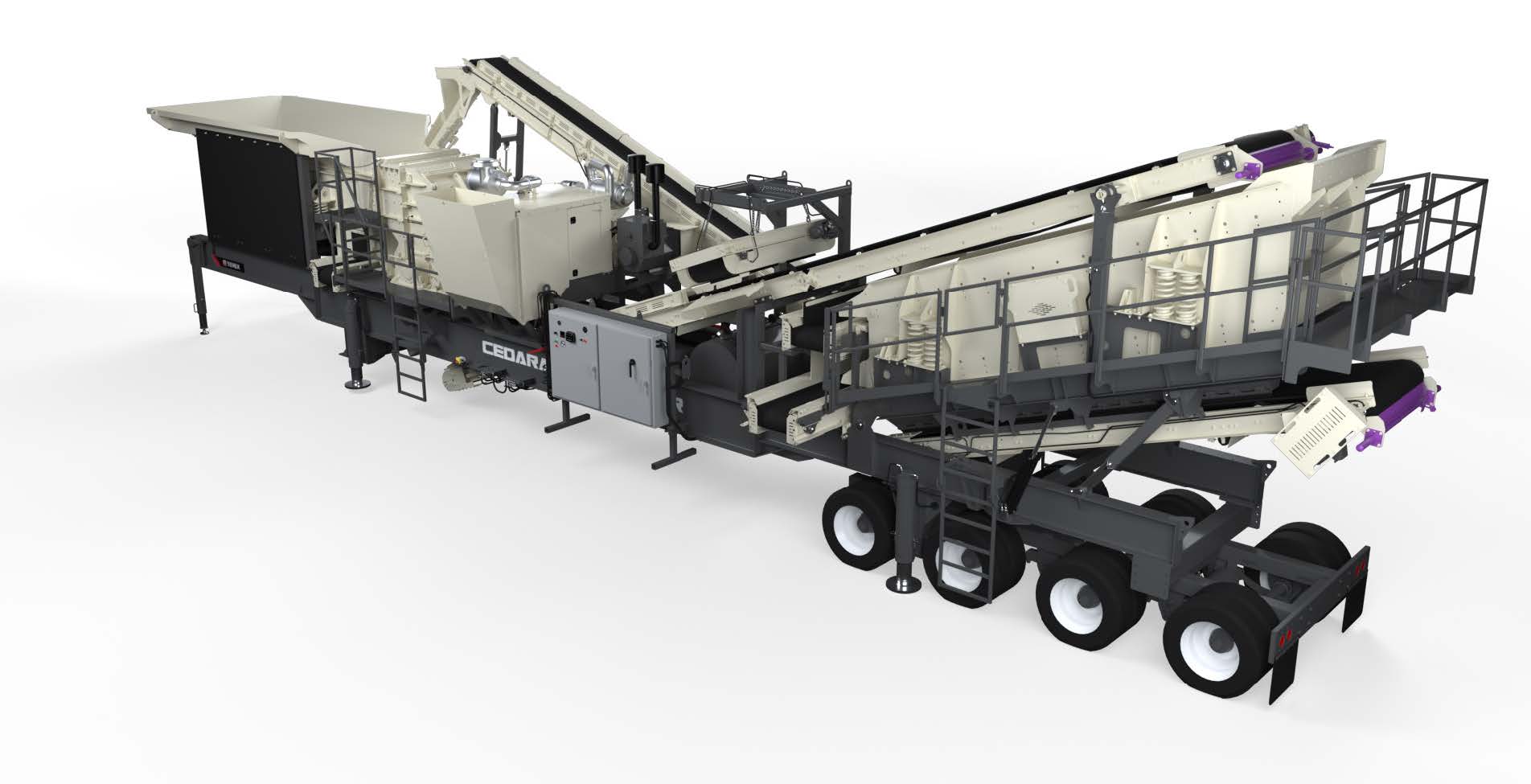 Portability and transportability
If portablity is important for your crushing business, look no further than the CRH1113R horizontal shaft impactor. This self contained unit offers a 1-piece tow system on a 4-axle chassis with an optional 3+1 axle. Fast and easy to use hydraulics offer timely and efficient site set up.
Maintenance friendly
Cedarapids crushing and screening plants are designed with maintenance in mind. The CRH1113R impact crushing plant features convenient maintenance access, hydraulic overhead conveyor lift access, open access below the main frame for easy clean up and all electric drive providing a long low maintenance lifespan.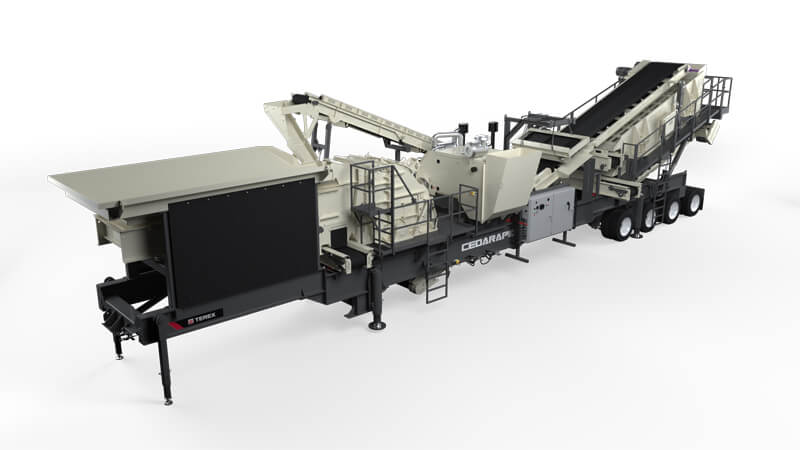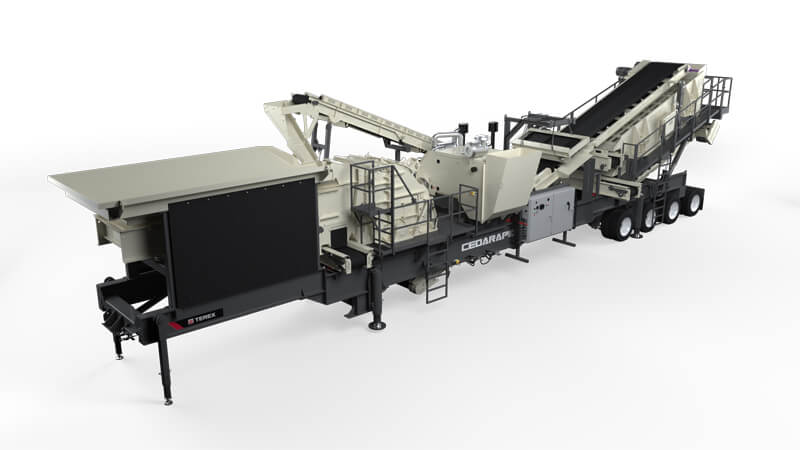 Unique grizzly deck
The CRH1113R bodes a highly unique 6′ two-deck grizzly. The convertible grizzly can be equipped with various cassettes including stepped fingers, a finger and sloped punch plate, or a sloped punch plate.
Multi function remote
The multi-function remote control displays and controls critical functions of the impact crusher including the percentage of speed, fault messages, plant auto on/off, feeder on/off, and feeder speed adjustment. Additionally, it can control up to 2 auxiliary devices independently such as a radial stacker or dust suppression system.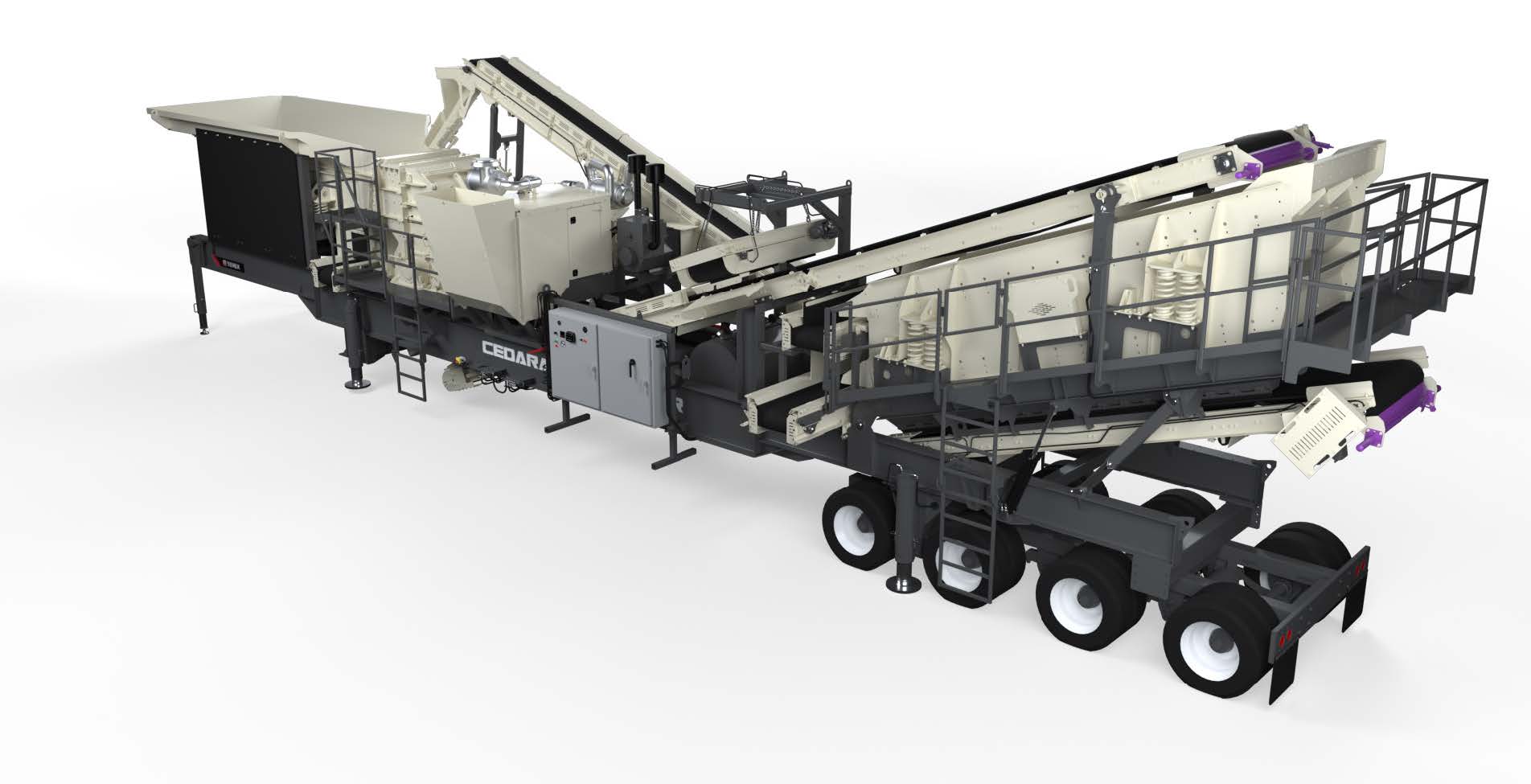 Centuries of experience
With almost 200 years of crushing and screening manufacturing experience, Cedarapids delivers rugged, field-proven crushing and screening solutions. Cedarapids® Crushing & Screening Plants offer the essential flexibility, control, and reliability to make the difference – whatever the application, wherever the location.
Field proven
Cedarapids® Crushing & Screening Solutions Cedarapids® provides a complete range of crushing and screening equipment to customers around the world operating in four key industries: mining. aggregates. demolition and recycling. To date they have thousands of plants operating througout the globe are known for equipment designs and technologies which are built to last.
Best-in-class engineering
"With Cedarapids®, you don't just get best-in-class engineering technology. You get the service, training and support to match. They understand owners needs to maximize productivity and control operating costs across the working life of every piece of equipment. This means you can count on engineering technology that delivers in terms of maintenance access, longevity, and cost per tonne."
Additional information
| | |
| --- | --- |
| Application | |
| Configuration | |
| Manufacturer | |
| Model | |
| New/Used | |