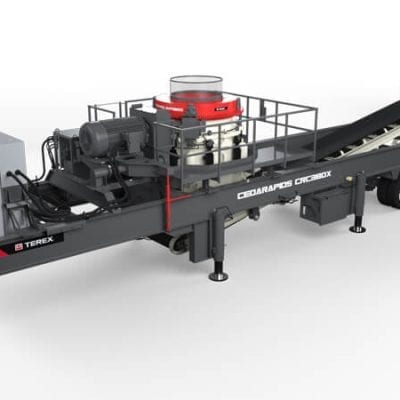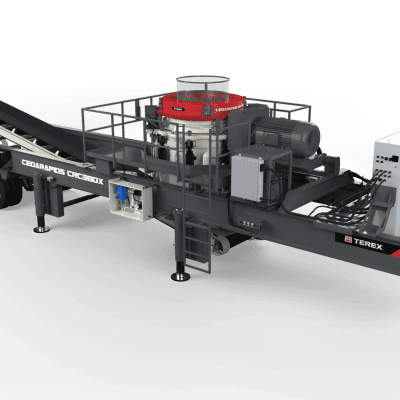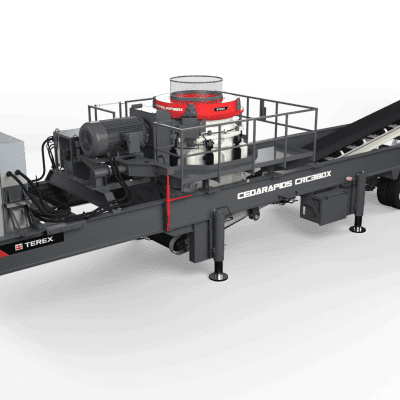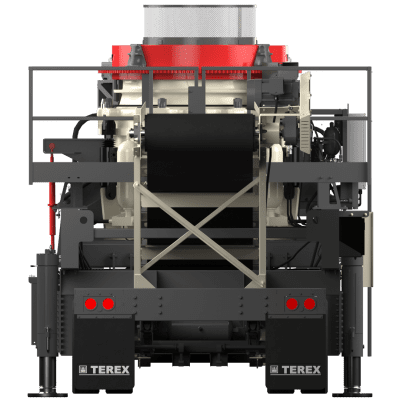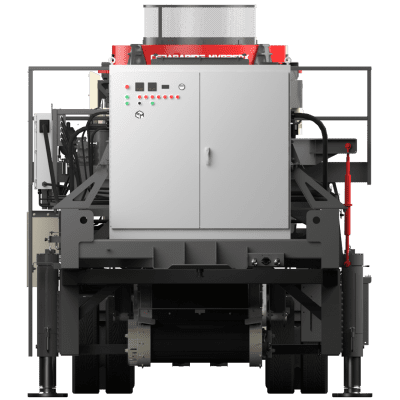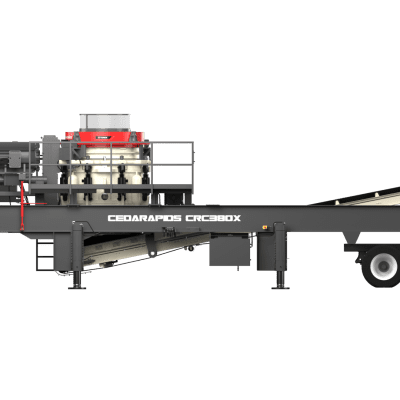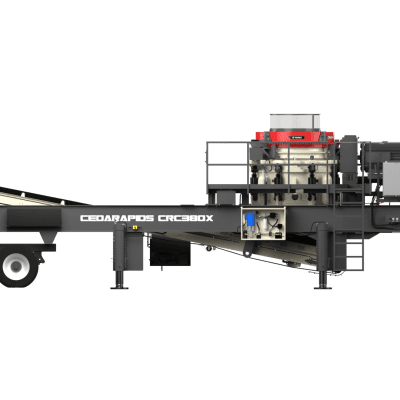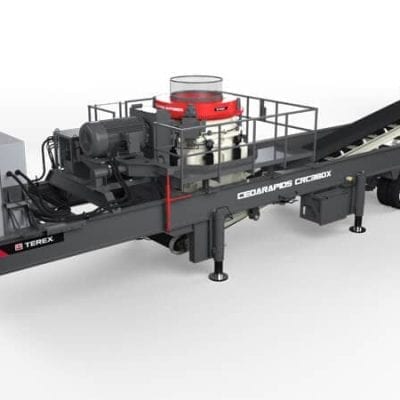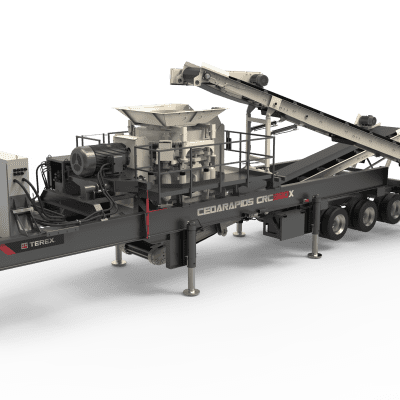 New equipment for sale
Cedarapids CRC380X Portable Cone Crusher  Plant
Portable 300 hp cone crusher combined designed for hard abrasive applications
"The Cedarapids® CRC380X cone plant is built for portability, especially for applications involving hard abrasive materials. This open circuit plant can be tied in with any portable crushing operation. They are commonly set up in secondary, tertiary, and quaternary crushing positions. The CRC380X is an all electric plant which can easily be tied into new or existing systems. CRC380X plants are available with a variety of options including feed conveyors and extra length undercrusher conveyors.
GET MORE INFORMATION
TECHNICAL SPECS

Standard Features
High efficiency MVP380X cone crusher with El-Jay Rollercone® roller bearing construction
Single 300 hp (224 kW) crusher motor with easy adjust cone crusher drive
Mesh cone hopper extension
"Straight-line" undercrusher conveyor; 42″" x 34'6″" (1067 x 10,515 mm); 15 hp (11 kW)
3-ply conveyor belt with vulcanized belt splice
Service platforms around crusher with guard rails and access ladder
Easy maintenance features

Ratchet cone drive belt tensioning
Conveniently located grease banks
Ground access cone lubrication module
Large undercrusher hinged access panel

Emergency stop buttons on both sides of frame
Tandem axle spring suspension
Eight 295/75 R22.5 tires
Lockable 4′ (102 mm) long side-mounted storage box
Optional Equipment
Oversized quick release cone surge hopper
Crusher overflow chute to undercrusher conveyor
*Longer undercrusher conveyor with hydraulic adjust discharge; 42″" x 45′ (1067 x 13,716 mm); 15 hp (11 kW)
*Feed conveyor with hydraulic positioning (LH or RH); 36″" x 36′ (914 x 10,973 mm); 15 hp (11 kW)
Triple axle spring suspension with drop-down rear stabilizing legs
Conveyor skirt boards
Removable electrical switchgear panel with crusher soft start and push-button station
Hydraulic leveling or run-on jacks (gas, 12V or 24V powered)
Power cables and quick disconnects
Oversize 315/80 R22.5 tires
Dust suppression water spray system
Flexco style belt wiper
*Requires triple axle option and hydraulic leveling or run-on jacks option"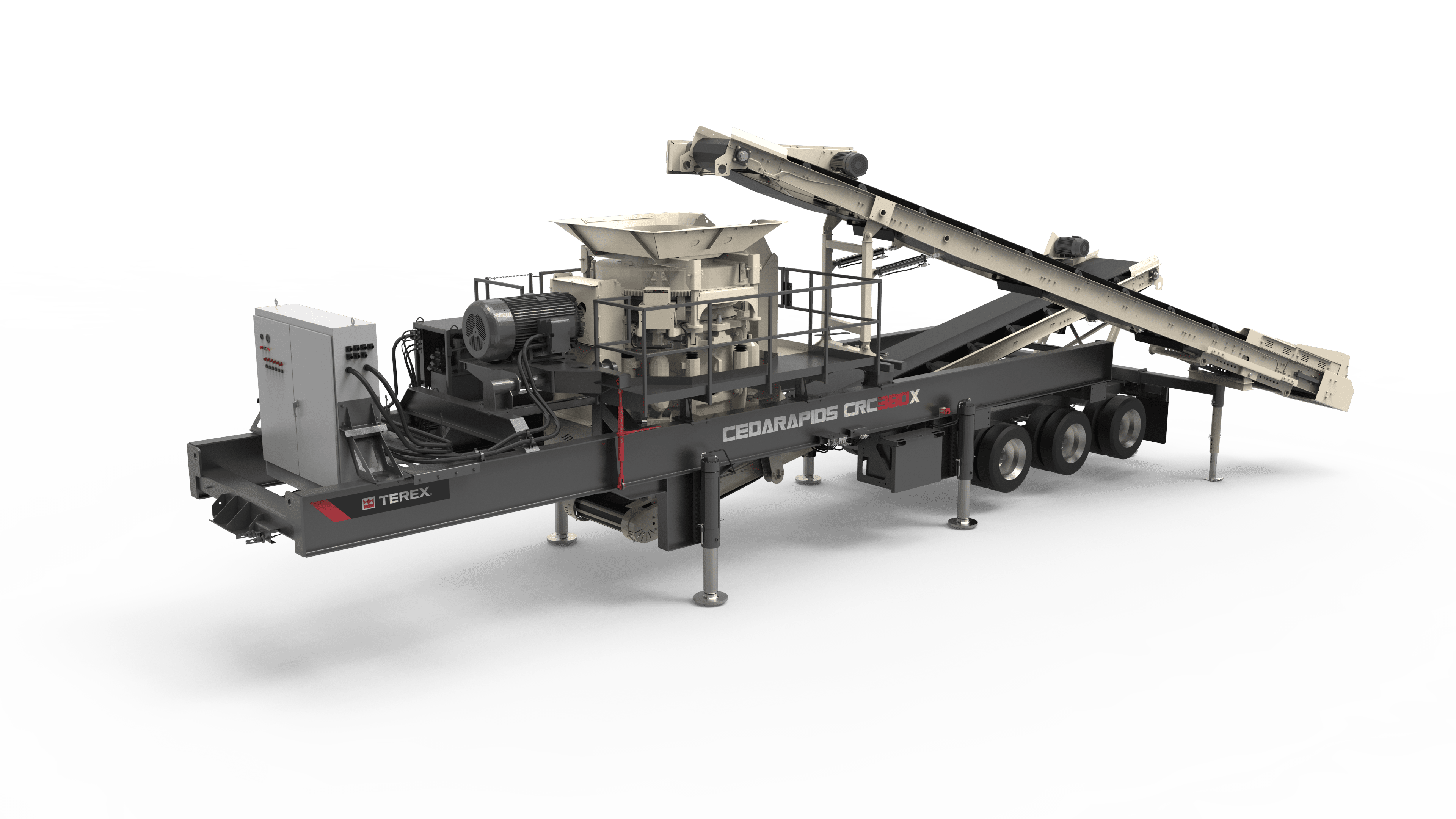 Maintenance friendly
Cedarapids crushing and screening plants are designed with maintenance in mind. The CRC380X features ratchet cone drive belt tensioning, conveniently located grease banks, ground access cone lubrication module, and a large undercrusher hinged access panel.
Superior belt system
The CRC320 cone crusher is designed with a 42" x 34'6" (1067 x 10,515 mm), 3-ply conveyor belt with vulcanized belt splice and a primary style belt wiper that is driven by a 15 hp (11kW) electric motor and shaft mount gearbox.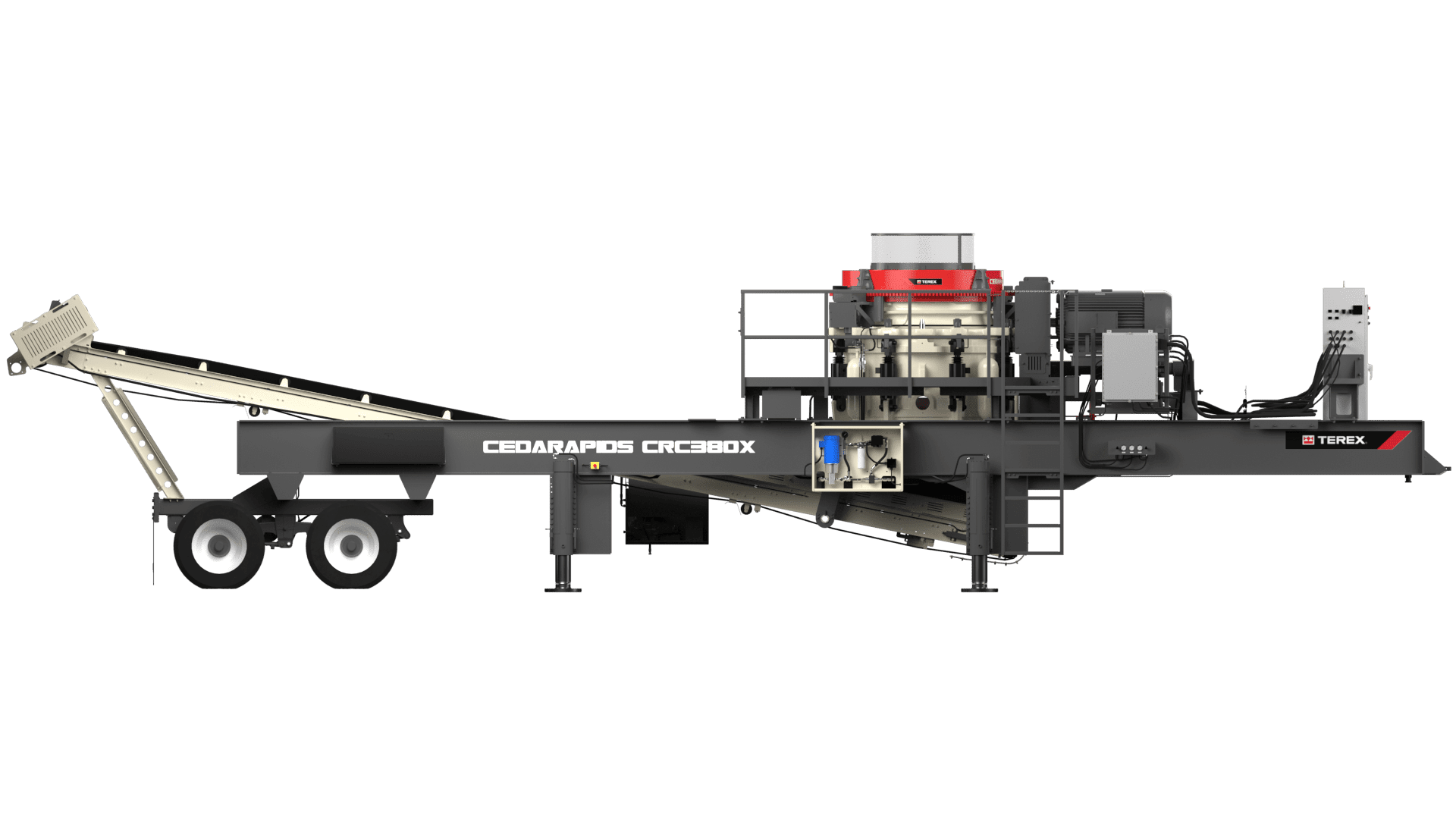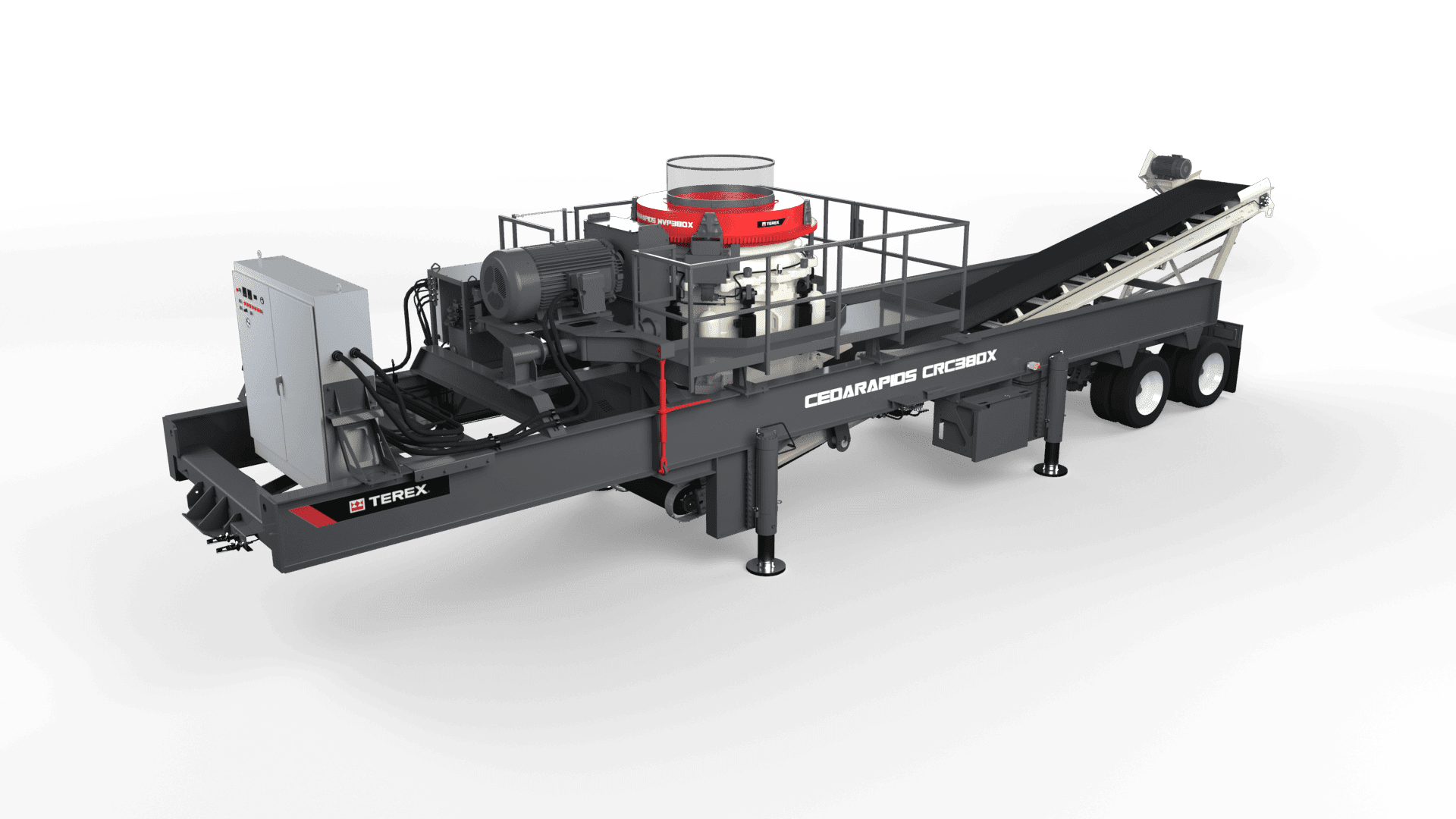 Transport friendly
The CRC320 cone crusher plant can come with multiple axle configurations available to meet a variety of road regulations including triple axle spring suspension with drop-down rear
stabilizing legs or oversized 315/80 R22.5 tires.
Removeable CCM™ automatic switchgear panel
The removable CCM automatic switchgear panel offers improved safety, reduced downtime, easy one-touch control for single plant or multi-plant operation, quick diagnostics, safe 24-volt control circuits, and small interplant cable, and built-in automation and optimization to maximize production.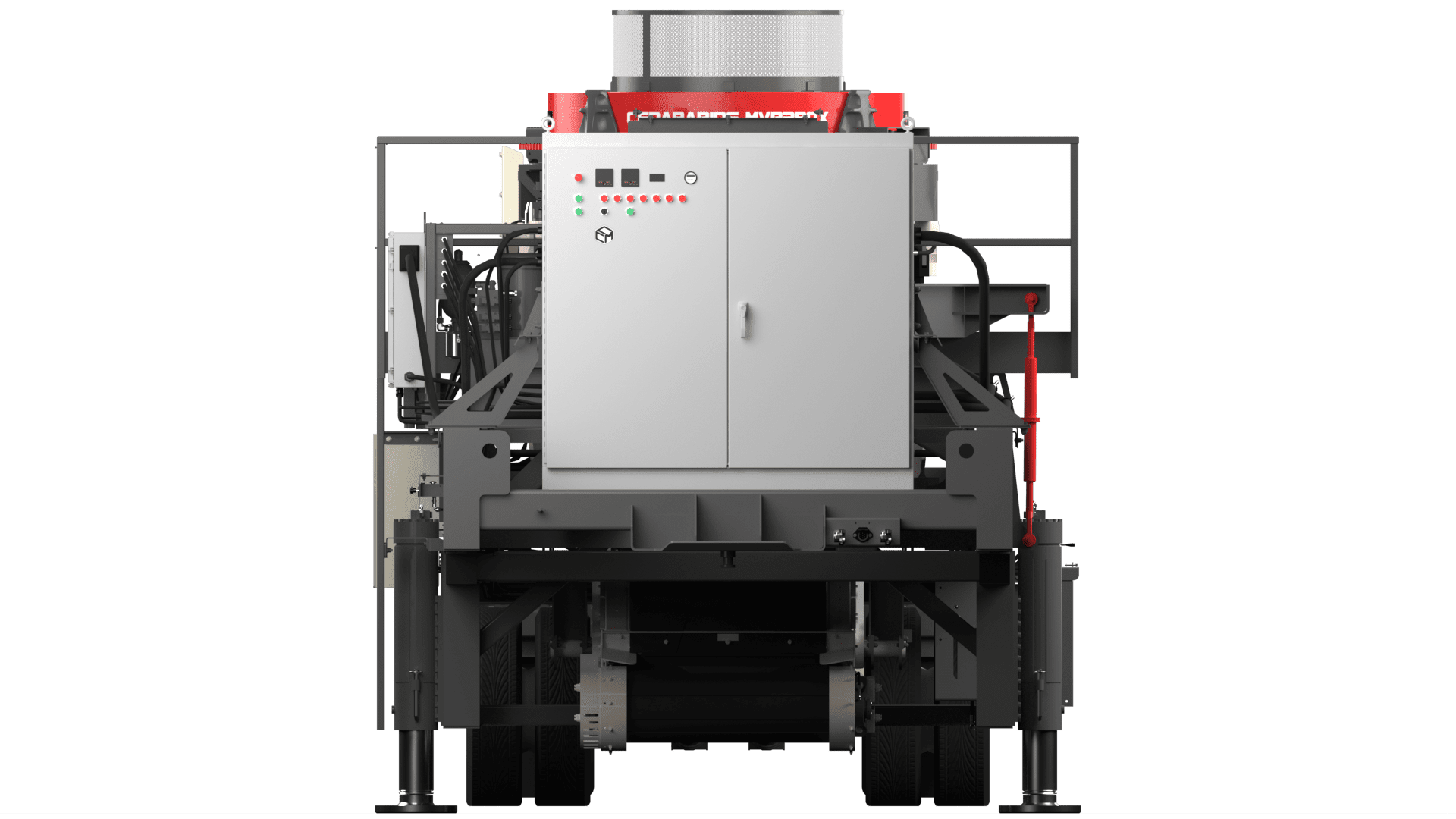 Centuries of experience
With almost 200 years of crushing and screening manufacturing experience, Cedarapids delivers rugged, field-proven crushing and screening solutions. Cedarapids® Crushing & Screening Plants offer the essential flexibility, control, and reliability to make the difference – whatever the application, wherever the location.
Field proven
Cedarapids® Crushing & Screening Solutions Cedarapids® provides a complete range of crushing and screening equipment to customers around the world operating in four key industries: mining. aggregates. demolition and recycling. To date they have thousands of plants operating througout the globe are known for equipment designs and technologies which are built to last.
Best-in-class engineering
"With Cedarapids®, you don't just get best-in-class engineering technology. You get the service, training and support to match. They understand owners needs to maximize productivity and control operating costs across the working life of every piece of equipment. This means you can count on engineering technology that delivers in terms of maintenance access, longevity, and cost per tonne."
Additional information
| | |
| --- | --- |
| Application | |
| Configuration | |
| Manufacturer | |
| Model | |
| New/Used | |