New equipment for sale
Cedarapids CRC1150S Portable Cone Crusher Plant
300 hp portable cone crusher combined with a highly efficient 3 deck screen
The CRC1150S cone plant delivers big capacity features in an economical highly portable plant. The highly mobile plant combines a modern TC1150 300 HP Cone crusher with the highly efficient LJ-TSV 6×20 3 deck screen. This 300 HP cone utilizes high-efficiency roller bearings and boasts several notable advancements that enhance performance and functionality. Key features include automated cone controls and larger closed side settings and is rubber isolation mounted on a heavy-duty chassis frame.
The LJ-TSV 6 x 20 3 deck screen, known for its efficient, high g-force El-Jay® oval stroke motion handles heavy deck loads. The design also features more steel in the "rock zone" for industry-leading durability. The screen can be positioned at 0° or 2.5° to best fit the application. Patented deck deflector plate option increases capacity an additional 10%.
GET MORE INFORMATION
FINANCING
TECHNICAL SPECS

See it in action!
Learn more about the CRC1150S Portable Cone & Screen Plant in the following animation.
Standard Features
TG320 bronze bushing cone with adjustable eccentric throw and
multiple liners matches most any application
300 hp (224 kW) 1800 rpm crusher motor and drive mounted with crusher on rubber isolated frame
Oversize cone feeder hopper extension with removable overflow panel and overflow chute
42" x 34'6" (1067 x 10,515 mm), 3-ply conveyor belt with vulcanized belt splice and primary style belt wiper driven by a 15 hp (11kW) electric motor and shaft mount gearbox
Service platforms with an elevated observation deck, guard rails and access ladder
Easy maintenance features:

remote grease lines
ground access cone lubrication
module

Emergency stop buttons on both sides of frame
Tandem axle spring suspension with eight 295/75 R22.5 tires
48" (1219 mm) long lockable side-mounted storagebox
Optional Equipment
Removable CCM™ automatic switchgear panel
Four 18" stroke leveling jacks
Four 24"
stroke run-on jacks
Hydraulic Power Unit (Gas, 12V,
24V)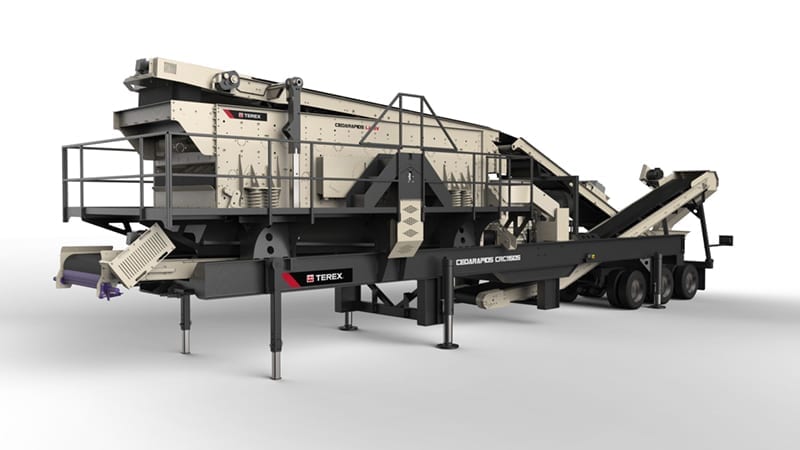 Transport friendly
The CRC1150S cone crusher plant comes standard with a tandem axle spring suspension with multiple axle configurations available to meet a variety of road regulations including a triple axle spring suspension with drop-down rear stabilizing legs or oversized 315/80 R22.5 tires.
High-performance flex shaft drive
The patent-pending screen drive on the CRC1150S allows for an unrestricted screen motion eliminating belt tensioner maintenance. It also features a walk over screen drive for easy access, folding handrails for transport, and a removable top step for the driveshaft access.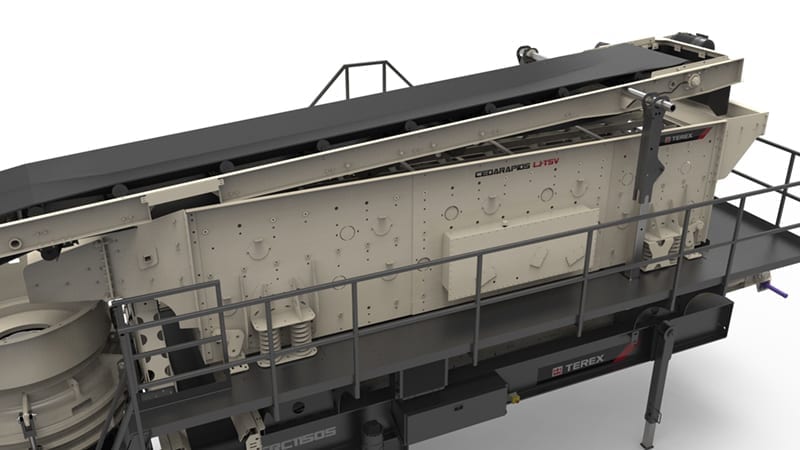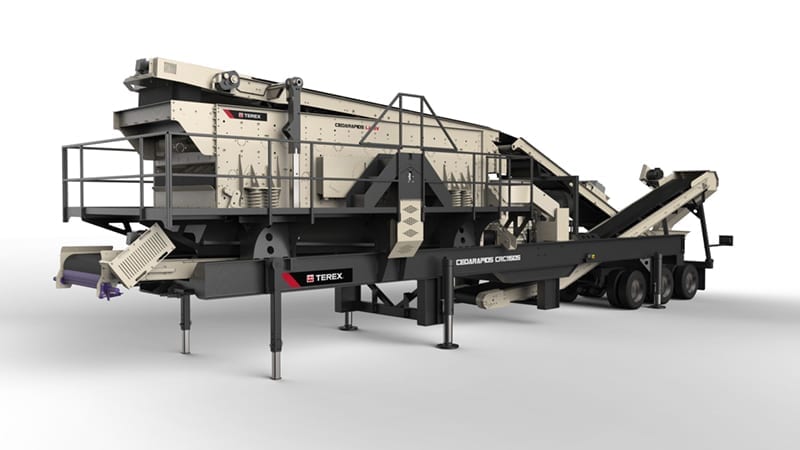 Maintenace-friendly
Cedarapids crushing and screening plants are designed with maintenance in mind. The CRC1150S cone crusher features conveniently located grease banks and a ground access cone lubrication module
Superior belt system
The CRC1150s portable cone crushing plant is equipped with a 3-ply conveyor belt with a vulcanized belt splice and a primary style belt wiper which is driven by a 15 hp (11kW) electric motor and shaft mount gearbox.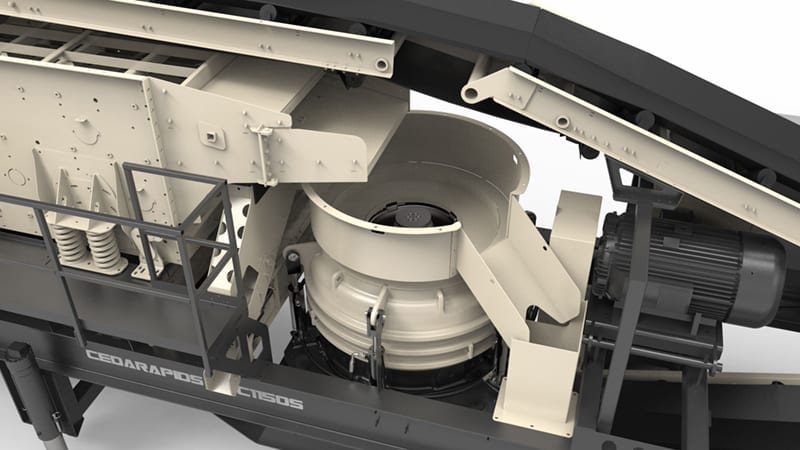 Centuries of experience
With almost 200 years of crushing and screening manufacturing experience, Cedarapids delivers rugged, field-proven crushing and screening solutions. Cedarapids® Crushing & Screening Plants offer the essential flexibility, control, and reliability to make the difference – whatever the application, wherever the location.
Field proven
Cedarapids® Crushing & Screening Solutions Cedarapids® provides a complete range of crushing and screening equipment to customers around the world operating in four key industries: mining. aggregates. demolition and recycling. To date they have thousands of plants operating througout the globe are known for equipment designs and technologies which are built to last.
Best-in-class engineering
"With Cedarapids®, you don't just get best-in-class engineering technology. You get the service, training and support to match. They understand owners needs to maximize productivity and control operating costs across the working life of every piece of equipment. This means you can count on engineering technology that delivers in terms of maintenance access, longevity, and cost per tonne."
Additional information
| | |
| --- | --- |
| Application | |
| Configuration | |
| Manufacturer | |
| Model | |
| New/Used | |