Horizontal Twin Screw Wash Plant
Cedarapids TXW620HT Portable Wash Plant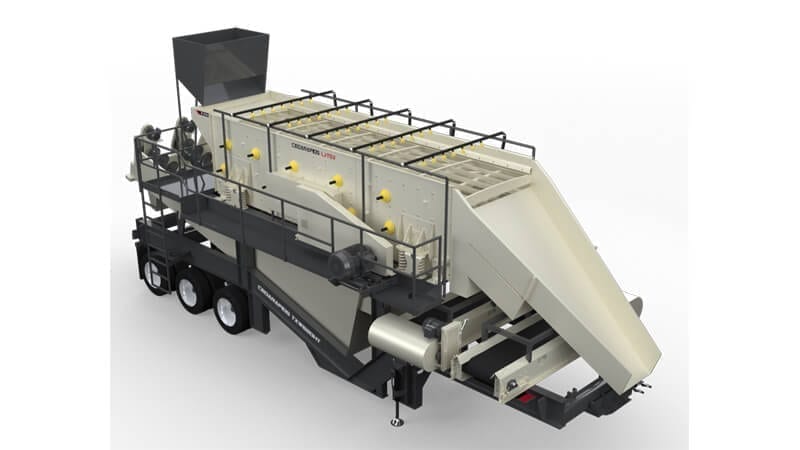 https://frontline-machinery.com/our-equipment/cedar-rapids-txww620ht-portable-wash-plant/
The Cedar Rapids TXW620HT portable washing system combines a 6′ x 20′ Eljay triple shaft horizontal screen deck with a complete spray system.
Highlights
6′ x 20′ Triple Shaft Horizontal three deck screen with complete spray system.
Portable chassis made using heavy-duty I-beam construction with four cribbing support legs with two manual landing jacks for easy truck removal.
Chassis includes a triple axle suspension, twelve (12) 11:00 x 22.5 x 12 ply tires, mounted on 10-hole Budd wheels, 5th wheel, air brakes on two axles, mud flaps and tail lights.
50 HP 1200 rpm, TEFC electric motor for screen drive.
The under-screen fines collection flume made using ¼" plate with splash-type spray system. Water spray system on all screen decks, flume and washout.
36″ x 25′ Twin Screw with two 15 HP drives.
Standard hinged slurry box with spray bar, manifold with the necessary hardware, valves and hoses.
Heavy-duty discharge chute made from ½" plate and lined with A.R. plate in heavy wear areas. The discharge chute includes a top deck over chute with discharge to the front of the plant. The middle deck chute discharges
to the side, the bottom deck chute discharges to a 24″ cross conveyor. (Optional 24″ cross conveyors
available for 2nd deck.)
All standard guards provided.
Walkway access around three sides of the screen with an access ladder.
Optional electrical switchgear available upon request
Contact Us to Receive a Quote
Found what you're looking for? Contact us and we'll be happy to give you a free quote on any of our machines.
Request a Quote